Million Pound Donors Report | Inspiring Interviews With Philanthropists
Inspiring interviews with philanthropists
Philanthropy is driven by people's passions, values, interests or concerns. These inspiring interviews with major donors illustrate diverse motivations for philanthropy and the causes they choose to focus on. We are grateful to the donors we have interviewed and for sharing their personal stories so candidly.

Shalni Arora

Shalni Arora is the Chief Executive Officer and founder of Savannah Wisdom, an independent foundation which partners with charities and not for profit organisations with game changing initiatives in areas such as legal rights, child protection, corruption and peace and security.
"Change does not happen if you don't engage in effective communication and policy work".

Sir Terence Conran and Sebastian Conran, his son
Terence Conran is a renowned designer, restauranteur and retailer and the founder of the Design Museum and the Conran Foundation . Sebastian Conran is founder of Sebastian Conran Associates and is a trustee of the Design Museum and the Conran Foundation.

"As somebody who had been lucky enough to make a lot of money, this was my way of saying thank you and giving something back to my country". Sir Terence


Rory McIlroy
Four time Major winner Rory McIlroy is one of the most recognisable names in golf. In 2013 he set up The Rory Foundation to support children's charities and 'help kids live better lives'. The Foundation focuses on three key themes – health, community and research.

"There are so many ways in which to give and an absolute abundance of great reasons to do so."
The Stone Family Foundation



The Stone Family Foundation was established in 2005 by entrepreneur John Stone and his wife, Vanessa, following the sale of the business John founded in 1991. It supports innovative, sustainable and entrepreneurial solutions to major social problems, particularly water and sanitation (WASH) in the developing world, and disadvantaged youth and mental health in the UK. John and his stepson Charlie Edwards are Trustees of the Foundation.
"Don't leave your business acumen at the door. The value we provide to our grantees is as much about the advice and mentoring … as it is about the financial funding."
Carole Bamford



Carole Bamford is a champion of organic farming, responsibly-sourced food and holistic living. She runs Daylesford, one of the most sustainable organic farms in the UK, and founded the Daylesford Foundation to support organisations that educate young people in organic food, growing and the countryside.She is also a director of her family business JCB, the world's third largest construction equipment manufacturer. For over 30 years she has developed the company's philanthropic strategy which includes huge support for the NSPCC .

"Philanthropy can be more than simply writing cheques. As the Foundation matures, we recognise the value in sharing our experiences, and we encourage grantees and other grantors to work collaboratively too."


Gordon Roddick
Gordon Roddick is a trustee of the Roddick Foundation, alongside his daughters Sam and Justine, plus her partner Tina Schlieske. The family-run, independent foundation, is dedicated to supporting visionary organisations and individuals who show leadership in making this a more just and kind world. It focuses on social, labour and environmental justice, and on human rights.
"We're trying to help and build a society that needs a lot less and laughs a lot more."

Coutts Foundation
The mission of the Coutts Foundation is to tackle the causes and consequences of poverty. The foundation draws on the legacy of Angela Burdett-Coutts, one of the most progressive Victorian philanthropists, and focuses on supporting organisations working with women and girls.

"No matter how good the reports are that we receive from the organisations we support, nothing beats meeting with the organisations and their leadership first hand." Lord Waldegrave

Liccy Dahl
Following Roald Dahl's death in 1990 his widow, Liccy, was inspired to start a charity in his memory. Today, 10% of the income from the Roald Dahl Literary Estate goes to its charity partners: Roald Dahl's Marvellous Children's Charity, which provides support to children with serious illnesses and their families, and The Roald Dahl Museum and Story Centre in Great Missenden – the village where Roald lived and wrote for 36 years.
"If you have good thoughts they will shine out of your face like sunbeams and you will always look lovely." – Roald Dahl

Sir Paul Ruddock
Sir Paul Ruddock co-founded Lansdowne Partners Limited in 1998, an alternative investment management fund which grew to be one of the UK's most successful hedge funds. He chaired the Victoria and Albert Museum (V&A) from 2007-15, and now serves on the boards of museums and arts organisations in London and New York, as well as chairing the endowment of Oxford University. He and his wife Jill Shaw Ruddock have given away around £40 million over the last twenty years. He was knighted in 2012 for services to the arts and philanthropy.

"I think that philanthropy has four elements to it: giving money, getting money, giving skills and giving time."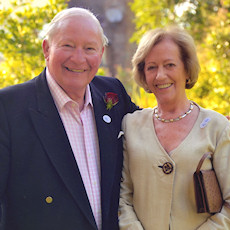 The Clive and Sylvia Richards Charity
Clive Richards OBE DL, a serial entrepreneur, and his wife Sylvia established the Clive and Sylvia Richards Charity in 1986. It aims to 'make a difference' by supporting education, healthcare, heritage, arts and religious causes throughout the UK and beyond. The charity seeks to be a catalyst to unlock other funding sources and ensure sustainability and transformational change.

"I get such huge pleasure from my philanthropy – I don't understand why more people don't do it!"


Coins Foundation
COINS Foundation is the not-for-profit organisation of the COINS group, dedicated to addressing social justice issues including poverty and disability. Entrepreneur Larry Sullivan, co-founder of COINS Global and chairman of the Foundation, explains how they use the power of business to create a better and more sustainable future.
"At COINS Foundation we believe that with privilege comes a responsibility to do something and make a difference."

Sir Ian Wood
Sir Ian Wood GBE is a Scottish businessman and philanthropist. He led his family business, which was founded in 1912 as a small ship repair and marine engineering company, from 1967. By the time of his retirement in 2012 the Wood Group had become a multinational energy services company, listed on the London Stock Exchange and part of the FTSE 250 Index. In 2007 Sir Ian, his wife Lady Helen and their three sons founded the Wood Foundation which applies the principles of venture philanthropy to invest both money and expertise to achieve systemic change.

"I think real philanthropy comes from the heart, not from the head."