Sir Ian Wood - Million Pound Donors Report 2017
"I didn't say to myself: 'someday I'll try and do something', but I guess the germ of it began there. That was a big motivation, seeing that huge inequity and feeling that I've got some responsibility for it."
3 min read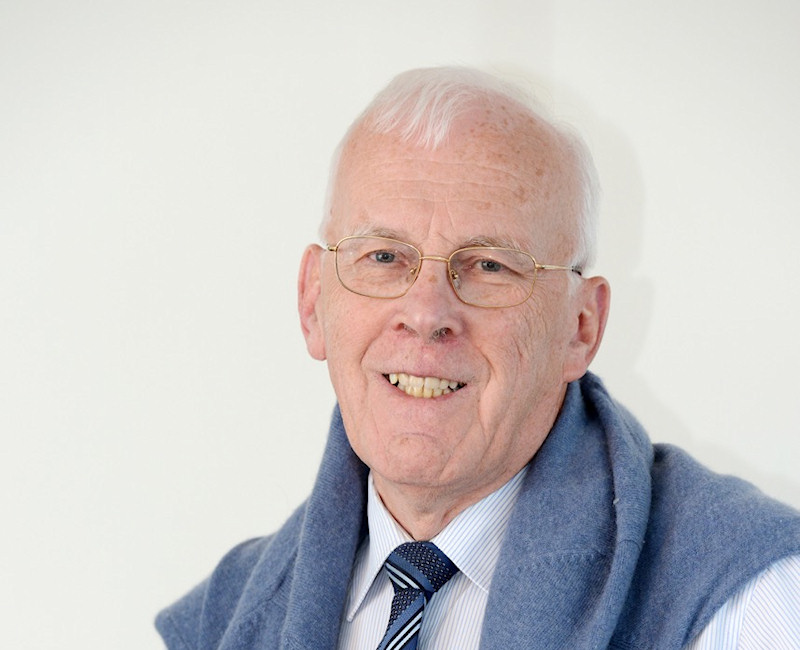 Sir Ian Wood GBE is a Scottish businessman and philanthropist. He led his family business, which was founded in 1912 as a small ship repair and marine engineering company, from 1967. By the time of his retirement in 2012 the Wood Group had become a multinational energy services company, listed on the London Stock Exchange and part of the FTSE 250 Index. In 2007 Sir Ian, his wife Lady Helen and their three sons founded the Wood Foundation which applies the principles of venture philanthropy to invest both money and expertise to achieve systemic change.

The Wood Foundation focuses on developing young people in Scotland and making markets work for the poor in sub-Saharan Africa. Sir Ian's advice on philanthropy: "You're not giving money away full stop, you're giving money away to be effective".

When and how did your philanthropy begin?
A long time ago! Back in 1970 when I started the family company, we decided that a certain amount of the profits should be given to the community. It was very small but the mindset was there from the start, before we had any idea that we'd ever have a lot of money. I always felt that you had to do something for the community you're working with, and our employees liked it and would come along with thoughts and ideas.

What were your main motivations for becoming a philanthropist?
In 1960 I went to South Africa on a scholarship for three months. That was the time of Apartheid and therefore I saw at a young age the massive inequities that exist in the world. I really wanted to help people in the local townships, so I visited a medical clinic with a lady whose husband had been a former pupil at my school. I sat with her while she helped a long line of mothers with babies needing care, and I knew that wasn't right. I didn't say to myself: 'someday I'll try and do something', but I guess the germ of it began there. That was a big motivation, seeing that huge inequity and feeling that I've got some responsibility for it.

What is the focus of your philanthropy and how did you go about identifying it?
We have two main areas of activity: developing young people in Scotland and making markets work for the poor in sub-Saharan Africa.
In Scotland we're focused on children. I really worry about tolerance, about children caring and developing some sense of involvement in a community and responsibility. I frankly think my generation has done very badly in terms of recognising their responsibilities to the local community and wider world issues and problems, so I always had in my head that I'd like to do something focussed on kids to develop their sense of citizenship and tolerance.
In my work I visited a lot of African countries. I always tried when I was there to go and see some of the rural areas, because I knew that the money being earnt from oil and gas wasn't always being applied to help the local population.
Our whole approach is venture philanthropy, which means we use business skills to help people help themselves. When I first went to Africa I thought 'let's find a good charity and give them money to enable them to do more', but frankly there weren't many really good organisations on the ground. So we thought, well, okay, let's see if we might do it ourselves. We were very lucky, we met a star American who'd been in Kenya for seven or eight years, and he still leads our work out there.
We chose to focus on the tea industry because we felt we could have a big impact. We asked the factory owners if we could work together to help the thousands of smallholder farmers to produce more tea, which would be to their benefit as their factories were being underutilised. We devised a number of ideas and programmes, which we match-funded, to enhance the yields. Things have improved an awful lot in the countries we work in. The factory owners now recognise that they will do their reputation and their country a lot of good by working with the smallholder farmers.


How has your strategy evolved over time?
A more recent theme is helping the local economy in the north east of Scotland because the oil industry is winding down in Aberdeen. It will take a long time but our economy is going to face a massive challenge so we've put £29 million into 'Opportunity North East' which is about working with the Scottish government and the local councils to find our way through this. That's going very well and a lot of local people are now involved.

Have you ever been particularly pleased with a donation? If so, what was it for and why did it make you feel especially pleased?
One of the best things we've done is the Youth Philanthropy Initiative (YPI). It's about helping kids find out what's happening in their community, what the needs are and how they can do something about it. YPI is an absolute flagship for us and it's outstanding - a great success. I never had that insight at their age, and I get great pleasure from listening to the kids talking about what they're doing and seeing the beginnings of their community caring and sense of responsibility. And a lot of them actually carry on doing philanthropic things.
Another donation I'm pleased with came about from my wife's initiative to give £10.7 million to the local hospital board to build a multi-storey car park. There was a huge problem with patients and visitors spending a couple of hours driving around the hospital trying to find somewhere to park their car. It was a really bad situation and the hospital board didn't have the funds to address it.

How do you go about reflecting on the impact your philanthropy's having across these quite diverse areas that you're investing in?
We always find some way to measure, but it's different for every project. For YPI we measure attitude change and we follow up what the kids do next. In Africa we can follow the yields of all our tea farmers, the quality and the price they're achieving. We also find out what the farmers do with their increased income: are they spending it on their family as we hope? Measurement is not as bottom line as in a for-profit company, but I wouldn't like to be doing anything unless we were getting some feedback that it was worthwhile and it was working.

And what's your attitude to risk?
It's exactly the same in business: we sit down and assess the risk up front. It's nice to see the positives but I always look for the what-ifs on the negative side so we can talk about it and mitigate it. You can't eliminate risk but you can reduce it, and if something goes really wrong you need a plan B, so we tackle it pretty methodically. The biggest thing we've done in Africa is created a really good team of people. If you're hands-on, on the ground with good people, there's a fair chance you're going to avoid real disasters.

Are your family involved in your philanthropy? If so how?
We talk openly about our philanthropy - it's quite nice with all the world's problems to be talking to your family about how we can do some good around the world.
My youngest son is a philanthropist: he funds YPI in Edinburgh, he gives away all the profits of his hospitality company called The Boozy Cow, and he's about to make a big investment in an African medical project. The other two boys are aware of it - both of them run their own businesses and do their own philanthropic things, which I'm really pleased about. My wife is a trustee of the foundation so she's on board. Both my sisters are actually very philanthropic because they benefitted from the family wealth so I guess that was in their blood as well.

What are your expectations of the organisations that you partner with?
We work closely with the department for International Development (DfID). Part of what we're doing is helping farmers plant large areas of new greenfield tea – that requires serious patient capital and that's where DFID and others have been really helpful. We lend the farmers the money for what they're doing and then they start paying the money back when they start earning from their tea.
We also work with Gatsby, the foundation set up by Lord David Sainsbury, as our partner in Africa. I have the highest regard for David: we benefit from each others' knowledge and bounce our thinking off them. It wouldn't work any other way.

What advice would you have for people who are starting out in philanthropy?
Look on it as a business. You're not giving money away full stop, you're giving money away to be effective, so you need to do some market research to try and understand the charity you're giving money to. Or if you're setting up yourself, it's even more important to take that approach. If you're planning to fund projects in Africa then you need to go there, spend time there.
You also need to decide if you're going to dedicate your life by leading it yourself, or if you're going to hire someone – or a few really good people – to do it, because every business depends on really good people.
I sometimes say to people, and I mean it, that philanthropy is hard work. The initial time in Africa was actually very difficult because people were very suspicious. We've had some quite tough times and we had to work our way through them. But I hate unfairness, I hate inequity and seeing people who are in powerful positions not giving any thought to the less fortunate in their country. But, although I've had moments of despair I've never contemplated giving up.

What do you think needs to happen to encourage philanthropy in the next ten years?
I think we need to try to enhance the caring mindset. Real philanthropy comes from the heart, not from the head. You can rationalise it in the head, but you meet caring people and then others who just don't care.
YPI is about trying to get across the importance of us all thinking through what responsibility we have beyond looking after ourselves and our family. I prefer the word 'caring' to ' philanthropy', because younger people understand it better. I don't know if you can teach people to be caring. You can give them insight, and some taste as to what they can do that is effective, then you can try to reinforce it.
I think my generation honestly has not been clever at all. The figures are terrible in terms of the number of children who are dying needlessly every day, and the number of children not being educated in poor areas of the world. My message to the next generation is: 'please will you be different from us? Will you take more responsibility?' And it doesn't just need money, time can often be even more valuable.
I meet some wonderful people, like nurses and doctors, who have genuinely given their lives to help others, and I have the highest admiration for them. There are thousands of small charities with local people doing something in their neighbourhood. I'm just giving money, they're dedicating their whole life. That's very powerful.


About Coutts Institute
We understand that wealth means more than money. The Coutts Institute focuses on the governance of wealth - helping family businesses succeed, helping clients fulfil ambitions for their philanthropy, and preparing the next generation for inheritance.
Discover More About Coutts Institute