Liccy Dahl - Million Pound Donors Report 2017
"If you have good thoughts they will shine out of your face like sunbeams and you will always look lovely"
3 min read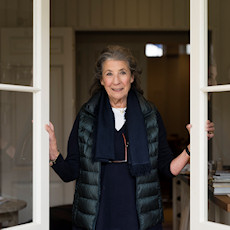 Following Roald Dahl's death in 1990 his widow, Liccy, was inspired to start a charity in his memory. Today, 10% of the income from the Roald Dahl Literary Estate goes to its charity partners: Roald Dahl's Marvellous Children's Charity, which provides support to children with serious illnesses and their families, and The Roald Dahl Museum and Story Centre in Great Missenden – the village where Roald lived and wrote for 36 years.

Roald and Liccy Dahl shared a deep respect for the medical profession and a passion for improving children's literacy, which together have formed the focus of a lasting legacy. Liccy's dream is that "every child with a complex illness in the UK will have a Roald Dahl nurse to help them".
Where did the inspiration come from to do something philanthropic?
In my mind, the idea for a 'Dahl charity' started the day Roald died. On returning from the hospital to the home that we had shared, I went straight to his writing hut in the garden. I needed to be alone. For some reason – I still don't know why – I opened the filing cabinet and at random pulled out a letter. It was from his mentor in America, the philanthropist Charles Marsh. The first line read: "I want to form a Dahl Charitable Trust." I thought this was a message from above – 'Stop feeling sorry for yourself Liccy and get on and do something for other people.' That was very much Roald's way of thinking and living.

How did you decide what to focus on?
The seed really was to start on the medical side. We'd had many terrible, even fatal, health issues in both our families, and Roald held the world of medicine in very high regard. If he hadn't been a writer I am sure he would have been a doctor. But he felt nurses were just as important as doctors.
When he crashed his plane in the war, he temporarily lost his sight and was cared for by nurses who he couldn't see. Their kindness played a crucial role in his recovery. He was so grateful that he spent all his savings buying each of them a watch when he was discharged. Years later, he was in hospital again and they were running an experiment for nurses to wear their own clothes rather than uniforms. Roald thought it was a terrible idea. Firstly because no-one knew who was a nurse and who wasn't, and secondly because he thought it was unfair on the nurses. They couldn't afford to have their clothes ruined by blood and other things. He said to me, "Go to Marks and Spencer and buy them all something nice to wear", so off I went and came back with carrier bags full of clothes for the nurses to choose what they wanted!
On my part, I had been brought up in the world of medicine. My mother was a nurse and my father a surgeon. Together they set me the example of helping the sick. My first experience of fundraising was after my father died. He had been Dean of the Faculty of Medicine in Birmingham and we raised funds for one of the first EMI scanners in his memory. I remember an extremely poor woman donating 10 shillings because my father had saved her life. Her generosity made a lasting impression on me. Later, in 1977 I was asked to help raise funds for an EMI CT 1010 brain scanner for Great Ormond Street Neurological Department. So nursing, children and medical innovation were sort of a natural fit for me.

So the Roald Dahl's Marvellous Children's Charity developed from there?
Our mission with Marvellous is to make sure that every seriously ill child has the best possible healthcare, and in this context we think specialist nurses are essential. Our paediatric nurses are there for the patients when the doctors go home. They look after you last thing at night and first thing in the morning. They hold your hand. They have time to give you advice or explain a procedure. They are knowledgeable and approachable. They calm a child's fears and act as a soothing reassuring presence. So we are creating and funding more and more Roald Dahl Nurses across the UK. We encourage them to come up with improving the way their healthcare is delivered and looking at problems with fresh eyes. We encouraged them to innovate – something Roald would have loved. A lot of the conditions we deal with are very long term, so quite often the nurse will stay with a child from birth through to adulthood and they become part of the family.

How did the idea for the Museum and Story Centre come about?
Improving children's literacy was hugely important to both Roald and me. Initially we funded this through the same charity as our nurses, but as the two missions grew and became more focused, we decided to form two separate charities and this is now working very well indeed.
The idea for the Museum and Story Centre actually came from a wonderful woman named Linda, who managed Roald's fan mail. The National Westminster Bank building in Great Missenden came up for sale and she suggested I bought it as a place for Roald's archives and a museum. I put in a blind bid and I was in Russia when I got the news that my bid was accepted – so luckily we got it! Today the Centre is hugely popular and successful. It also does a lot to help foster literacy in schools. I am very proud of it.

What lessons have you have learnt along the way?
With Marvellous, we started out small and in quite defined areas, but we've now been so successful that we have created an incredible demand for specialist nurses. The royalties from the literary estate can only go so far to meet this need – we need to find other people to come on the journey with us. We also need to work closely with the NHS to meet the demand. Historically, we have funded the nurses for the first two or three years, and then the NHS has agreed to take them on after that. So we make sure that each nurse fits into the plan for whatever NHS Trust or Health Board will eventually employ them.

How do you hope the charities will develop in the future?
I would like to see a Roald Dahl Story Centre in the north of England, as there are some families who travel for miles to visit us and that is jolly hard for them. My dream for Marvellous would be that every child with a complex illness in the UK has a Roald Dahl nurse to help them. And I would also like to see more Roald Dahl children's nurses doing home visits, like the district nurses used to do. I've always said that I would like Roald Dahl nurses to be as familiar as the Macmillan nurses. That's a long way to go, but we will get there.

What benefits do you get from philanthropy?
To see the smile on the faces of children and their parents – it's that simple. I saw our Marvellous nurses at Birmingham Children's Hospital the other day, and I could tell that nothing was going to deter them from making those children better. You see that and think, maybe I have helped make this happen. That is a good feeling.
And what goes around comes around. Many years ago, in the 1980s I think, there was a child in Great Missenden who had a benign brain tumour and was taken into Great Ormond Street . Their family was struggling to afford the transport for the countless hospital visits, so Roald gave them money to cover this so that they wouldn't have to worry. One day, many years later, a woman came up to me and said, "I just want to say thank you to your husband." She was that child. She is grown up now and works at the Roald Dahl Museum and Story Centre. Isn't that fantastic?


What advice would you give to others who are in a position to give?
I would tell them how good it feels to give to those who need help. Also, no matter how clever and talented and successful you are, there has to have been a bit of luck along the way. So my message would be to acknowledge that, and help those who haven't been so lucky.


About Coutts Institute
We understand that wealth means more than money. The Coutts Institute focuses on the governance of wealth - helping family businesses succeed, helping clients fulfil ambitions for their philanthropy, and preparing the next generation for inheritance.
Discover More About Coutts Institute