Coins Foundation - Million Pound Donors Report 2017
"At COINS Foundation we believe that with privilege comes a responsibility to do something and make a difference"
3 min read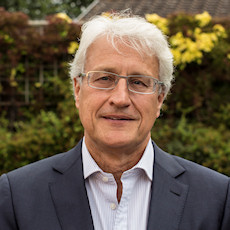 COINS Foundation is the not-for-profit organisation of the COINS group, dedicated to addressing social justice issues including poverty and disability. Entrepreneur Larry Sullivan, co-founder of COINS Global and chairman of the Foundation, explains how they use the power of business to create a better and more sustainable future.

The Foundation focuses on creating sustainable social enterprises, believing that wealth creates an obligation to think about those less fortunate. Larry encourages entrepreneurs to adopt a 'values first, value second' approach to business. His advice to those setting up a new enterprise is: "Instead of thinking, 'I'm going to build up this business and sell it for billions', think about building something that is sustainable, meaningful and worthwhile. When you are starting out, allocate 5-10% of the equity to a social project you care about."
How did the foundation begin?
COINS Foundation has really emerged over time and is still evolving. Even in the early days of the businesses we raised money through charity events. We started with fun runs and ended up organising the COINS Three Peaks Challenge for 10 years, which brought people from across the construction industry together to raise hundreds of thousands of pounds in a weekend, and over £2.5 million in total. In the early 2000s we started putting company money into addressing social issues.
My daughter has hemiplegic cerebral palsy. As her parents we tried really hard to keep her in mainstream education but she was struggling in that environment. We looked around at some of the special schools but there wasn't a great deal of choice, so we started a school called Stepping Stones with three pupils, one of whom was my daughter. We funded the school via COINS, but always with the intention of setting it free with good leadership and appropriate governance. Now some of the other parents have stepped in to help expand it at Undershaw, which is Arthur Conan Doyle's former home, so that more children can benefit.
It's never been about having a great vision, but rather a series of logical steps. Something that developed from the school was our first 'Cookie Bar' – a coffee shop which runs as a social enterprise. You try to turn a profit but the primary motive is to create a supportive and forgiving environment for the kids to learn and work in.
Today the foundation is committed to supporting social enterprises and addressing social justice issues. How did that come about?
I'm wary of the terms 'charity' and 'philanthropy'. What we have started to think about a lot more is excess, in any form – intellectual, physical, wealth – and doing something decent but not patronising with that.
It's increasingly important to look at the growing gap between the rich and the poor and try to influence the next generation of business people to think a little differently, to see entrepreneurship as a force for good. At COINS Foundation we believe that with privilege comes a responsibility to do something and make a difference.
To borrow a phrase from Paul Collier, who wrote The Bottom Billion, it is in wealthy people's enlightened self-interest to think about the outcomes for those who are less fortunate than they are – and to use both their money and their business acumen to build sustainable social enterprises. As well as the Cookie Bar, some of the other social enterprises we've created include a ski hotel in Austria where 10% of the profits support mountain rescue and 90% supports disability skiing.


What other projects does the foundation support? Are there any partnerships you've been particularly pleased with?
I'm a big fan of Habitat for Humanity and have been on their UK board for about 10 years. I like their approach of giving people 'a hand up not a hand out'. I went out to Haiti with them post-earthquake in 2011 and then we started to support some of their work in Africa. I spoke to Lord Joffe, who was Nelson Mandela's defence lawyer, about the kinds of projects we should look at first and he suggested Uganda and Zambia. So we looked at who was working on the ground there and contributed to Habitat for Humanity's micro-loans programme. Families take out small micro-finance loans and build their homes incrementally, stage by stage, slowly building up a lifetime asset. Since 2012 we've been tracking five families via film, using media to update our audiences on their journeys.

Habitat is a big, global organisation but we've also supported a small social enterprise called PEAS (Promoting Equality in African Schools) for about 10 years. We've funded their work in Uganda and also helped them expand into Zambia. PEAS have built a network of 28 sustainable secondary schools across Uganda and 2 in Zambia in areas where children would otherwise struggle to access secondary school. Each school contributes to long-term societal change, poverty reduction and the empowerment of young people in sub-Saharan Africa. As well as core and project specific funding we've recently worked to install solar power across some of the network , thereby providing light and electricity to thousands of students.
It's not really about reinventing the wheel in those countries but of course you do have to check out the organisations you are working with. You need to see what works and what doesn't – and accept that sometimes you might need to get things wrong in order to learn how to do things right.



What advice would you give to young entrepreneurs who are interested in making a difference?
My advice would be that first of all you've got to make sure the business works, but also think about the morality of what you are doing.
Differentiate yourself from the outset by thinking, 'values first, value second'. Instead of thinking, "I'm going to build up this business and sell it for billions", think about building something that is sustainable, meaningful and worthwhile. When you are starting out, allocate 5-10% of the equity to a social project you care about.
You don't need to give away the voting rights – I'm quite clear that with COINS I am the majority shareholder, and that's it – but it is in my enlightened self-interest to support projects in a sustainable and respectful way.



What does 'sustainable and respectful' mean to you?
Remember that where you were born is an accident of geography and the way you are rewarded is an accident of the economic system. Listen and talk to the people you are working with. In Haiti, for example, I built houses with two women who were going to live in them when they were complete. They'd lost their husbands in the earthquake and had 10 kids between them, but they were involved in building their own home. Once we'd done the concrete floor, roof, door, and windows, what's the first thing those families wanted in their house above anything else? People assume it must be running water, or a TV, but actually it's lighting. Women and children in particular feel secure with light. I often ask university students that question and they rarely get it, but six-year-old kids tend to get it right because they don't overthink it. What's the first thing you do when you get home and it's dark? You put the light on. We take that for granted.



How do COINS' employees get involved in the Foundation?
Many of our staff have been out to see the programmes and take part in the Habitat for Humanity builds – and I send my kids out as well! It's very important for them to see that the world isn't all like the one they inhabit. It can transform the lives of our staff as well. Increasingly, young people want a good job but they are also searching for meaning and purpose.



Do you think there is a trend towards young people seeing enterprise as a force for good?
Yes I do. I'm actually filled with hope. I speak to young people at universities and business schools around the country; many of them are thinking about creating businesses and are now thinking about 'values first, value second'. The University of Warwick is looking to put together an entrepreneurship masters with a values and ethics focus.
The quarterly approach to business drives the wrong behaviours. I don't have a quarterly relationship with my clients or employees, or my friends and family! We need to take a much longer-term view.
About Coutts Institute
We understand that wealth means more than money. The Coutts Institute focuses on the governance of wealth - helping family businesses succeed, helping clients fulfil ambitions for their philanthropy, and preparing the next generation for inheritance.
Discover More About Coutts Institute