Clive And Sylvia Richards - Million Pound Donors Report 2017
"I get such huge pleasure from my philanthropy – I don't understand why more people don't do it!"
3 min read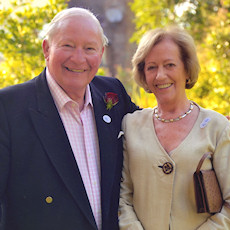 Clive Richards OBE DL, a serial entrepreneur, and his wife Sylvia established the Clive and Sylvia Richards Charity in 1986. It aims to 'make a difference' by supporting education, healthcare, heritage, arts and religious causes throughout the UK and beyond. The charity seeks to be a catalyst to unlock other funding sources and ensure sustainability and transformational change.

Clive is passionate about supporting education, believing that "you can take a wrong turn at age 16 and your future is in tatters." The couple plan to donate the majority of their estate and have recently changed how they operate their charity so that it can be perpetuated for the long-term.
How did your philanthropy begin?
The first really big donation I made was for a Chair in Management at Oxford University; we put up £70,000 for the position. I was interested in getting more people to pursue careers in industry rather than the City. In those days in the City it was all public school people and not grammar school kids like me, while in industry people had to start right at the bottom – I wanted to change that.
I've always helped people who can't help themselves, and we set up the charity in 1986 to maximise the amount of money we could give away in a tax effective way.


How did you decide on the focus for your philanthropy?
Education has always been my thing, even though I was a terribly naughty boy at school. I went to the local grammar school and failed my school certificate twice, but my school didn't give up on me. That's the reason education is so important. You can take the wrong turn at age 16 and your future is in tatters; take the right turn and you have got half a chance.
Initially we had a bias towards education in Herefordshire. At the time, the government introduced the initiative of 'specialist school status', whereby if a donor gave £50,000, the Education Authority multiplied this by 13, which could be spent on both capital and revenue expenditures over two to three years. As an entrepreneur I couldn't resist a multiple of 13 with no risk!
We've since supported every secondary school in the county and have now spread our net more widely. Over the last 10 years we've spent about £4m on state schools - building sports facilities, science blocks, music centres and so on.
As well as supporting the schools, we help individuals who wish to pursue their further education. We currently support around 10 postgraduate students, mainly in the arts. Alongside the financial support, I mentor each student and they provide me with quarterly updates on their progress. They're very bright, very nice young people and it's wonderful to see them flourish.
I'm also Chairman of the Shaw Education Trust, a wholly-owned subsidiary of the Shaw Trust, which is one of the few roles I still play an active part in. The Trust leads and manages a number of academies in different sectors and communities. The turnover is currently £40m, with the objective being to reach £100m and become a real force in Multi Academy Trusts. We're well on the road to doing that.

What other causes do you support?
Broadly we give roughly 32% to education, 32% to hospitals and hospices, 13% to heritage, and 13% to the arts – although many of our grants span more than one category. Our trustees also allow Sylvia and me to give 5% to small charities in the UK, and 5% to overseas organisations. For example we have built and continue to support an orphanage in South East India, and we support another school in Africa and education in the West Indies.
I've become an expert on scanners now! We gave £275,000 to the Queen Elizabeth Hospital in Birmingham to support the Institute of Translational Medicine Imaging Centre, and bought an additional CT scanner for Hereford County Hospital to reduce waiting times and help patients get their diagnosis more quickly. Most recently, we have committed £350,000 to Birmingham Children's Hospital for a bi-plane scanner which enables x-ray images to be obtained in two planes – front to back and side to side.
We support work on Huntington's disease, as my former assistant's family has been affected by it. It's a disease which isn't talked about. I'd never heard of it until I was invited to an event at Downing Street. We now have a three-year commitment of £50,000 a year where we supply a consultant for the South Wales, Gloucester and Somerset areas.
We also want to continue to have a connection to Herefordshire and in 2014 we gave £1m to our local hospice, St Michael's in Hereford, where I also helped to advise them on their Redevelopment Appeal.
In the heritage category we gave £500,000 to the SS Great Britain Trust for the new "Being Brunel" museum. I also donated my personal Brunel collection which had a value in excess of £1m. Other material gifts included the Ironbridge Museum, the Black Country Museum and the Birmingham Science Museum.
We've supported the Welsh National Opera for several years and more recently gave £250,000 to the City of Birmingham Symphony Orchestra (CBSO) for its Youth and Schools programme under its new conductor, Mirga Gražinytė-Tyla.


How has your philanthropy changed over time?
About five years ago we started to change how the charity operated. We plan on giving the vast majority of our estate to charity and therefore decided we should perpetuate the charity. We agreed it was important to bring additional trustees on board and develop some guidelines for them to steer the operation of the charity after we have gone.
We have appointed six fantastic trustees who bring different skills and experience to the table; one from the medical profession, one who has experience in international development, an educationalist and other business people.
In the early days, we used to get applications in, Sylvia would read them out and we'd say "yes'' or "no". To ensure we are thorough and fair to applicants we now have a standardised application form – through our website – and we assess the applications at trustee meetings. During the meetings we also have presentations from organisations which are looking for larger donations. They come and present for 30 minutes and the trustees vote on it. We ask for their accounts, who has supported them for the last three years and any other relevant facts which would help our trustees come to a decision.
One of your goals is to be a catalyst to unlock other funding sources. How do you work with other funders and help get them involved?
The Queen Elizabeth Hospital in Birmingham is a good example. We led the funding and development of the Imaging Centre, which was originally initiated by Cobalt Health, a charity which provides diagnostic imaging for individuals. They have nine mobile units in addition to their main premises in Cheltenham.
When we support charities with what, to us, is a big donation we also point them towards larger funders like The Wolfson Foundation, John Ellerman Foundation, The Garfield Weston Foundation and The Rothschild Foundation.


What do you get out of your philanthropy?
We are both practising Catholics and this is an important element of our faith, but we also get a lot of satisfaction out of it. The schools we support are incredibly grateful – as well as getting thank-you letters, there is a joy in seeing the organisations flourish. I keep in very close contact with all the schools and individuals I have helped and continue to advise many of them. I get such huge pleasure from my philanthropy – I don't understand why more people don't do it! I am a better giver than receiver.

What advice would you give to someone embarking on their philanthropy journey?
Get good advisers – tax and legal – and good trustees, they can really help you. I also think it's important to get younger people involved so they can bring forward new ideas.
Make the most of the opportunities that enable you to maximise the amount you can give away. I often secretly think when charities make "thank you" speeches they should also include the Inland Revenue, because the tax reliefs for donations to a charity really do make a difference. For example, one of the things that many people don't realise is that you can gift quoted shares into a charitable trust.
Charities centred in London also tend to attract a greater level of funding than those outside the M25, so for our philanthropy we think it's so important to have a regional presence. In spite of spending almost all of my working life in the City, and living in London and the Home Counties for many years, my origins are firmly in the Black Country and Birmingham. It gives me great pleasure to put something back into very worthwhile charities for projects that they may struggle to fulfil without our help.

Discover more about the Clive and Sylvia Richards charity here

About Coutts Institute
We understand that wealth means more than money. The Coutts Institute focuses on the governance of wealth - helping family businesses succeed, helping clients fulfil ambitions for their philanthropy, and preparing the next generation for inheritance.
Discover More About Coutts Institute