Coutts Entrepreneurs Research: Part One - Industry
Our research of almost 300 entrepreneurs has provided us with insights into the mind-sets of entrepreneurs in more than 15 industries.
| | |
| --- | --- |
| Advertising and marketing | 4% |
| Agriculture | 2% |
| Engineering | 5% |
| Financial services | 9% |
| Food and beverage | 5% |
| Manufacturing | 4% |
| Medical | 8% |
| Professional services | 9% |
| Property/ real estate | 18% |
| Recruitment | 2% |
| Retail | 4% |
| Tech | 10% |
| Other | 18% |
We asked our entrepreneurs key questions about how they see the world today and what they think the future holds.

"Are you concerned about the performance of the industry you are in?"
We were interested in finding out about the state of British business, from the point of view of its leaders. Entrepreneurs are considered to be inherently optimistic and we asked if that is reflected in how they feel about their industries today.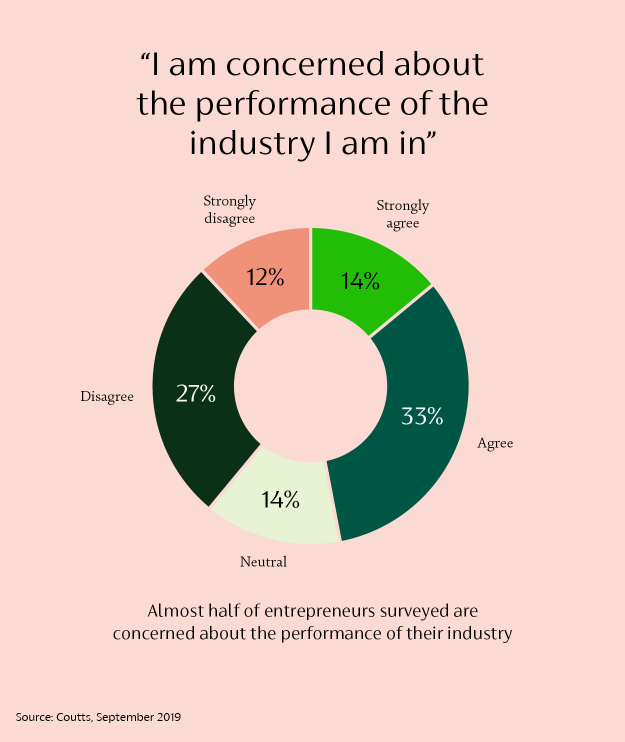 Perhaps surprisingly, while some respondents were positive about their industries, almost half of our total respondents (47%) said they were concerned about the performance of the industry they are in.

Does this bust a long-standing myth about entrepreneur optimism?
Well, concern about performance today is not the same as concern for the future. After all, another attribute of the entrepreneurial spirit is resilience. This means that, in order to prosper through change, entrepreneurs must identify and address issues head-on, not ignore them and hope to carry on as normal.
"What are you most worried about in your industry in the near future?"
Where there are concerns, the research showed that they are noticeably consistent across industries. Predominantly, these worries relate to access, specifically access to talent and access to capital at 36% and 28% respectively.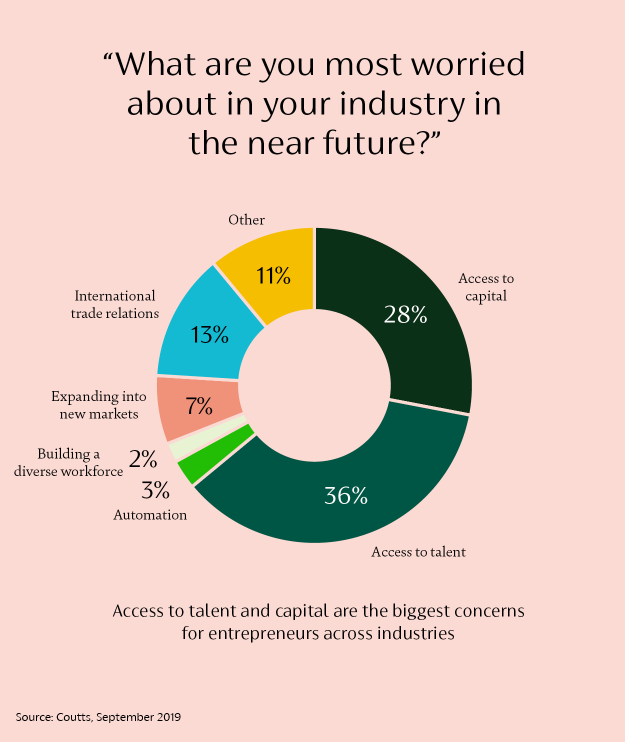 To succeed, entrepreneurs need many characteristics: courage, resilience, creativity. But talk to any entrepreneur and they will tell you one thing they need above all is a network – a network of advisers and investors putting both their capital and advice into their business, and a network of people around them equally as – if not more – talented than them.

So, it's no surprise that in a time of continued UK political uncertainty, entrepreneurs are concerned about finding the right skills and the right type of investor for their businesses.
"My industry is ripe for disruption"
It is precisely because entrepreneurs can recognise challenges that they are prepared for change and unafraid of what's to come.
This is why our research found that one thing entrepreneurs are not afraid of is disruption. Technological developments are changing the face of how we do business, and it is accelerating at an unprecedented rate.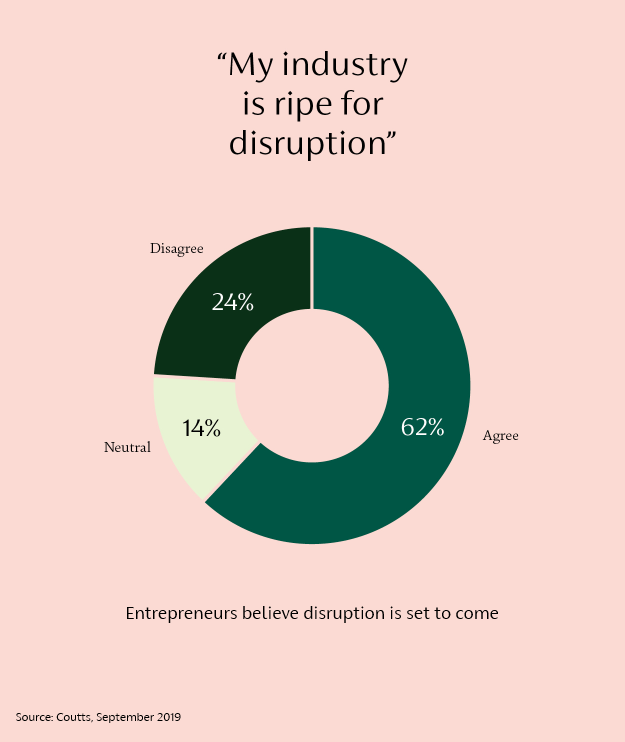 But what our respondents told us is that entrepreneurs are prepared for this, with almost two-thirds (62%) believing their industry is ripe for disruption. This seems to show they are able to prepare for change. They are also unconcerned by one of the major disruptive changes to almost all industries – automation – with the overwhelming majority (97%) not viewing this as a concern.
Conclusion

Entrepreneurs are not burying their heads in the sand and carrying on as if everything is the same. As they always do, they are preparing for change and are not afraid of what's to come. They can see change on the horizon, or perhaps already entering their workplace, and they are responding appropriately.
Coutts can support British businesses with a clear competitive advantage and high-calibre management teams by introducing them to an elite group of sophisticated investors. If you're an entrepreneur or founder interested in raising more than £2 million you can submit an application here. Eligibility criteria apply.
When investing, past performance should not be taken as a guide to future performance. The value of investments, and the income from them, can go down as well as up, and you may not recover the amount of your original investment.
Key Takeaways
Coutts research of almost 300 entrepreneurs provides keen insight into how they feel about the industries they work in.
Findings include that the two biggest concerns for them right now are access to talent and access to capital.
But they are not worried about major disruptive changes to their industries. Virtually all respondents said they were not concerned about automation, for example.
16 Oct 2019

Part two of our entrepreneur research shows them in a positive mood about investment into the UK.

22 Oct 2019

The third part of our entrepreneur research reveals how they feel about the markets they operate in.

24 Oct 2019

The fourth part of our entrepreneur research reveals how they feel and the wider role they want to play in society.