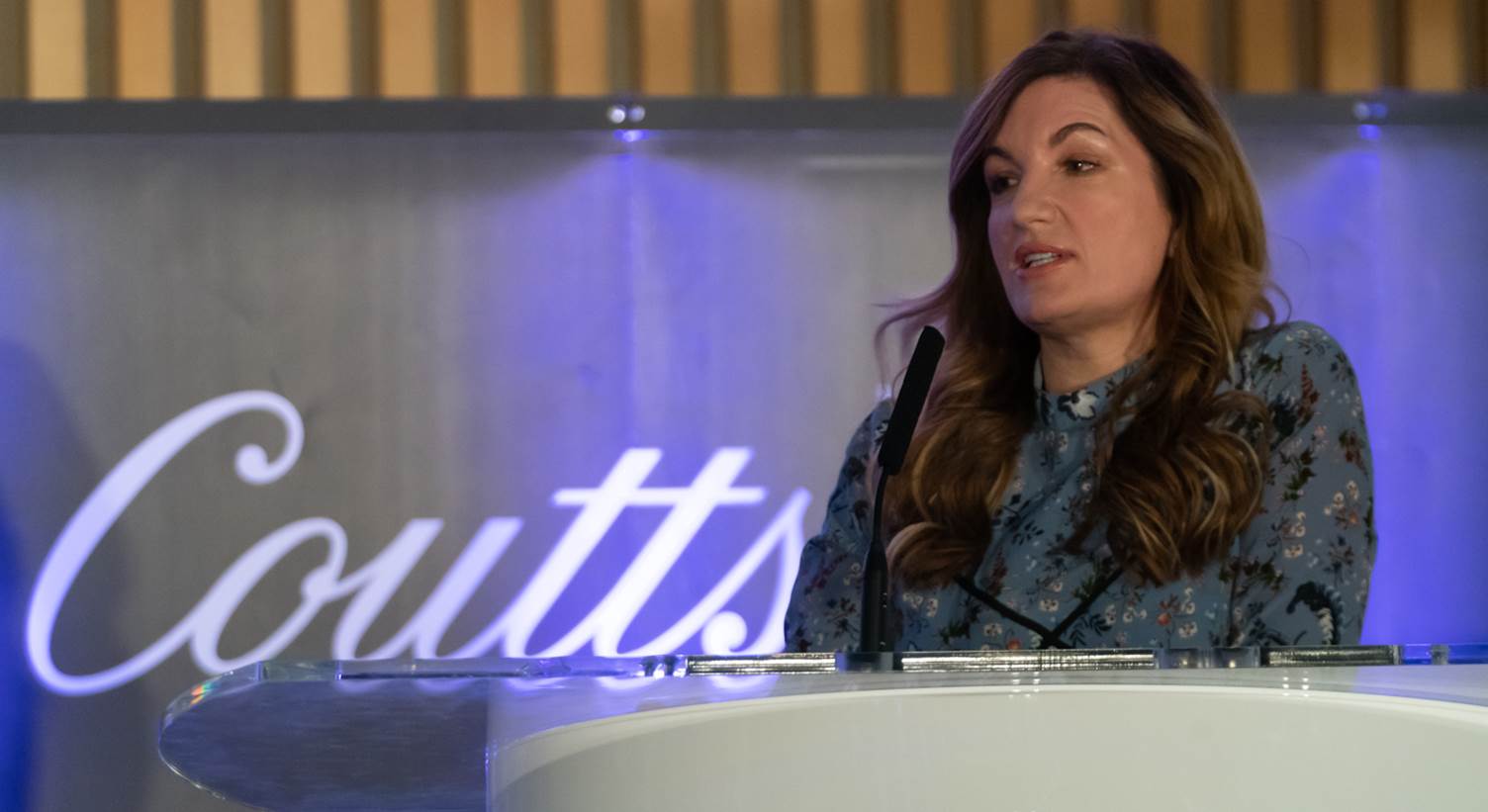 The Thomas Coutts Lecture – What does it take to make it as an entrepreneur?
Summary
Speaking at the inaugural Thomas Coutts Lecture as part of Coutts Entrepreneurs Month, Baroness Karren Brady, CBE, reflects on the key characteristics that make an entrepreneur.
3 min
read
For Baroness Brady, an entrepreneur is not only someone who spots a gap in the market, but also someone who can turn a business around. But what are the hallmarks that set a person out as an entrepreneur?
Smashing the glass ceiling

In Baroness Brady's case, she has repeatedly demonstrated her ability to put ailing companies back on the right track in a career that has seen her kick down barriers for women in business and football. Her tenacity and determination in her roles as managing director of Birmingham City FC – at just 23 – and vice-chair of West Ham United, turned around the fortunes of struggling clubs and set them on the path to spectacular success.
As key note speaker at the first Thomas Coutts Lecture, Baroness Brady took the opportunity to reflect on the characteristics that she sees in herself and in the entrepreneurs she has known.
"On my way here, I was thinking about who I was, why I got into business, how I pushed my business forwards, and what characteristics I needed personally to make that happen," she said. "Being the first person to grace the Thomas Coutts forum, I felt I should share these characteristics."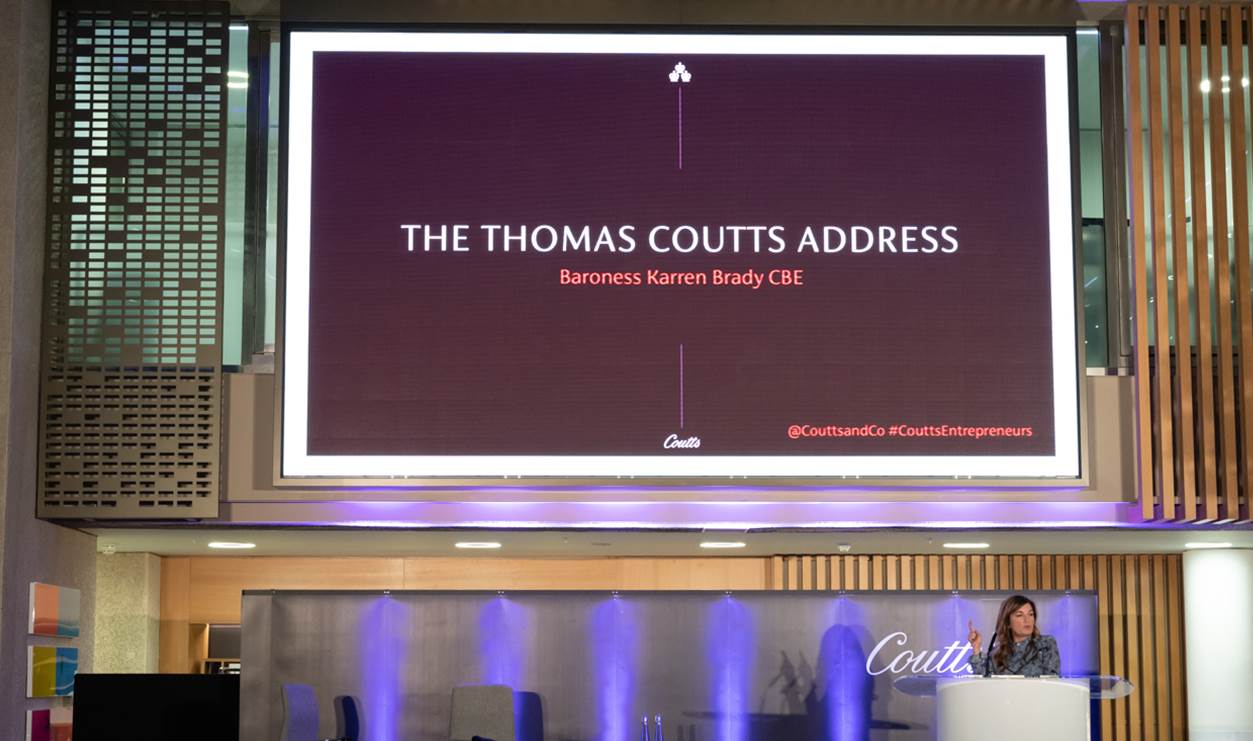 Leadership
"Culture is right at the heart of business success, and great culture is generated through leadership. Leadership is about ensuring everyone knows what a company stands for, where it's going and what each person's individual role in that journey is."

Ambition
"Without ambition, no one ever started anything. It is the spark, the fire that gets things going. The toughest thing about being a success is continuing being a success, and it takes continued ambition to keep driving forward."

Determination
"The ability to pick yourself up after you've been knocked down. Every entrepreneur has setbacks. I know many, many successful people and before any of them have reached success, they have had temporary defeat or sometimes total failure. Being an entrepreneur is about finding your backbone, gritting your teeth and putting one foot in front of another and keeping going."

Attitude
"There's one calling card that I bring to every decision – and this could be a business decision or a personal decision. I ask myself, if I make this decision if I push myself in this direction, what is the worst thing that could happen to me? If you truly can face the consequences of every decision you make, then I think it makes it so much easier to make the decisions you have to make. Because for entrepreneurs, when we stand up there's no one standing behind us."
Direction
"Direction is often disguised as hard work, and often people don't see it. And that's why every single person in my organisation starts their first day working in my office with me. Because I want them to know – what does it take to start a business? What does it take to run a business? The integrity, the passion, the hard work. I want them to see it and bring it to their work not just once but every day."

Positivity
"The last thing is to be positive. Because true success as an entrepreneur is largely a matter of hanging on, when everyone else is letting go."

A bank fit for the best
In his closing comments, Coutts chief executive officer Peter Flavel thanked Baroness Brady for her speech and looked back at the influence of Thomas Coutts on the bank today. "Entrepreneurs have been at the heart of Coutts for 327 years. We named this annual lecture after Thomas Coutts, because he was the trusted partner of change makers, risk takers and history shakers. And that tradition continues to this day."


Become A Client
When you become a client of Coutts, you will be part of an exclusive network.

Read More
Key Takeaways
Speaking at the inaugural Thomas Coutts Lecture as part of Coutts Entrepreneurs Month, Baroness Karren Brady, CBE reflected on what makes an entrepreneur. In her experience, an entrepreneur needs the following characteristics to thrive:
· Leadership
· Ambition
· Determination
· Attitude
· Direction
· Positivity