Entrepreneurs Month: Amazing Grace
Inspiring, innovative entrepreneur Grace Graham shares her hard-hitting tale of how she found success. We spoke to her as part of the Coutts Entrepreneurs Month.
3 min read
Most Popular
27 Feb 2023

As the new tax year approaches, you might want to know about possible changes to what you'll pay in tax.

3 min
Grace Graham is the founder and director of WorkSpa, which brings well-being to the workplace. Massage, mindfulness and yoga are just three ways her firm helps companies support their staff.
But her journey to becoming a successful entrepreneur has been beset with harrowing barriers. She is a shining example of how, with enough determination, drive and dedication, the entrepreneurial mind-set can win out even against the toughest odds.

In our second in a series of articles for Coutts Entrepreneurs Month, Grace tells her story and shares her thinking on what makes someone successful.
My name is Grace...
...and I am an entrepreneur.
My workplace well-being company, WorkSpa, supports organisations across the UK to help them improve employee productivity, satisfaction and welfare. We provide a range of holistic services to support the mental and physical well-being of employees. This month we celebrated supporting our 60th client.
But this is a far cry from what my life once looked like: a long-term battle with addiction to escape the reality of losing my father at 15 to Parkinson's disease, being raped at 17 and the death of my boyfriend at 19.
I was raised by my single mother, who taught me the value of education and to never become a victim of my circumstances. My father was sick and, when I would visit him, I massaged his hands to help reduce the tension from his medication – unaware that massage and well-being would later become my destiny.
I was assaulted shortly after he passed away, and left the area to keep safe, travelling down to sixth form while in hiding in the hope of getting a place at Bristol University. I did. But during my first year my supportive and caring boyfriend was murdered.
Against all odds, I graduated. But this was not through a healthy response to my adversities. I simply shut them out, suppressing my pain through alcohol and drugs.
three ways to create a mind-set of change
At 28, I ran into the man who had harmed me and realised I could no longer hide from the pain. I took him to court, and he was later sentenced to 13 years in prison. This was my trigger to change, and there were three things that helped me do so. I believe these things can apply to any number of circumstances, not just my own, and can be particularly useful for entrepreneurs.
Self-empowerment: a successful entrepreneur must be aware of who they are and their strengths and weaknesses. If you are able to accept this, you become empowered to overcome your weaknesses and maximise your strengths.
Accepting change: once you have recognised your strengths and weaknesses, you must look to change yourself for the better. Knowing when and what to change is key to becoming the best version of oneself.
Facing your fears: I have learnt that change is not be feared but only to be understood. The more we understand, the less we fear and the more resilient we become.
Following years of self-destructive behaviour, I made the decision to change and followed my passion to start my business. I remembered the difference it made to my father's well-being all those years earlier and wanted to help others.
Realising I had to become more serious about my life, I checked into rehab; I am now more than two years sober.

Starting from scratch
With the help of The Prince's Trust enterprise programme I developed my business plan. The programme provides support for young people like me, teaching them the skills to set up a business through mentorship and training.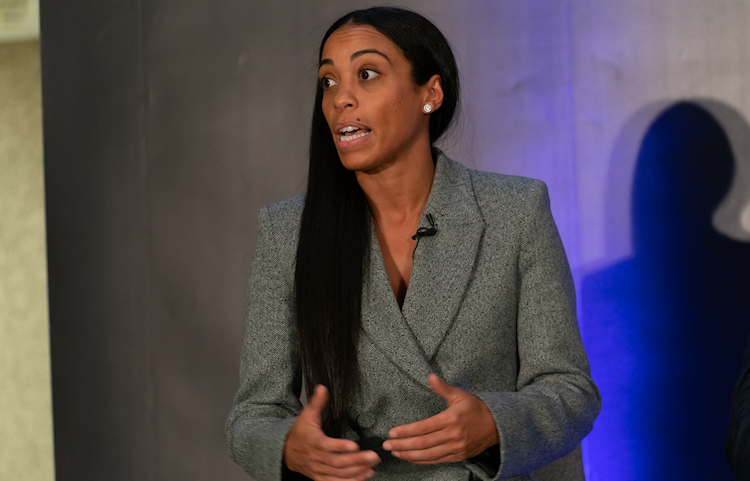 After taking part, I felt like anything was possible. The mentors from the trust guided me in the right direction and encouraged my ideas and independence, helping me realise I had the ability to create success for myself.
My goal is to help companies create working environments that meet the diverse needs of their employees, to help them thrive in business. This makes business sense: a study from the Social Market Foundation found that happy employees are up to 20% more productive than unhappy employees (Happiness and productivity: Understanding the happy-productive worker, Social Market Foundation, October 2015).
When you become a client of Coutts, you will be part of an exclusive network.

Read More
building a support network
For an entrepreneur to truly prosper, one needs a support network.
Throughout my life I have been fortunate to have the support of my mother and sister, The Prince's Trust, my business mentor Chris Letcher and many people on my journey who believed in me, even when I didn't believe in myself.
My advice to any aspiring entrepreneur is to not give up: surround yourself with a network of people who lift you up and facilitate your self-empowerment, your mind-set of change and your resilience.
From the words of poet and American civil rights activist Maya Angelou: "You will face many defeats in life but never let yourself be defeated."
That is the entrepreneurial spirit.
My name is Grace and I am an entrepreneur.
Comment from coutts
"Grace's story is truly inspiring. It shows how talented, hard working people can overcome incredible adversity and achieve great things. In our experience, entrepreneurs come from many different backgrounds and find their path to success in many different ways. No two stories of a start-up are the same.
"Nearly all the entrepreneurs I meet have had to overcome many setbacks, and resilience is always a key to their success. At Coutts we strive to support our entrepreneur clients no matter what path they took to get where they are today, so we can help them get where they want to be tomorrow.
"It's about providing support and working in partnership – for the long term. We're proud to stand alongside these extraordinary people."
Greg Kyle-Langley, Head of Entrepreneurs Proposition, Coutts
Read more from Coutts Entrepreneurs Month. Speak to your private banker to learn more about how Coutts can help new business founders or discover more here.

Key Takeaways
WorkSpa founder Grace Graham has the following advice for entrepreneurs:
define your strengths and weaknesses so you can build on the former and overcome the latter
figure out what you need to change to become the best version of yourself
face your fears
Coutts aims to be the best private bank for entrepreneurs in Britain. We are proud to work with over 20,000 of the UK's most talented and innovative entrepreneurs, working in partnership to help them achieve their goals.