Coronavirus: The broader impact – health care
In the second of our articles on what impact the coronavirus might have on the economy, investments and business, Alan Higgins, Coutts UK chief investment officer, considers how a sudden rise in the use of telemedicine, robots and AI could shift consumer behaviour.
4 min read
Most Popular
19 Sep 2023

By leaving your money invested for longer you could take advantage of compounding to help realise greater returns and potentially protect your wealth from volatility.

4 min

13 Sep 2023

August can be a tough time for equities and this year was no exception. Despite the initial volatility, the market's mood lifted as the month drew on, boosted by a run of strong earnings reports.

3 min
We're here to help clients who may be affected by coronavirus and have robust plans in place to minimise any disruption to our service

Read More
Treating the coronavirus outbreak has been a massive challenge to human ingenuity and inventiveness. The comparisons to war time are not misplaced – as in war time, we've been forced to look to our existing faculties and innovate.
In our previous article in this series, we observed how the sudden expansion of working from home technology could lead to a down-turn in the office space market. This time we look at what impact behavioural changes and technological innovation could have on the health care sector.
Returns from health care have been narrowing
The health care sector has been a mainstay of investor strategies for well over a decade. The combination of an ageing global population and improvements in medical technology mean that there has been ample scope for the health industry to grow in size and profitability.
It is also a well-established defensive theme, and tends to be less affected by the economic cycle – in good economic times and bad, people still need medical treatment.
However, as a result, it has become a rather crowded space for investors. After a period of strong outperformance, returns have reverted back to closer to mainstream equity, making it more difficult to add value in the space. It also has the potential to be a political tool particularly in the important US healthcare market, which can make returns unpredictable.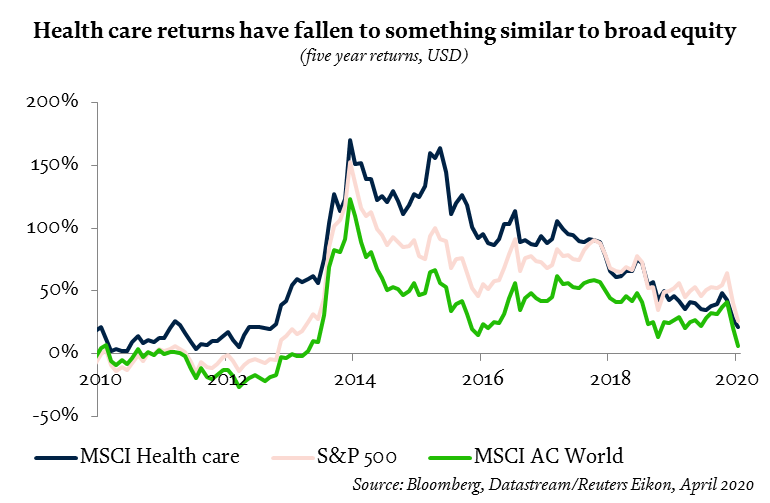 Consequently, we sold out of a dedicated health care position last year. We still think the long term prospects for health care are good, and of course it's already a significant component of major market indices – circa 14% of the S&P 500 and 11% of the FTSE 100 – which we invest in.
But we're waiting for better (cheaper) relative valuation levels and more clarity with respect to potential US legislation before we make new dedicated investments in the sector.
From house calls to video calls
While it's fairly obvious that the use of telemedicine, robots and AI in health care will increase after the coronavirus crisis passes, it's easy to underestimate just how profound the change will be.
So far, we have seen substantial growth in emerging markets. For example, the Indian government has been backing telemedicine to deliver healthcare in areas that lack resources and infrastructure. As a result, India's telemedicine market has grown by 20% a year since the mid-2000s, according to data collected by the Associated Chambers of Commerce of India.
In the developed world, a lack of immediate need and a cautious regulatory environment have acted as a brake on growth, but the arrival of the coronavirus outbreak has completely changed the landscape.
The NHS 111 online advice service – which uses a simple algorithm to offer advice based on symptoms - dealt with more than a million queries in the first week after it was launched
French telemedicine start-up Quare saw bookings increase by 40% in the first week of March as the impact of the lock-down made itself felt
In the US Medicare has relaxed a previous restriction on the use of telemedicine which was historically limited
China has moved roughly half of medical care online, which has helped slow the virus
And it's not just telemedicine. We also have the rise of the robots in healthcare. In Wuhan a hospital staffed by robots – dubbed "The Smart Field Hospital" – has been developed by tech innovators CloudMinds, a maker of cloud robotics systems based in China and the US. All medical services are being carried out by robots after screening by 5G thermometers. Robots are particularly effective at disinfecting rooms with intense UV light.
Will the innovation stick?
When SARS hit china in 2003, people also stayed at home. From here, Chinese social media and e-commerce took off. The owner of a chain of 'old-fashioned' bricks and mortar consumer electronics shops Richard Liu shut them all and set up JD.COM, now worth circa US$ 60bn.
Similarly, Chinese online retailing giant Alibaba was four years old and finding its feet in 2003 when the SARS outbreak hit China. Starting in March that year, as the impact of the outbreak made itself felt, the company's business-to-business e-commerce service added 4,000 new members a day and sales grew by 50% by the end of the year.
The need to find to find new ways of doing business led to explosive growth. I believe that the crisis will encourage people to engage with the new ways of accessing health care, breaking down behavioural barriers. Health care providers have been compelled to deploy existing offerings to wider audiences, which will drive innovation and improvements, forming a feedback loop with behavioural change to accelerate growth in the sector.
Investing in change
At the moment, not many of the companies working in health care tech are publicly quoted. Much of the fiercest innovation is happening in smaller companies that are more akin to tech start-ups than traditional health care stocks. We can offer clients exposure through our Coutts Investment Club private equity capability (available for qualifying clients only), where we continue to search and shortlist companies working in the sector.
But innovation and change driven by telemedicine, AI and robotics could drive another boom for health care as it permeates the mainstream. In the coming years as the trend becomes more established, we expect to see more of this capability being brought in to larger health care providers. As with e-commerce, those that act quickly will be the ones to benefit the most.
When investing, past performance should not be taken as a guide to future performance. The value of investments, and the income from them, can go down as well as up and you may not recover the amount of your original investment.
About Coutts investments
With unstinting focus on client objectives and capital preservation, Coutts Investments provide high-touch investment expertise that centres on diversified solutions and a service-led approach to portfolio management.
Discover more about Coutts investments