"Entrepreneurs form the backbone of the British economy"
As part of our series of articles for Coutts Entrepreneur Month, we speak to Business Growth Fund CEO Stephen Welton. His organisation has invested in almost 300 UK businesses in the last eight years.
2 min read
Most Popular
27 Feb 2023

As the new tax year approaches, you might want to know about possible changes to what you'll pay in tax.

3 min
Stephen Welton is the founder and CEO of BGF (Business Growth Fund), which has invested in almost 300 UK businesses in the last eight years.
The organisation takes a minority stake in all the companies it invests in, providing them with the tools needed for growth, from funding to expertise, while allowing businesses to maintain control and set their own course.

In the third of our series of articles for Coutts Entrepreneurs Month, we speak to Stephen about the businesses he backs, how entrepreneurs should navigate uncertain times and the best ways to scale a business.
Q. Why does BGF back entrepreneurs?
Stephen Welton: We know that entrepreneurs form the backbone of the British economy and we are here to continue supporting them, especially now through these uncertain times.
Entrepreneurs are defined not simply by their business know-how or their connections, but by their attitude and resilience. 'Uncertainty' is a word that strikes fear into the hearts of many. But entrepreneurs? Absolutely not. Disruption is often a by-product of both uncertainty as well as innovation. Think about the green agenda for example.
Forging your own path, creating a business you believe in from scratch, is something courageous, and succeeding means adapting to the winds of change, whatever they may be.

Q. What are some of the most impressive companies you've come into contact with recently?
Stephen Welton: Over the past 12 months, I have met countless entrepreneurs finding new ways to innovate and expand, from tackling Britain's housing crisis, to using data to help manage budgets in the NHS, expanding British education overseas, and developing new technologies for driverless cars. These are firms with the potential to realise the financial rewards of progress, and drive globally transformative innovations.
Q. What are the best routes entrepreneurs can take to scale their business?
Stephen Welton: For many entrepreneurs, there comes a time when they want to push hard to scale their business, to help realise its value and potential. They want to provide opportunities for staff and secure their future. They have ambition at one level.
Yet I am always surprised by how many have never even considered seeking investment as a key part of fulfilling their plans.
We know that most founders and business owners know their company and markets like the back of their hand, so they already have a strategy. The big consideration comes down to how they fund their growth – because that often starts with fears about dilution and loss of control. This can mean that who or where to get investment from is frequently an emotional decision.
Bank loans consequently remain the first choice for the majority of companies as an apparently simpler and cheaper route. These carry many advantages, including not requiring you to give up a percentage of your business. But all too often they are being used by those with higher-risk profiles or on projects where equity investment is a more suitable alternative. Like most things in life there is no right answer, but a balanced approach to funding, mindful of potential 'bumps in the road', is both prudent and smart.
Comment from coutts
"BGF is an extremely important organisation that we have worked closely with over the past year as part of our support for entrepreneurs. Our connection actually goes back to when BGF launched in 2011, when our parent company RBS became one of five major banks to provide financial backing.
"Coutts works with many entrepreneurs looking to scale and we know that finding the right financial partner can be a real challenge. That's why a big part of what we do for our entrepreneur clients involves giving them access to a unique network of powerful connections.
"When businesses are ready to raise large amounts of equity, we help them find investors who understand the journey they're on. But we also put them in touch with fellow founders so they can share their expertise and support one another.
"Stephen's inspirational words speak volumes in terms of how backing new British businesses can benefit all involved and become a real boost to the UK economy."
Dylan Williams, Coutts managing director for England and Wales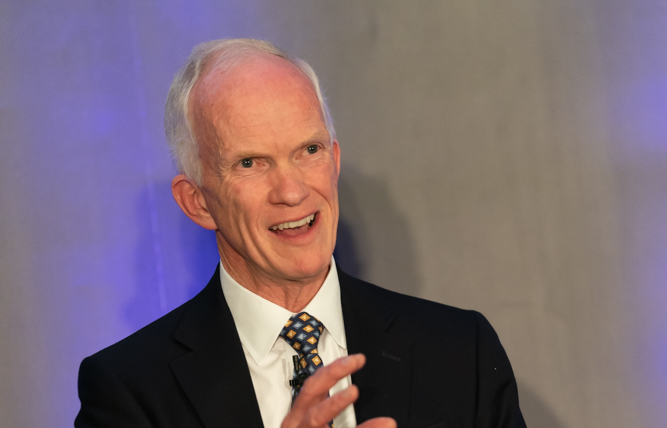 Q. Coutts' research found that entrepreneurs' two biggest concerns are access to talent and access to capital. Should they be worried?
Stephen Welton: It is no surprise that political uncertainty has had an impact on business confidence, but that's why BGF is working harder than ever to put our faith in British business.
The wrong response from investors to the uncertainty surrounding Brexit is despairing over the very same uncertainty entrepreneurs are gainfully battling through.
The financial crisis in the last decade brought into sharp focus the lack of equity capital in Britain and sponsored significant change throughout the funding landscape. The UK had to reimagine how it was backing business and supporting entrepreneurs with growth capital.

When you become a client of Coutts, you will be part of an exclusive network.

Read More
Q. what's your big message to investors and entrepreneurs?
Stephen Welton: In this challenging and unpredictable climate, it is important to keep confidence in British business and industry.
Entrepreneurs did not down tools on their growth ambitions during and after the financial crash, and they certainly aren't doing so now. Investors should not either. Banks will support but only so far, so the need for equity investment has never been more crucial.
If investors make capital available, as they did in the years following the previous recession, then the UK will remain one of the best places in the world to do business. We have made real progress, so we should not rest on our laurels now but think how we scale from here.
Now is not the time to hunker down in the bunker, but to get off the side lines. It is time to back the job creators, the innovators and the stimulus of future growth. It is the time to inspire companies with the belief and resources to grow. It is time to accelerate our ambition culture across the country. It is time to back the industries of the future. There is a key role for policy makers here as well.
For when faced with economic disruption, entrepreneurs – the pioneers, problem solvers and creative visionaries of our time – become even more valuable. They are willing to bet on Britain, and in turn investors should be betting on them, too.

When investing, past performance should not be taken as a guide to future performance. The value of investments, and the income from them, can go down as well as up, and you may not recover the amount of your original investment.
Key Takeaways
As part of its support for entrepreneurs, Coutts has worked closely with the Business Growth Fund (BGF), an organisation that has invested in almost 300 UK businesses in the last eight years.
Stephen Welton, CEO of BGF, believes that it's more important than ever for entrepreneurs and investors to "bet on Britain" during uncertain times.
Coutts can help businesses that are ready to raise large amounts of equity find investors who understand the journey they're on.