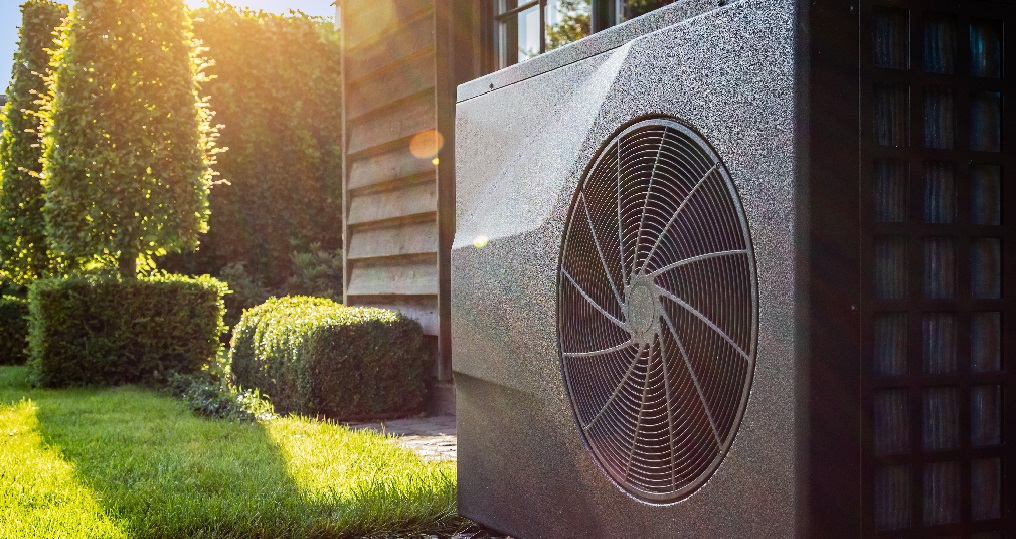 SAVE ENERGY AT HOME



What is a heat pump?
How does a heat pump work?

A heat pump is an alternative to a boiler. Heat pumps work similarly to a fridge but in reverse. Tens of thousands of heat pumps have already been installed across the UK. They move heat from outdoors into your house and can also remove excess heat from your house to keep it cool. Different heat pumps use different sources of heat.
Heat pumps are a great way to reduce the carbon emissions of your home. They can, in certain circumstances, also help you save money on energy bills. However, it is important to consult one or more certified installers to make sure it is a suitable heating system for your home.
An air-to-water heat pump transfers heat from the outside air to water. It can then be used to heat your home through radiators or underfloor heating. An air-to-water heat pump can be used to heat your water. This is the most common heat pump in the UK.

The costs are between £7,000 and £13,000.

A ground-to-water heat pump (or geothermal heat pump) extracts heat from the ground into a fluid, which then heats up your radiators or underfloor heating. This heat pump can also heat your water.

The costs usually range between £14,000 and £19,000. However, the actual cost will depend on the type of your property and the required groundwork.

An air-to-air heat pump is suitable for smaller properties. It uses a fan system for heating and cooling your home. However, air-to-air heat pumps don't heat water.

The advantages of air-to-air heat pumps are the easy installation and lower costs, which could be between £1,600 and £3,100.
The estimated costs of the different types of heat pump stated in this article were taken from the Energy Saving Trust.

Could a heat pump save me money?

The amount of money you could save from switching to heat pump will depend on several factors, some of which are outlined below. If you would like to know more, the UK Gov website https://www.gov.uk/check-heat-pump provides a calculator allows homeowners to assess whether a heat pump could be suitable based on details of your home. These include:
The suitability of a heat pump or a boiler for your home depends on various factors and will be specific to an individual circumstances. The Energy Savings Trust has provided a range of case studies with personal stories of different homeowners which provide examples of people who have installed Heat Pumps.
Given the complexities involved, if you are considering switching to a heat pump heating system, make sure you consult a certified heat pump installer, e.g. installation engineers registered with the Microgeneration Certification Scheme.
Heat pumps can cost more than a boiler to install. However, to support the government's ambition to install only low carbon heating systems from 2025, financial support is available to partially cover installation costs. This means you could be eligible for financial support to help you switch to a heat pump.

Heat pumps are highly efficient as they can generate between 3-4 times more energy than they consume.

The exact energy savings will depend on your home's current heating system and insulation.

Rather than burning fuel, heat pumps use electricity for power and produce much more energy than they consume. Heat pumps can be powered by solar panels or other sources of renewable energy, such as a renewable home energy tariff, which makes them a better option for the planet. The efficient use of energy means that, compared to traditional boilers, much less carbon dioxide (CO2) is produced in the process of heating your home.
Home energy grants and schemes
There are a range of schemes that offer financial support for your energy saving home improvements.
England and Wales

The

Boiler Upgrade Scheme (BUS)

is a scheme offered in England and Wales. Starting in April 2022, BUS will offer a grant up to £6,000 to replace traditional boilers with low-carbon heating alternative.

Eligibility criteria

regarding current

EPC rating

and outstanding recommendations for loft or cavity wall insulation apply.
If you live in Wales, the

Nest scheme

also helps with funding energy efficient improvements in low income households. They also offer free and impartial advice on energy and water saving.
Scotland
If you live in Scotland,

Home Energy Scotland

offers funding and loans supporting energy efficient measures.
Already a client?
Contact your private banker at any time or call +44 (0)20 7957 2424 for more information.
All calls with Coutts are recorded for training and monitoring purposes.