Philanthropy | 16 August 2023

How The Coutts Foundation and Winner are helping tackle poverty and support vulnerable women
As an independent fund the Coutts Foundation works with over 20 charities and support groups across the UK with nearly £1 million in grants given annually, here we look at their work supporting vulnerable women in Hull with Winner.
The Coutts Foundation was founded ten years ago as a way for the bank to express its commitment to philanthropy and remember the legacy of Thomas Coutts and his grand-daughter Angela Burdett-Coutts. Angela was a notable Victorian philanthropist and co-founder of the London Society for the Prevention of Cruelty to Children – later the NSPCC – who gave today's equivalent of £350 million to help address poverty and support the welfare of vulnerable young women.
"Today the Coutts Foundation seeks to honour that legacy," says the director Clare Richards MBE. "We operate with a mission to tackle the causes and consequences of poverty in the communities where Coutts has a presence."
That takes many forms: to date the Foundation has given £900,000 to support charities addressing homelessness and they continue to work closely with The Connection at St Martin's in London to help the estimated 10,000 people sleeping rough in the capital. The Foundation also looks to support performing arts groups for younger people in deprived areas, working with seven theatre groups across the UK – to whom they have donated £600,000.
"These are in communities where young people simply wouldn't otherwise get access," says Clare. "Performing arts has been shown to really help people's wellbeing, their resilience and confidence. Studies also show it can improve physical health. Sadly, performing arts is often the first part of a school budget to be cut so we really want to support the difference it can make."
Supporting women and girls with Winner
The primary focus of the Foundation though, is women and girls who face disadvantaged circumstances – to date they have donated £3.8 million to 20 organisations helping vulnerable women and girls across the UK. "Though there has been extensive media coverage of these issues, funding remains low," says Clare. "That has very real consequences: for example domestic abuse – something that very much affects women – remains very high. Today it's the third highest cause of homelessness."
One charity Clare and the Foundation work closely to support is Winner: Preston Road Women's Centre. Covering some of the most deprived areas in Hull, since 1999, Winner has grown to support over 1,000 women and children every year. Today, it employs 43 women who provide services around domestic abuse, housing, legal advice, nursery provision, training and employment and volunteering opportunities.
Winner's work is never one dimensional says its CEO Ann Clarkson. Everything they do plays into an ecology of support which can change lives on many levels, far beyond the initial service.
"The cost-of-living crisis has had a big impact in increasing our staff and service costs. Likewise, for those we help, finance has always been a barrier for women seeking to leave abusive relationships and the current economic situation has added to this with increases in utility and food costs, rent going up, travel and transport."
Winner is able to help women on an individual level find purpose and independence by giving them the time and training to find new roles. That principle of empowerment through economic sustainability is mirrored in its support through advice and guidance for other social investors.
"We've helped them develop financial products to support voluntary and community sector agencies who can then access investment funds to enable them to grow their ideas," says Ann. "For example, this includes administering a grant fund to enable organisations to buy in consultancy and create or backfill posts which then frees up the time and expertise needed elsewhere."
Likewise, Winner has been able to invest and grow a financially sustainable portfolio of over 200 properties. "The income received has led to us being able to offer safe homes to more women and children. It has also enabled us to safeguard the jobs of the women who work for us," says Ann.
A major milestone has been its new women's centre in Hull. The Purple House was the first purpose-built women's centre in the country to be specifically designed and consulted on by the women who deliver and use the services – opening doors in every sense: "one of the most rewarding parts of my role is seeing women through their journey of recovery from first coming into the building, accessing support services to moving on to training, volunteering and in many cases returning to education or work," says Ann.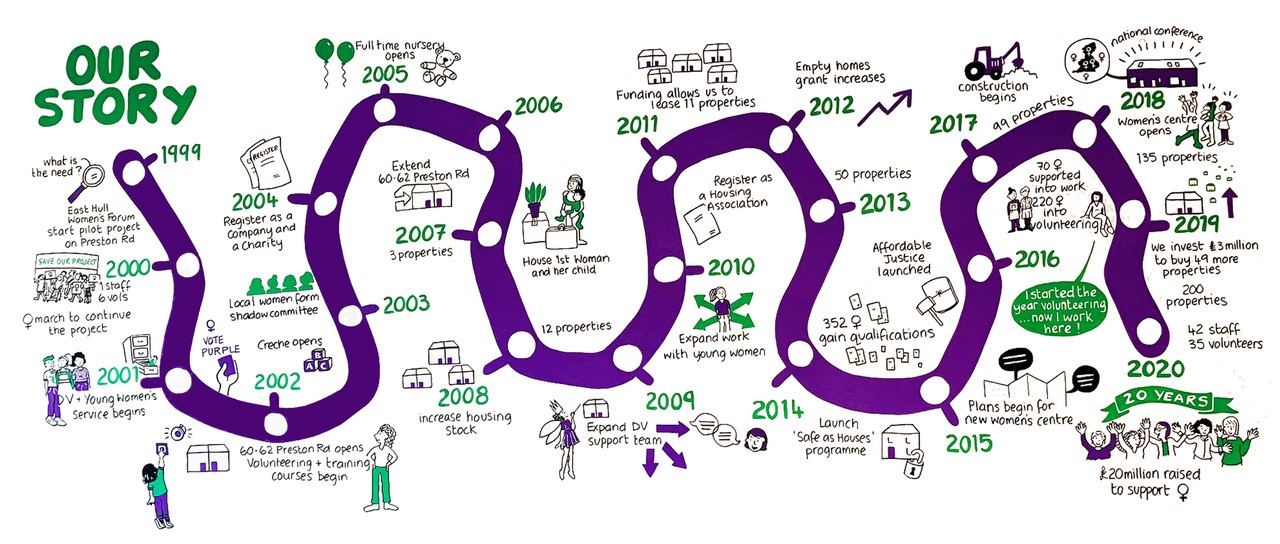 An illustration of Winner's growth and journey since 1999
WIN WINS

The Coutts Foundation's work as a very reactive approachable funding partner has been "invaluable", says Ann, not only in providing financial support but also in utilising a broader network to help connect charities and support groups to find best practice and share experiences. Over the last five years Winner has been liaising with other women's sector organisations across the UK to share knowledge and offer support for those developing their own sustainable income systems which mirror its model.
As Coutts Foundation director, this remains one of most inspirational moments says Clare. "We were able to bring the leaders of the organisations we work with together last autumn. It was incredible to see how collegiate they were and how open to sharing. It was so powerful to see how their commitment to change was driving them. As a supporting foundation we don't pretend we're the experts. We want to let their expertise shine through."
Coutts clients can donate their Coutts Crowns to the Coutts Foundation to help support the charities they fund through THANK YOU FROM COUTTS.
The Coutts Foundation is an independent charity registered in England and Wales. Registered charity number: 1150784 and a company limited by guarantee (number: 8395296).