Is london property turning a corner?
Our latest property focus covers top trends in the capital's high-end housing market. And in a special feature, we look at how one of our clients is building an eco-friendly home.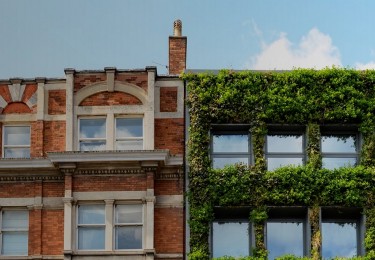 Is london property turning a corner?
Our latest property focus covers top trends in the capital's high-end housing market. And in a special feature, we look at how one of our clients is building an eco-friendly home.
7.8%
Annual price growth for London properties worth £1m or more
35.2%
Percentage of London luxury properties sold at a discount
58%
The average price difference between inner and outer London
Twice a year we analyse the latest trends from the London prime property market – properties worth £1 million or more. We call it the Coutts London Prime Property Index. But we sometimes also shine a light on something from the wider property world. And with environmental concerns top of most minds, we thought we'd find out what's involved in building a planet-friendly, energy-efficient home – by speaking to a client who's doing it.
So here you are – facts and stats from the capital's luxury property market, including an area-by-area breakdown, and one man's eco-friendly journey…
We're seeing several signs that London's prime property market is getting back on form.
Prices are now only 6.7% below the glory days of their peak in 2014.

They're also up 7.8% compared to last year, with double digit rises in some areas.

The price difference between central London and outer London is increasing, with central properties now 58% more expensive, up from being 49% pricier at the start of the year – a sign that central London property is picking up.

Buyers are getting relatively low discounts – currently less than 6% off the asking price, the lowest figure we've seen since starting this research in 2016.

The number of properties sold across the market is up 13% compared to the 10-year average.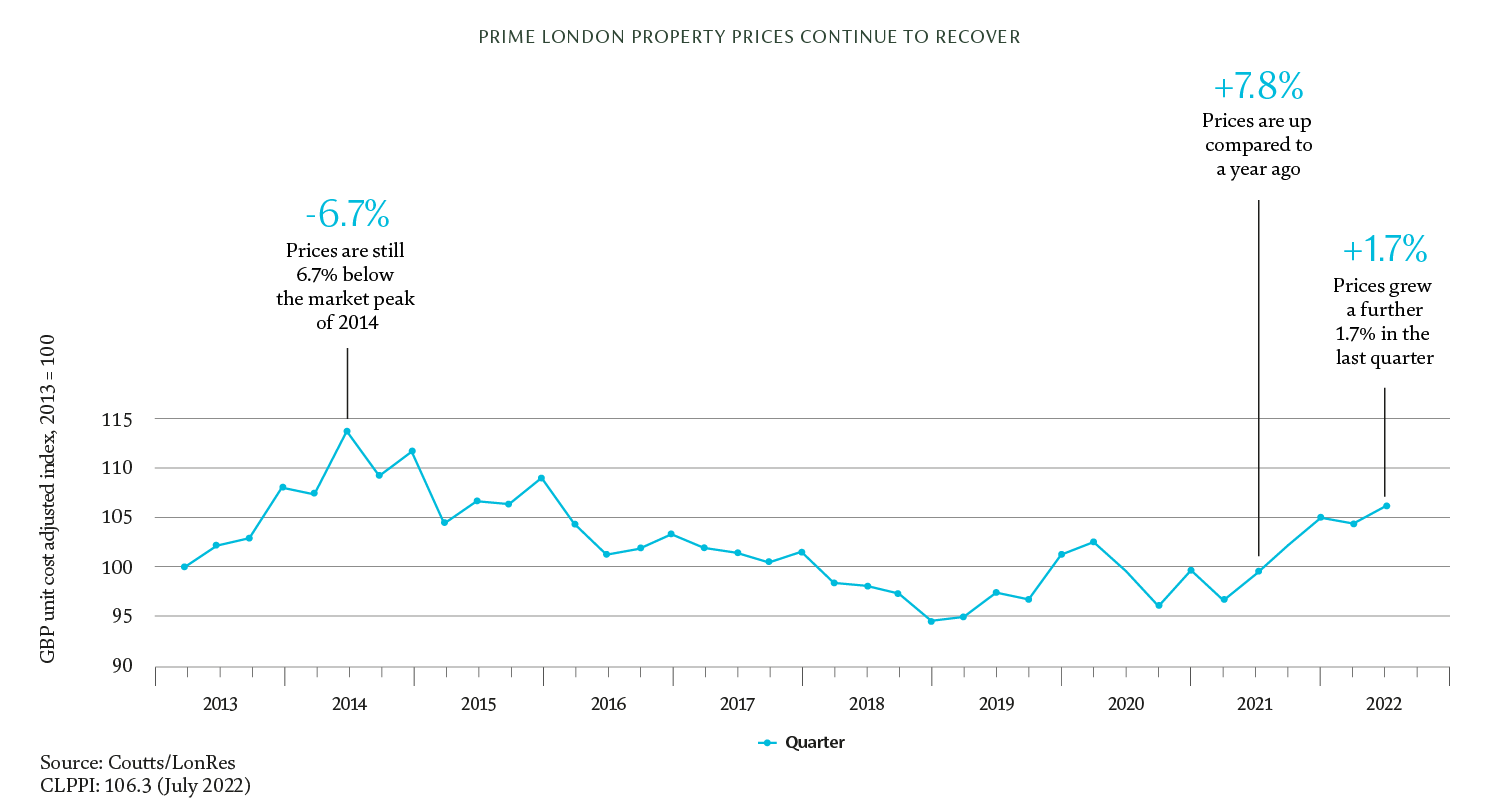 HOT COMPETITION IN HAMPSTEAD, A bouncE in Belgravia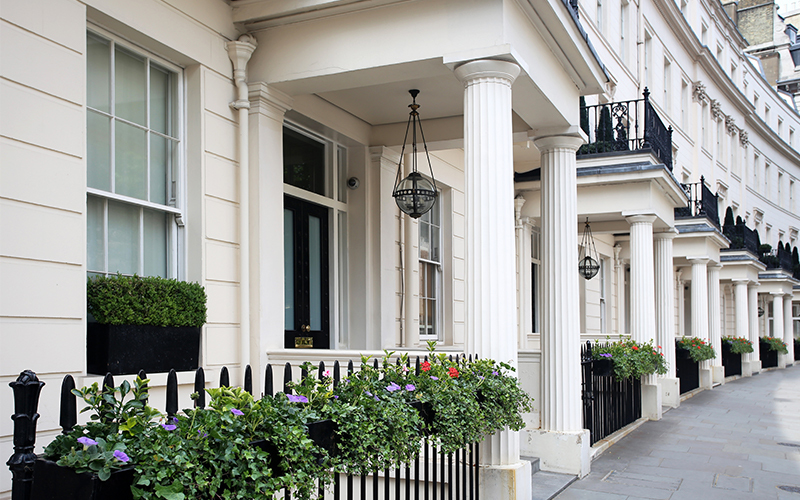 You can pick an area and get chapter and verse on its prime property market at the postcode selector below. But here are three key highlights from specific neighbourhoods.
Hampstead & Highgate has had the highest price growth across the capital over the last 12 months, up 13%.
With new listings down 29% in King's Cross & Islington, buyers are negotiating a mere 1% off the asking price on average.
Although Knightsbridge & Belgravia has looked very cheap compared to historic prices for some time, it's bounced back recently, with prices jumping 14% in the last three months.
More and more people are making their properties more energy efficient and environmentally friendly – good for the planet and their household bills. But how easy is it to achieve? Coutts client Paul Hadaway shares how he's building a sustainable home from scratch.
When property executive Paul Hadaway set about building his dream home, making it eco-friendly wasn't actually top of mind. His priority was simply "to build a modern house in the country".
But 81 solar panels, 3,000 new trees and tonnes of low carbon concrete later, his house is good for the planet's future as well as his own.
"I wanted it to be a truly modern house with everything that entails, and that obviously included making it energy efficient – cheap to run," he says. "But building an eco-house was not the primary driver, that developed as we worked through the project."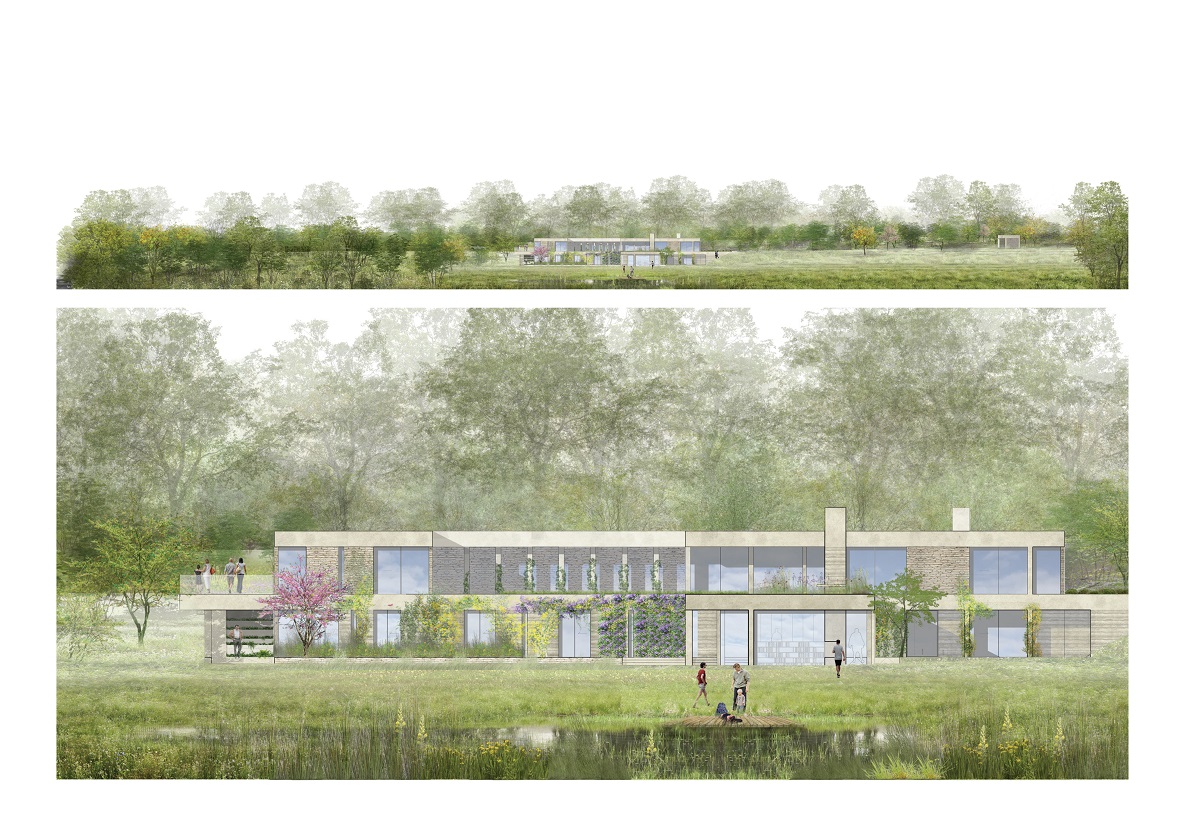 Patience, persistence and pride
Paul's new home, called Field House, is a five-bedroom property in the Gloucestershire countryside, designed by architectural firm Loyn + Co. The process to start building it began in 2016, and it's due to be finished in the summer of 2023.
It's expected to get the highest possible Energy Performance Certificate (EPC) rating of A, achieving an impressive 98 out of 100 of the government's 'Standard Assessment Procedure' (SAP) points. And it's set to get the same excellent score for its Environmental Impact Rating, which looks more specifically at carbon emissions. That's pretty impressive for a design that's been driven by aesthetics.
Its eco credentials are something Paul's very proud of, particularly as achieving them required quite a bit of patience and persistence.
"You'll only get a lot out of making a new house eco-friendly if you're really interested in it," he says. "It's quite complicated, involves a lot of critical thinking, and can only be achieved with the right team of specialists around you. This can be so much more experimental than people realise – there's a lot of gobbledygook. But work your way through it and it can be very beneficial and very satisfying."
Don't assume you'll get planning permission
One of the challenges came from getting planning approval for the property. Paul says council planners were predominantly focused on high architectural standards and, although eco considerations are now embedded into that, being planet-friendly isn't necessarily enough.
"Being eco-friendly has gone beyond box ticking and is now a pre-requisite of high quality architecture," he says. "That's obviously a good thing. But you won't necessarily get planning permission just because you're building a nice eco-friendly house. It still has to meet those high architectural standards, and it still has to be visually attractive."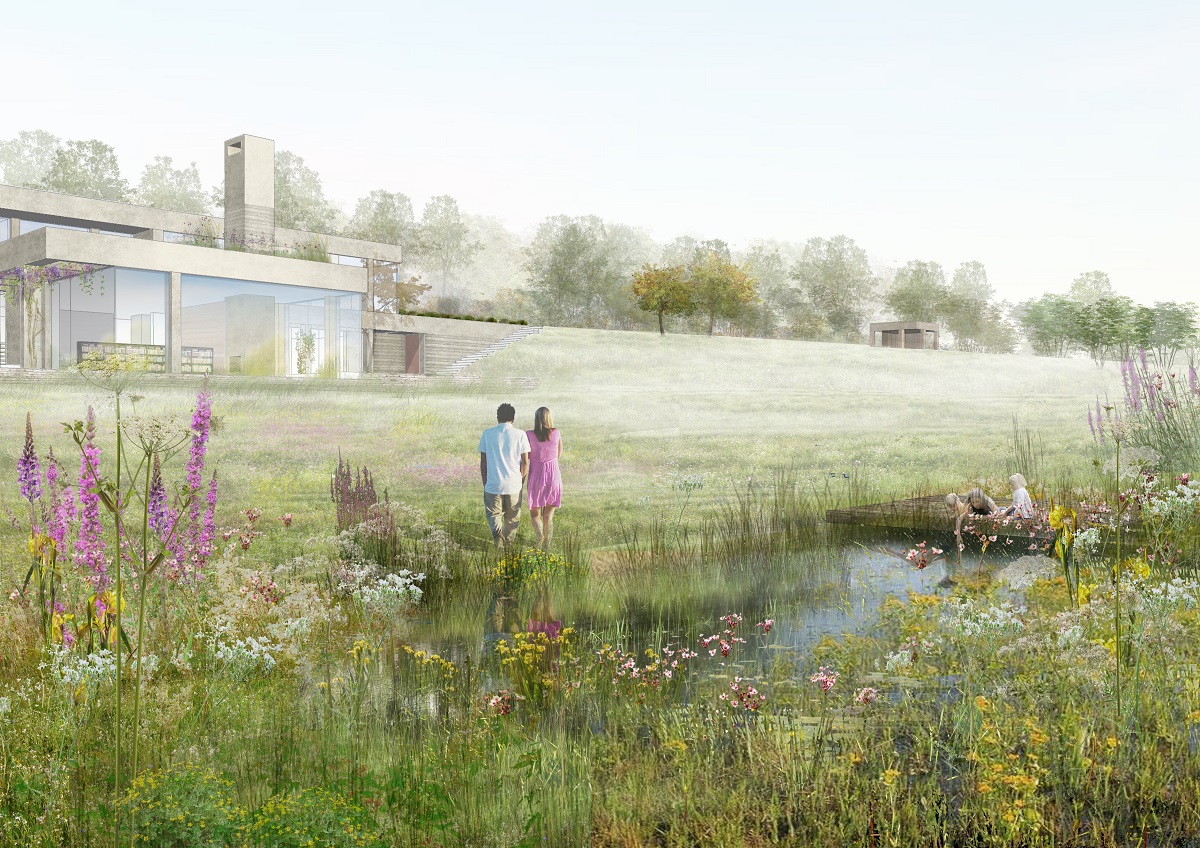 Off grid for 10 months of the year
Paul's left no stone unturned in adopting sustainable ways to run his new home. He estimates that the house will be 'off grid' in terms of energy use from February to November each year. Even just the large number of solar panels he's installed – on the roof and a nearby structure – should lead to serious energy bill savings.
As well as using low carbon concrete, he's installed a ground source heat pump, which is around 1.5 times more efficient than air source heating and four times better than a traditional gas boiler. Ground source pumps absorb heat from the ground whereas the air source option takes it from outside.
"Insulate, insulate, insulate!"
"From my background running large, operational property companies, I've always kept a close eye on the cost of electricity," says Paul. "This new house runs on electricity alone – not oil, not gas – so using it efficiently is incredibly important.
"I can't stress enough the importance of good insulation – insulate, insulate, insulate! Having concrete with lots of insulation means any heat gathered during the day is stored up and can be used at nights – it's stored in the concrete. And obviously the better your insulation, the less heat escapes."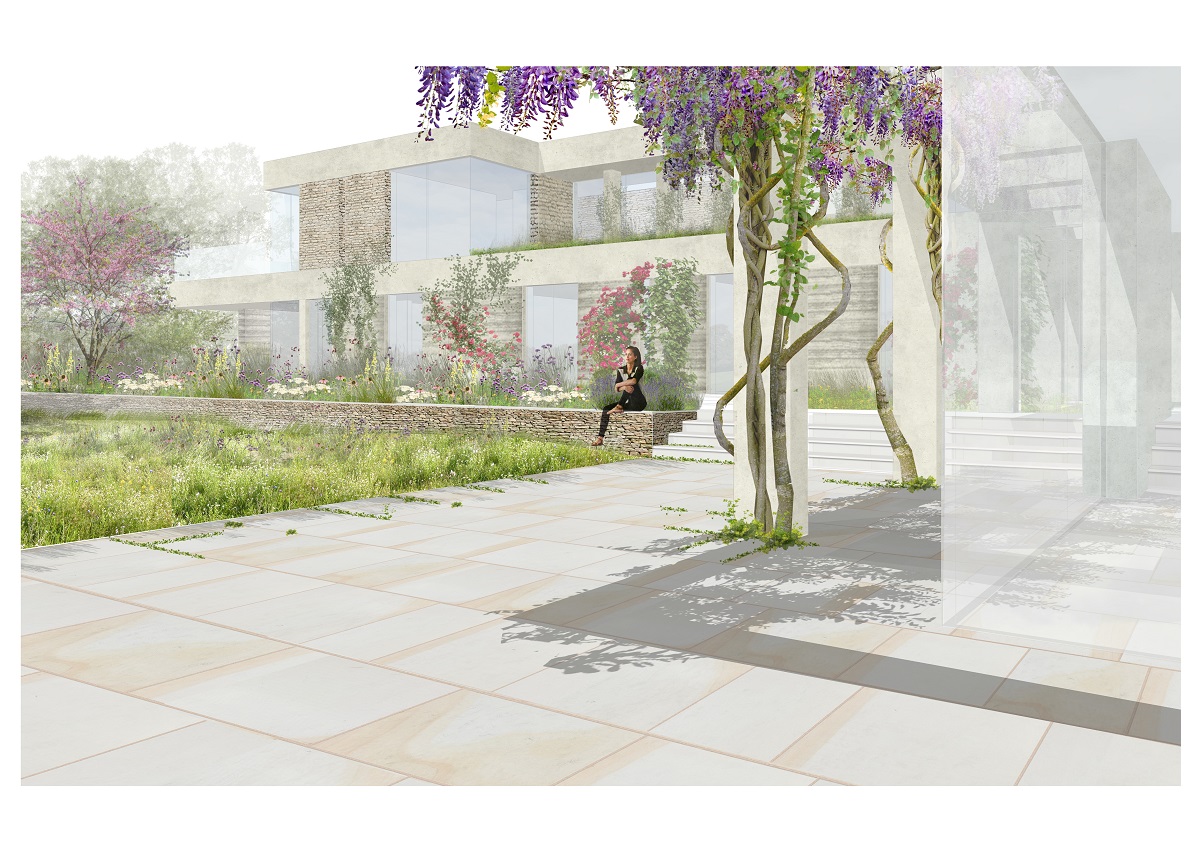 Get a good team
So what advice would Paul give to anyone looking to build a home with an eye on the planet's future?
"It all comes back to surrounding yourself with the right people," he says. "There are lots of different specialists and they tend to specialise in very specific, niche areas. So getting the right team is key. Research it. We didn't just go with friends or people we knew, we investigated who out there was really good at this."
He gives a good example by explaining how they chose their architect.
"We spoke with an architect who had designed a modern Cotswold stone house near Stroud; one who was local, had done something similar and been on Grand Designs; and the local "go-to" house architects in the area. But also, my wife and I each selected a house from the RIBA House of the Year long list. As it happens, we picked the same house. Our decision was made."
How Coutts could help
Coutts is committed to helping clients increase the energy efficiency of their homes. Our ambition is for half our mortgage lending to be secured against properties with an EPC rated C or above by 2030.
As Chris Ambrose, Climate Lead, Lending at Coutts, explains, "With residential properties accounting for 16% of the UK's greenhouse gas emissions*, it's vital that our homes are made as efficient as possible. Only then can we successfully move to a Net Zero world."
Our Green Mortgages offer a discount of up to £2,000 on our arrangement fee for those purchasing an already energy-efficient property (EPC grade A and B), or making improvements to their home to make it more energy efficient (EPC Grade C and above).
Contact your private banker to find out more.
*Source – Department for Business, Energy & Industrial Strategy, February 2022
Coutts Green Mortgages are for new home purchases with EPC Grades A - B; and for clients renovating their homes within 12 months of completion to EPC Grade C and higher. Subject to status and approval. Product fees may apply.
Considering your next move? Let Coutts help
Our real estate team could help you find the perfect property. And our bespoke mortgage service means we could provide a mortgage that's as unique as you are.

Or contact your private banker to find out how we could help you.
Your home or property may be repossessed if you do not keep up repayments on your mortgage.
Over 18s only. Credit is subject to status and approval. Think carefully before securing other debts against your home.