US election 2020: The candidates and the economy
US election 2020: The candidates and the economy
2 min read
Most Popular
19 Sep 2023

By leaving your money invested for longer you could take advantage of compounding to help realise greater returns and potentially protect your wealth from volatility.

4 min

13 Sep 2023

August can be a tough time for equities and this year was no exception. Despite the initial volatility, the market's mood lifted as the month drew on, boosted by a run of strong earnings reports.

3 min
When you become a client of Coutts, you will be part of an exclusive network.

Read More
Coutts focused on fair pay when scrutinising the firms that feature in our client portfolios and funds over the last three months, as senior executive salaries come under pressure.
CEO and other high-level reward packages are being watched closely as companies accept government support and lay off staff due to coronavirus.

We've been helping to ensure their pay reflects current conditions where appropriate at the companies we invest in on our clients' behalf. Over April, May and June, half the times we voted against management at shareholder meetings on environmental, social and governance (ESG) issues involved remuneration. In the UK alone, we voted against management of the companies we invest in on pay 82% of the time.
Leslie Gent, Head of Responsible Investing at Coutts, says, "While many companies have unfortunately had no choice but to cut their workforce, it's extremely important to their public perception and reputation that they don't at the same time pay more senior staff disproportionate amounts.
"As responsible investors, everything we do as shareholders is about doing the right thing, and about maintaining long-term returns. Ensuring fair pay across the board in light of the current pandemic is important to achieving both."
Research shows wider benefits of positive pandemic response
We vote and engage with companies in partnership with EOS at Federated Hermes (EOS), which works with businesses on behalf of investors to encourage responsible behaviours. EOS represents investors in 14 countries with approximately £915 billion in assets under advice (as at 30 June 2020).
In their latest quarterly report, Amy Wilson, their sector lead for retail, writes: "Companies that lay off workers after taking government hand-outs are being closely scrutinised by investors and the public. Some criticism has been levelled at those that have benefited via taxpayer-funded bailouts or furlough schemes, particularly if they spent their pre-crisis years splurging on share buybacks."
She also stressed that those companies that have handled the pandemic well should emerge "stronger and more resilient".
"Academic research by Harvard Business School and State Street Associates has suggested that those companies perceived more positively by the public due to the way they respond to the pandemic have exhibited higher institutional investor money flows and less negative returns than their competitors," she says.
Coutts latest responsible investing record
Key findings from the EOS report on Coutts voting and engagement activity over the second quarter of the year include:
voting against management (of the companies we invest in) or abstaining at just under half the shareholder meetings in which we took part (47.3%)
having direct discussions with companies to influence their behaviour – outside of shareholder meetings – with 80 companies in our portfolios on 268 ESG issues
globally, 46.2% of our votes against management concerned remuneration, and 17.1% were about board structure
The difference between voting and engagement

Voting – as owners of shares, we have the right to vote at company shareholder meetings. We can use our votes to support policies that address our clients' ESG concerns or oppose those that act against them.
Engagement – ongoing dialogue between shareholders and the directors of a company to influence their behaviour.
Example: We might engage with an oil company by having regular discussions with them on setting ambitious targets to lower their carbon emissions. And then we might vote 'yes' on a shareholder resolution that proposes the company explains how its strategy is consistent with the goals of the Paris Agreement on climate change.
Definition from the Principles of Responsible Investment: "Engagement and voting practices are interlinked and feed into each other. Investors might start a dialogue with companies before the voting season in relation to particularly contentious items on remuneration, board structure or shareholder rights, and then start a more in-depth engagement to achieve a required change in corporate governance."
FIND OUT MORE
See our Sustainability Report 2020 for a quick, easy guide to responsible investing at Coutts. If you'd like to discuss what it means for you in more detail, or find out more about our voting and engagement record, please contact your private banker.
OUR VOTING AND ENGAGEMENT IN NUMBERS, Q2 2020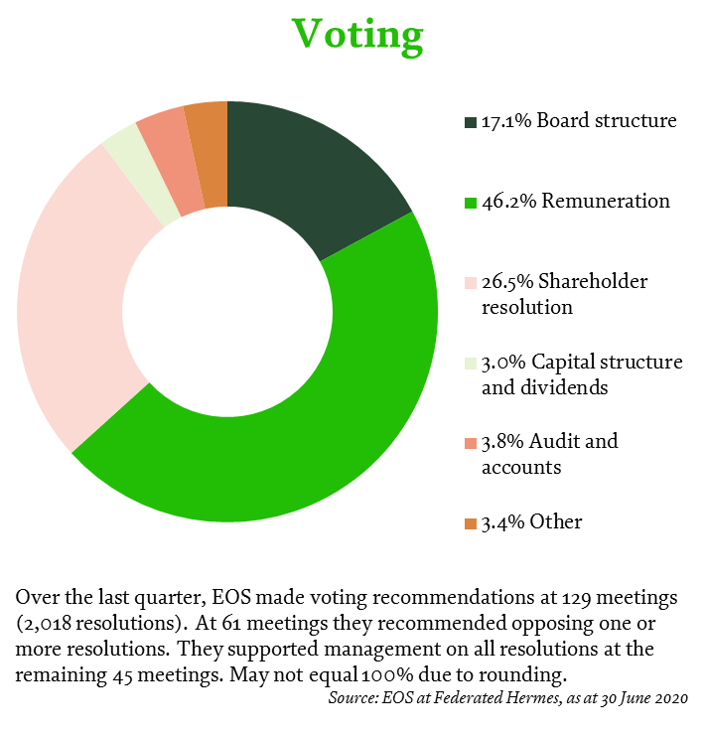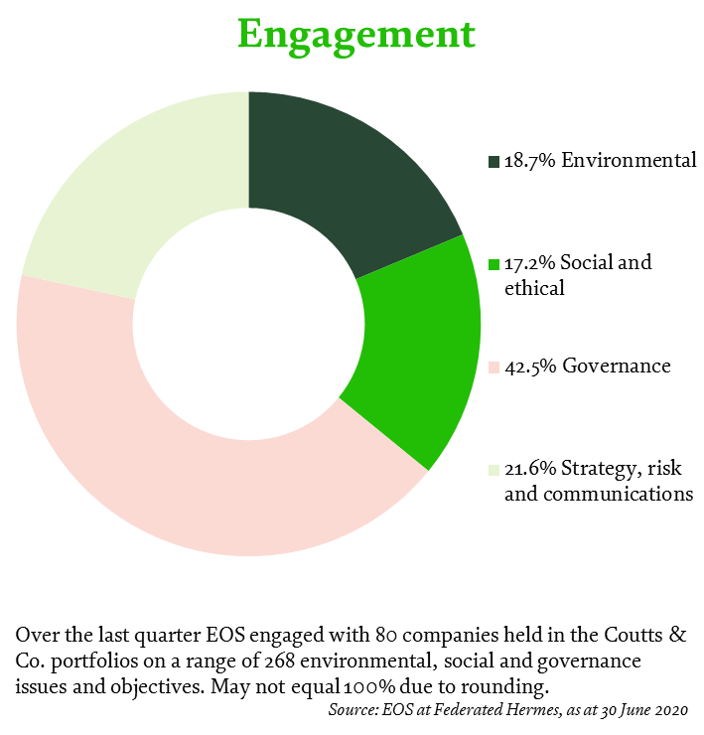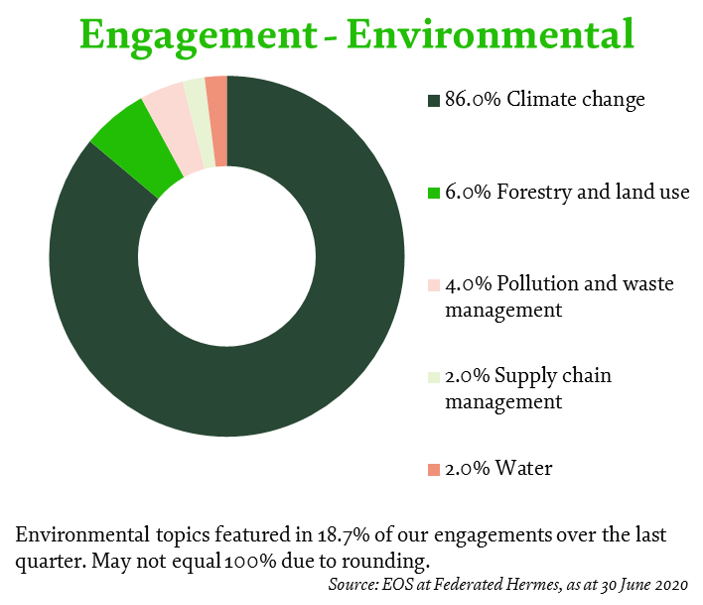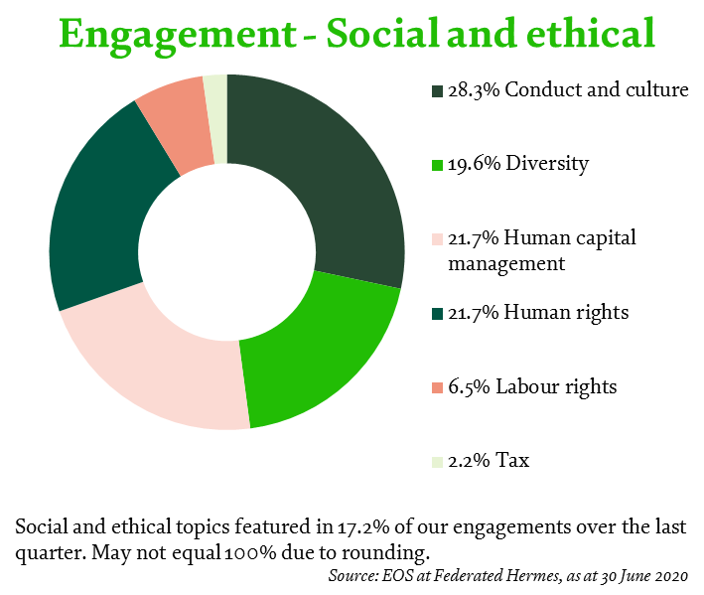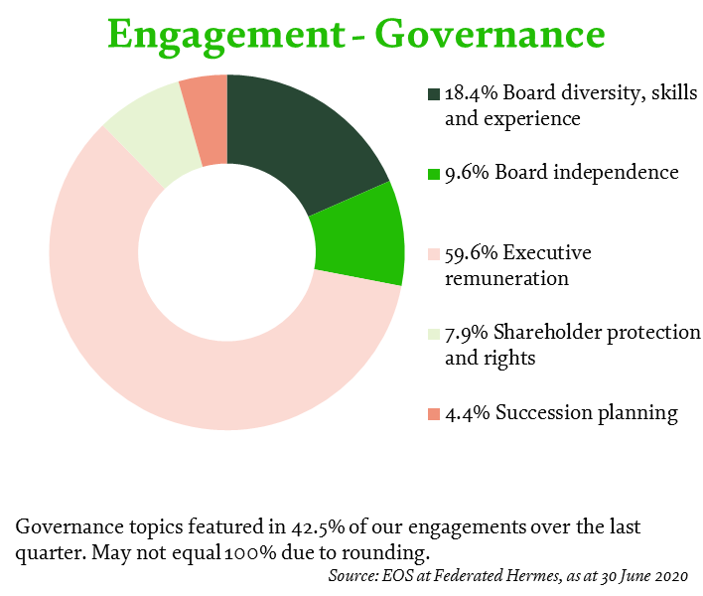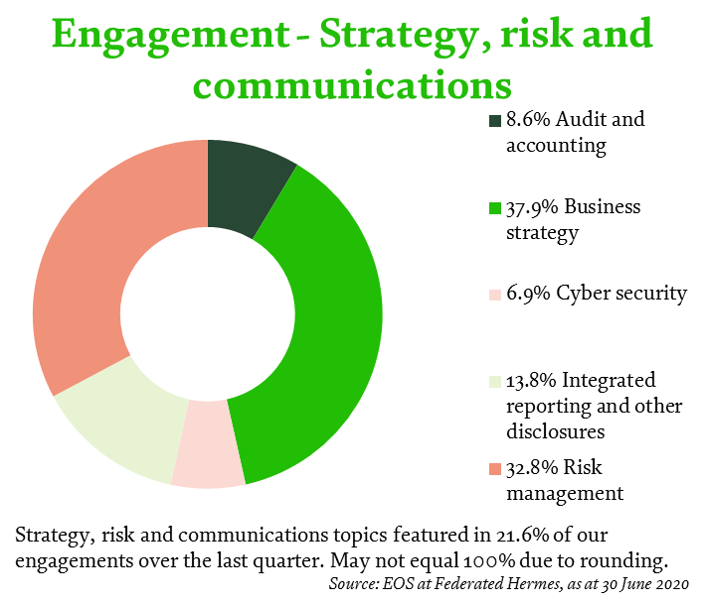 When investing, past performance should not be taken as a guide to future performance. The value of investments, and the income from them, can go down as well as up, and you may not recover the amount of your original investment.
About Coutts investments
With unstinting focus on client objectives and capital preservation, Coutts Investments provide high-touch investment expertise that centres on diversified solutions and a service-led approach to portfolio management.
Discover more about Coutts investments