Investment update: History in the making
Mohammad Kamal Syed, head of asset management at Coutts, reflects on markets in 2020 and takes a look at how investment portfolios and funds have performed.
3 min read
Most Popular
19 Sep 2023

By leaving your money invested for longer you could take advantage of compounding to help realise greater returns and potentially protect your wealth from volatility.

4 min

13 Sep 2023

August can be a tough time for equities and this year was no exception. Despite the initial volatility, the market's mood lifted as the month drew on, boosted by a run of strong earnings reports.

3 min
We're here to help clients who may be affected by coronavirus and have robust plans in place to minimise any disruption to our service

Read More
We are living through extraordinary times. Many of us are experiencing this every day with our usual working and social pattern disrupted as we unite to combat the spread of the coronavirus.
As well as the effect on our daily lives, the economic impact of the disruption is likely to be profound, and market reaction in March gives us a sign of the expected severity.

The S&P 500 saw its biggest one-day fall since Black Monday in 1987 (-9.5% on 12 March) but also its biggest one-day rise since 2008 (9.4% on 24 March), demonstrating the sharp swings seen over the month
The FTSE 100 saw its biggest quarterly fall since 1987, dropping by 25%
Oil prices fell to a 20-year low due to collapsing demand and a price war between the OPEC nations and Russia
Even bonds were not immune, with US Treasuries falling 4%* in the middle of March as investors became concerned about the levels of debt government initiatives would require before central banks stepped in.
*Total return between 9 March and 18 March.
These are extreme times, even for those of us with long experience as investors. An estimated $1.1 trillion shifted out of global stock markets in March, showing that some investors have chosen to exit rather than ride out the volatility. But timing the markets is a dangerous game and relies heavily on getting back in before sentiment shifts – most often with no notice.
If my experience has taught me one thing, it's that measured decisions made when one is in possession of the facts and focused on long-term value are better than knee jerk reactions fuelled by fear.

We're not immune, but we're holding a steady position

Our portfolios and funds, of course, have had to face the reality of falling markets. We know how disturbing it can be to see the value of your investments fall.
But our process is working and we have been able to cushion the investments we manage from the worst of the falls. For example, since the start of the year, UK equities have lost -23.9% (MSCI UK, total return, to 31 March); by contrast, the average Coutts sterling balanced portfolio lost -10.3% over the same period.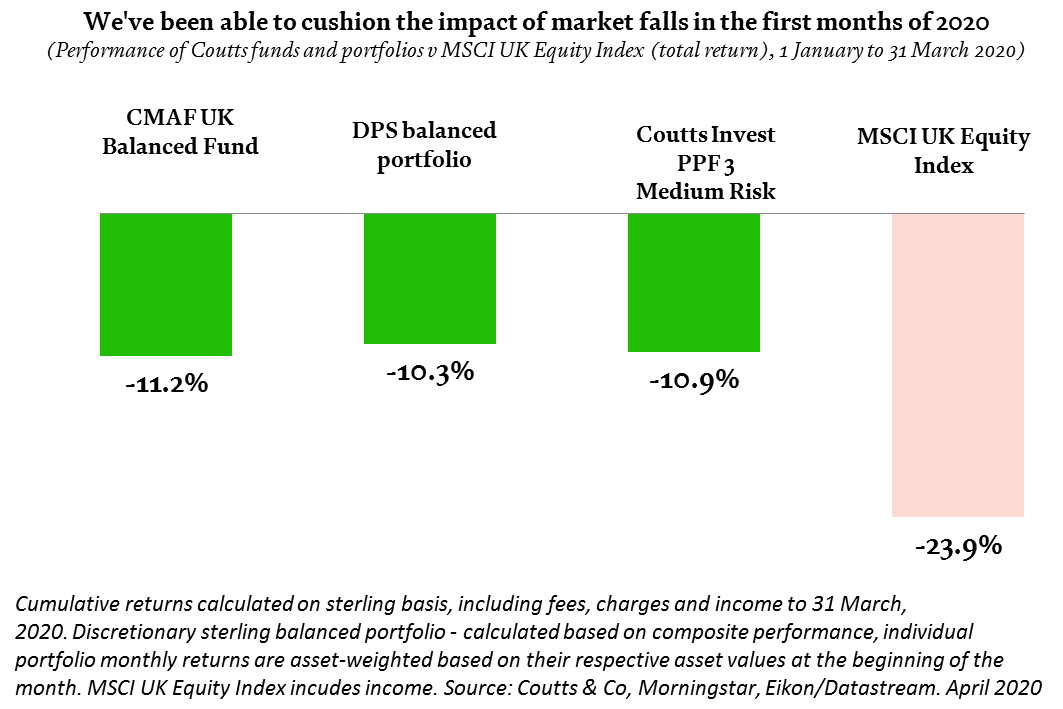 Our holdings in government bonds have done what we expected them to and provided ballast as markets have fallen. UK gilts returned 6.9%*over the first three months of the year (total return, to 31 March 2020).
Holding a broad range of global equities has also helped. US equities have fallen less sharply than UK equities while our emerging market allocations have also fared better over the year to date. Currency has played a role, with a fall in the value of the pound against other currencies boosting returns from overseas assets for sterling investors.
We have also seen the actively managed equity funds we invest in fall less than equities generally over the period of volatility, particularly those invested in technology companies.
And in the longer term, returns are still ahead of peers.



Looking ahead to our next move
But we are not waiting passively for things to change. Far from it, we are actively studying data and taking a considered approach.
In March, we reduced our equity exposure and added to cash. This has helped reduce the impact of some of the big falls in March, and will provide a 'war chest' to take advantage of new opportunities we see emerging in the coming months.
We believe that when a clear global trend towards a reduction in infections and deaths emerges, governments will begin to relax restrictions and start moving to return life gradually back to normal. We'll be looking carefully at how restrictions are unwound and the extent of ongoing support for businesses and individuals as they get back to work. These will be vital in determining the future direction of the economy and markets.
In the meantime, I would urge you to look to the long term. Consider your own aspirations and ambitions and how we can help you achieve them. We are always ready to discuss this with you, so please do contact your private banker or wealth manager.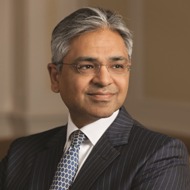 MOHAMMAD KAMAL SYED
Head of Asset Management
Coutts Investment Performance
31 MARCH 2015 TO 31 MARCH 2016
31 MARCH 2016 TO 31 MARCH 2017
31 MARCH 2017 TO 31 MARCH 2018
31 MARCH 2018 TO 31 MARCH 2019
31 MARCH 2019 TO 31 MARCH 2020
Coutts Balanced Portfolio
-3.0%
15.9%
3.0%
3.3%
-4.2%
Coutts Multi Asset UK Balanced A GBP Inc
-5.9%
16.3%
1.9%
2.8%
-4.8%
Personal Portfolio Fund 3 - Medium Risk
N/A
N/A
1.4%
5.4%
-5.3%
Return data for funds are calculated net of fees, in sterling and assumes reinvestment of dividends. Past performance should not be taken as a guide to future performance. Balanced portfolio performance figures are composite returns from the actual portfolios of all clients shown on a total return basis and quoted net of all fees. For the composite performance calculation, individual portfolio monthly returns are asset-weighted based on their respective asset values at the beginning of the month.
Source: Coutts & Co, 31 March 2020.

When investing, past performance should not be taken as a guide to future performance. The value of investments, and the income from them, can go down as well as up and you may not recover the amount of your original investment.


About Coutts investments
With unstinting focus on client objectives and capital preservation, Coutts Investments provide high-touch investment expertise that centres on diversified solutions and a service-led approach to portfolio management.
Discover more about Coutts investments