Coronavirus: The broader impact – property
How will the coronavirus outbreak affect the demand for residential and commercial property.
3 min read
In this first instalment we look at what isolation measures and historically low interest rates could mean for the property market.
We're here to help clients who may be affected by coronavirus and have robust plans in place to minimise any disruption to our service

Read More
Residential property – low interest rates point to potential revival
Residential property has historically been seen as a helpful income diversifier for investors. More recently changes to the taxation regime have dampened its appeal, but is this all about to change?
Well certainly not in the short term. The residential property market is virtually at a standstill as viewings are impossible during the lockdown conditions. But, when the lockdown ends, we think there could be a shift in sentiment.
Firstly, borrowing is very cheap. Interest rates were already low by historical standards, and the economic disruption from containing the outbreak means they're likely to stay lower for longer. This could encourage new demand for many who are tempted by owning bricks and mortar, either as an occupier or a landlord.
Secondly, low interest rates mean that cash returns are virtually zero, or less if the effects of inflation are taken into account. Investors looking for income may be drawn back to residential property despite changes to taxation.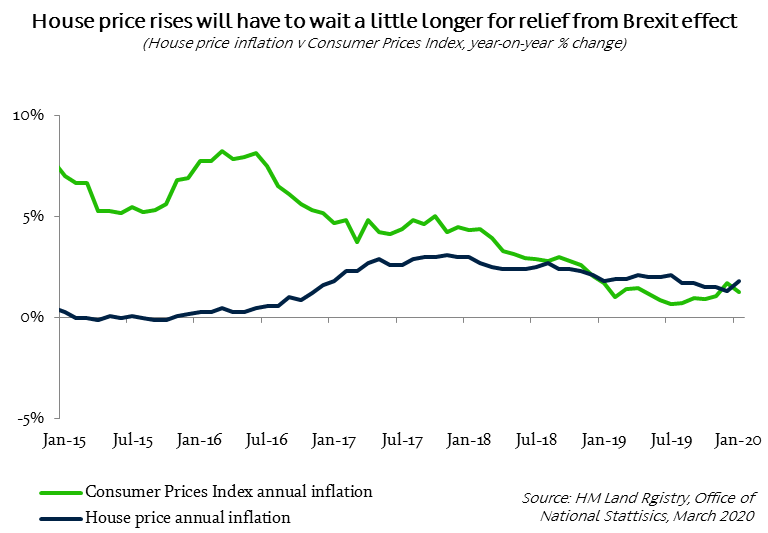 After the turmoil and volatility in the financial markets this year investors will take comfort from the perceived stability of house prices, which could see investors turn to property as an alternative. Equity market values can move substantially on a daily basis and even unrealised losses – with the potential for reversal and, in fact, a long-term gain – can make investors fretful.
Of course, property prices would also be volatile if they were quoted and broadcast daily. But it's human nature to seek to minimise volatility and this perception could boost sales and support prices.
Commercial property – a shift in working patterns could transform the market
Commercial property makes up about 15% of the overall property market in the UK and ownership is dominated by institutional investors such as asset managers. It's a sector we invest in and know well, but it has become polarised and liquidity can be challenging.
Within the UK we have seen the market evolve into three very distinct sub-sectors but we think their prospects may be about to change.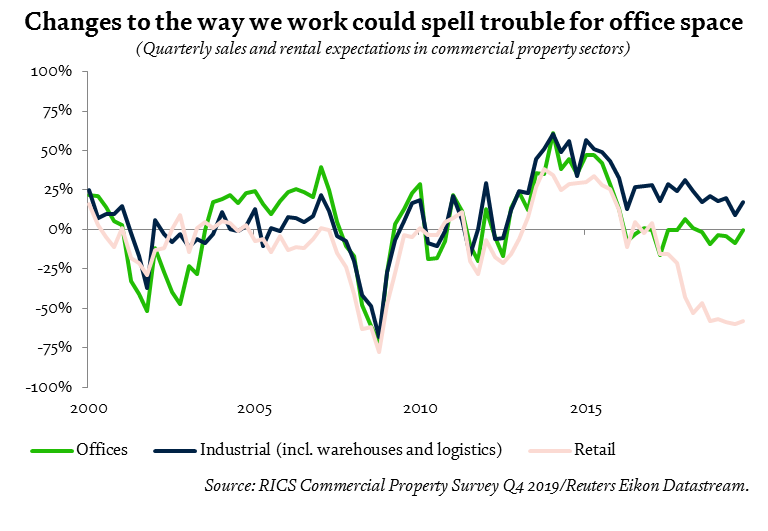 Retail property in long term-decline
The sector was heading into recession long before coronavirus entered our lives, due to the rapid adoption of online shopping. When restrictions on shop opening and movement are lifted we could see a surge in footfall as individuals embrace getting 'back out'.
But this is unlikely to change long-term shopping habits and the downward trend in retail property prices is unlikely to change direction. We think the sector is in long-term structural decline and can expect only retail-to-residential conversions and very specialist event venues to survive.
Warehouses and logistics centres are here to stay
The sector has been expanding for a number of years, thanks largely to the explosive growth of online shopping. Undoubtedly this trend is here to stay.
Office space – rethinking how we work?
The office market has been very resilient, especially in London, providing solid income and global flows of investment into the UK. This may be about to change.
The prolonged – and in some cases enforced – period of working from home for many people could change the outlook for this sector. Both companies and the people that work for them have pushed the boundaries on working from home practices.
Quite simply, having seen how smoothly this goes, and considering the lifestyle and well-being benefits, they could collectively decide that an office-based desk isn't as important as we all thought.
As a result, we could see a substantial change in the office market as companies change working practices and reduce office space.
With such an historic headquarters, wonderful client facilities and a spectacular Garden Court, Coutts premises at 440 Strand in London would certainly need to adapt. But we would see its evolution as an exciting next step in occupying the building we've been in since 1904.
Whatever evolves, we think the general office market is likely to come under pressure. Ultra-low interest rates may push investors to expand their portfolio, and the potential for office-to-residential conversions could provide some support as residential typically trades at more expensive levels. But the longer-term trend could be negative from here.
If you would like to discuss property opportunities with Coutts, please don't hesitate to get in touch with your private banker.
When investing, past performance should not be taken as a guide to future performance. The value of investments, and the income from them, can go down as well as up and you may not recover the amount of your original investment.
Your home or property may be repossessed if you do not keep up repayments on your mortgage. Over-18s only. Terms and conditions apply. You may not be eligible for all Coutts mortgage solutions. Security may be required.
About Coutts investments
With unstinting focus on client objectives and capital preservation, Coutts Investments provide high-touch investment expertise that centres on diversified solutions and a service-led approach to portfolio management.
Discover more about Coutts investments