Coutts Passion Index 2019
Investing in art, classic cars or fine wine? The Coutts Passion Index has been tracking the changing fortunes of passion assets since 2005.
6 min read
+90.4%
The amount the Passion Index has risen since 2005
+5.1%
The average annual return since 2005

+0.1%
The amount the Passion Index rose in 2018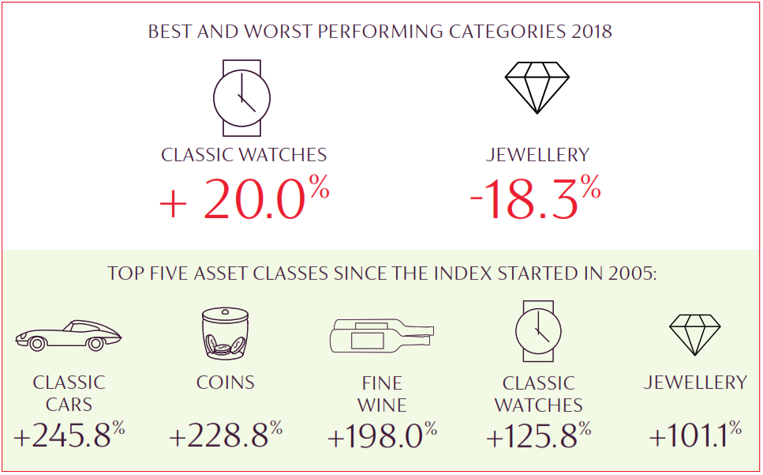 Source: Kidston 25, Sotheby's Mei Moses, Liv-Ex, Stanley Gibbons, Savills, Fathom calculations and Spin.
All returns are cost-adjusted and in local currency
"Wealth isn't usually a goal in itself. And what you do with your wealth can define you. Our clients are driven by passion – passion to succeed, passion to innovate, passion to preserve what is best in our world. Our aim is to help clients use their wealth to turn their passions into reality. These are the things we will remember, and be remembered for."
PETER FLAVEL
Chief Executive, Coutts
Can you put a price on dreams?

While the Passion Index cannot speak to the joy our passions can bring, it does provide insight into the market for some of the key areas that interest our clients. Coutts Head of Asset Management Mohammad Kamal Syed shares some of its key findings.


The Passion Index was more or less flat over 2018, returning just 0.1% overall, while 2017's more buoyant markets were reflected in a return on passion assets of 2.8%. These results seem to reflect the relative fortunes for those years in conventional investments, with 2017 being very positive and 2018 more turbulent.

This year's star performing category is Classic Watches, which returned a remarkable 20.0% over 2018. This, however, comes on top of a loss of -8.1% in 2017, demonstrating that passion assets can be unpredictably volatile. The next-best performing category of 2018, Fine Wines, was up by only 2.4%.

"We're here to help you pursue the passions that drive your ambition."

Mohammad Kamal Syed


Head of Asset Management at Coutts

It's worth remembering, of course, that intrinsic value is only a very small part of passion asset investing, which is driven far more by sentiment and fashion. For this reason we believe that the core of your financial planning should be based on a diversified portfolio of equities and bonds, where long-term returns are based on economic and commercial performance. This will give you a dependable base to rely on from which you can pursue those things that bring you joy.


We're here to help you pursue the passions that drive your ambition. Whatever your dream, a clear financial plan created in partnership with a Coutts wealth manager can help you make it a reality.

Pension planning
Inheritance and estate planning
Investments
Protection

As a member of the Coutts family, you can expect a trusted partner who will work with you over the long term to help you realise the passions that make life worthwhile.

| | |
| --- | --- |
| CLASSIC CARS | FINE WINES |
| STAMPS | COINS |
| RARE MUSICAL INSTRUMENTS | RUGS AND CARPETS |





Key points:

Prices fell in four of the six categories in 2018
While volatile, prices for collectibles typically outperform the broader index
Prices for both Classic Cars and Coins have tripled since 2005
In 2018, Classic Cars remained the best performing passion asset over the lifetime of the Passion Index

CHAPTER 03

Precious Items

| | |
| --- | --- |
| CLASSIC WATCHES | JEWELLERY |

Key points:

Jewellery fell by -18.3% in 2018, its biggest annual fall since the index began
Classic Watches were up by 20.0%, the second largest gain since 2005
Both categories have doubled in value since 2005, but prices are highly volatile
To avoid potentially misleading results, some very high prices for extremely rare items have been excluded

| | |
| --- | --- |
| IMPRESSIONIST AND MODERN ART | OLD MASTER AND 19TH CENTURY ART |
| POST-WAR AND CONTEMPORARY ART | TRADITIONAL CHINESE WORKS OF ART |

Key points:

Art has been a weak performer since the global recession of 2008/09, a trend that continued last year with a -0.4% fall in value
Old Master and 19th Century Art has shown an encouraging recovery after years of decline, returning 2.2% in 2018, but has still declined by 31.6% since the index began
Traditional Chinese Art and Post-War and Contemporary Art have yielded the highest returns since 2005 – 82.1% and 84.6%, respectively
Performance data is based on the Sotheby's Mei Moses Art Indices®

When you become a client of Coutts, you will be part of an exclusive network.


Find out more

| | |
| --- | --- |
| PRIME PROPERTY | ULTRA-PRIME PROPERTY |

Key points:

Property has proved a durable asset class, nearly doubling in value since the index began
In 2018, 'Old World' properties – in London, Paris, Los Angeles, New York, Sydney and Tokyo – fell by -1.2%
Properties in the 'New World' – Hong Kong, Moscow, Shanghai and Singapore – outperformed in 2018 but are historically more volatile
Data supplied by Savills World Research, based on property prices in 10 key global cities
When investing, past performance should not be taken as a guide to future performance. The value of investments, and the income from them, can go down as well as up, and you may not recover the amount of your original investment.
Source: Fathom Consulting and Coutts & Co, as at 31 December 2018. All performance numbers quoted are cost-adjusted and calculated on local currency terms.
Key Takeaways
Coutts Passion Index was up by 0.1% in 2018 and 2.8% in 2017. Since the index began in 2005, passion assets have risen by 90.4%, at an average of 5.1% per year. However, returns can be very volatile – for example, the index rose 23.1% in 2007 before falling by -1.5% in 2008.
In addition, categories within the index can have very variable returns. In 2018, Classic Watches was the best performing category, rising by 20.0% while the worst performing category, Jewellery, fell by -18.3%. Over the life of the index, Classic Cars have yielded the best return at 245.8%. Old Master and 19th Century art, on the other hand, has fallen by -31.6%.
We urge our clients to buy passion assets for the joy they bring rather than as potential investments. A diversified portfolio of conventional investment assets will deliver a more reliable return, providing a sound foundation from which to enjoy the finer things in life.