Coutts Passion Index 2019
Investing in art, classic cars or fine wine? The Coutts Passion Index has been tracking the changing fortunes of passion assets since 2005.
6 min read
+90.4%
The amount the Passion Index has risen since 2005
+5.1%
The average annual return since 2005

+0.1%
The amount the Passion Index rose in 2018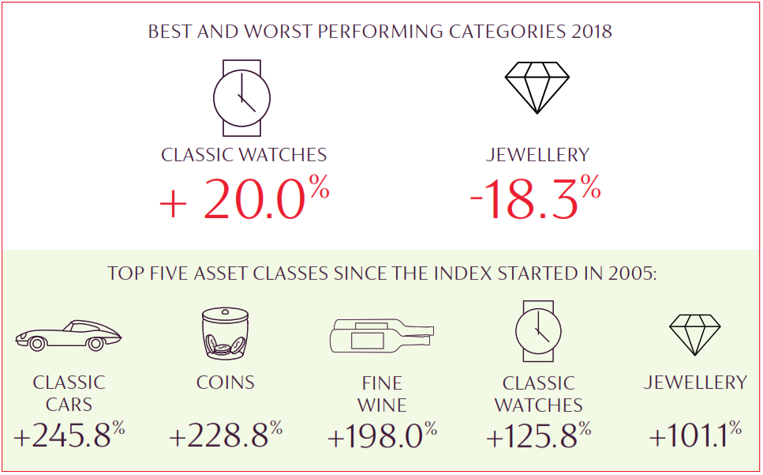 Source: Kidston 25, Sotheby's Mei Moses, Liv-Ex, Stanley Gibbons, Savills, Fathom calculations and Spin.
All returns are cost-adjusted and in local currency
"Wealth isn't usually a goal in itself. And what you do with your wealth can define you. Our clients are driven by passion – passion to succeed, passion to innovate, passion to preserve what is best in our world. Our aim is to help clients use their wealth to turn their passions into reality. These are the things we will remember, and be remembered for."
PETER FLAVEL
Chief Executive, Coutts
When investing, past performance should not be taken as a guide to future performance. The value of investments, and the income from them, can go down as well as up, and you may not recover the amount of your original investment.
Source: Fathom Consulting and Coutts & Co, as at 31 December 2018. All performance numbers quoted are cost-adjusted and calculated on local currency terms.
Key Takeaways
Coutts Passion Index was up by 0.1% in 2018 and 2.8% in 2017. Since the index began in 2005, passion assets have risen by 90.4%, at an average of 5.1% per year. However, returns can be very volatile – for example, the index rose 23.1% in 2007 before falling by -1.5% in 2008.
In addition, categories within the index can have very variable returns. In 2018, Classic Watches was the best performing category, rising by 20.0% while the worst performing category, Jewellery, fell by -18.3%. Over the life of the index, Classic Cars have yielded the best return at 245.8%. Old Master and 19th Century art, on the other hand, has fallen by -31.6%.
We urge our clients to buy passion assets for the joy they bring rather than as potential investments. A diversified portfolio of conventional investment assets will deliver a more reliable return, providing a sound foundation from which to enjoy the finer things in life.