Coutts Luxury Price Index | 'Tis the season to dig deeper
The latest Coutts Luxury Price Index looks at inflation for high-end goods and services and shows it rising much faster than its mainstream equivalent.
2 min read
Since we started the Coutts Luxury Price Index (CLPI) in 2016, the cost of our festive basket – 20 items particularly popular this time of year – has gone up by 26%. That means it's potentially £2,200 more expensive to buy all those items now than it was then.
Of course, you could go without that bottle of whisky or the very latest iPad, but the fact remains that, compared to 2016, you'll need to tighten your belt or loosen your wallet to make those Christmas wishes come true.
This is a festive example of a serious problem that isn't always obvious. The headline rate of inflation you see reported in the papers doesn't always accurately reflect your exposure to rising prices.
And crucially, our research shows that this is especially true for those who buy luxury products.
Depending on how you spend and what you buy, your money could be losing its purchasing power faster than you think.
CLPI latest findings
The CLPI, updated twice a year, is our meticulously researched, accurate measure of the effects of inflation on high-end items and experiences.
Coutts Head of Asset Management Mohammad Kamal Syed says, "We started the Coutts Luxury Price Index to better understand inflation as faced by our clients. We have created a basket of goods that our research suggests would be popular among our clients to create an inflation index to better reflect their spending patterns."
Key findings include:
since we first launched our research (May 2016), luxury inflation is up 17.6% – more than double mainstream inflation of 8% over the same period, as measured by the Consumer Prices Index (CPI)
on average, the CLPI rate has been 4.7% a year compared with mainstream inflation of 2.3% a year

our October 2019 CLPI came in at 3.7%, more than twice the month's CPI figure of 1.5%
Naturally, not everyone spends all their money on luxuries so your individual degree of exposure will vary. But if about half of your spending was on luxury goods, your personal inflation rate would be around 2.7%.
The potential benefit of investing
As Mohammad explains, there's more going on than meets the eye when it comes to inflation affecting your wealth.
"Of course, rising prices are nothing new and it's easy to shrug your shoulders," he says. "But what's really happening here is something more insidious that's easy to miss. Your money is losing its purchasing power. Unless you are adding to your wealth at a rate faster than rising prices, you are standing still, you're losing money."
He adds: "This demonstrates an important potential benefit of investing your money. Doing so could help keep the value of your wealth above rising prices, which is particularly important when your lifestyle means prices are rising even faster for you."
Please always remember, though, that the value of investments can fall as well as rise so you may not get back what you put in. Savings accounts can have a place in your financial planning as well of course, with benefits including instant access and relative security.
Where were the big price changes in 2019?
Recreation & Culture
Price rises of 6.4% in the sector made a substantial contribution to the CLPI. On the whole, a surprise contributor to this was luxury hobbies – riding livery and golf club memberships both rose in price by over 10%. And as in previous editions of the CLPI, a good chunk of this rise was made up of technology prices, with double digit rises for a number of the gadgets we track.
Restaurants and hotels
A rise of 6.1% in the sector as a whole disguised some push-and-pull going on behind the scenes. Fine dining has seen some of the highest price rises in recent years, with set menu prices across a number of the Michelin-starred restaurants we track increasing substantially. However, a stronger sterling over the last few months has been a benefit for holiday makers with relatively low overseas hotel price rises.
Alcohol and tobacco
The last 12 months saw the lowest inflation rate we have seen since the start of the CLPI for Alcohol and Tobacco - 6.8% - mostly driven by lower inflation in fine wine.
Price rises since 2016
If you haven't protected the spending power of your wealth, you could face a £2,200 shortfall in our Christmas basket for 2019 compared to 2016. What will you cross off your Christmas list this year? Here are some examples of what's in our festive basket and how much more expensive they are.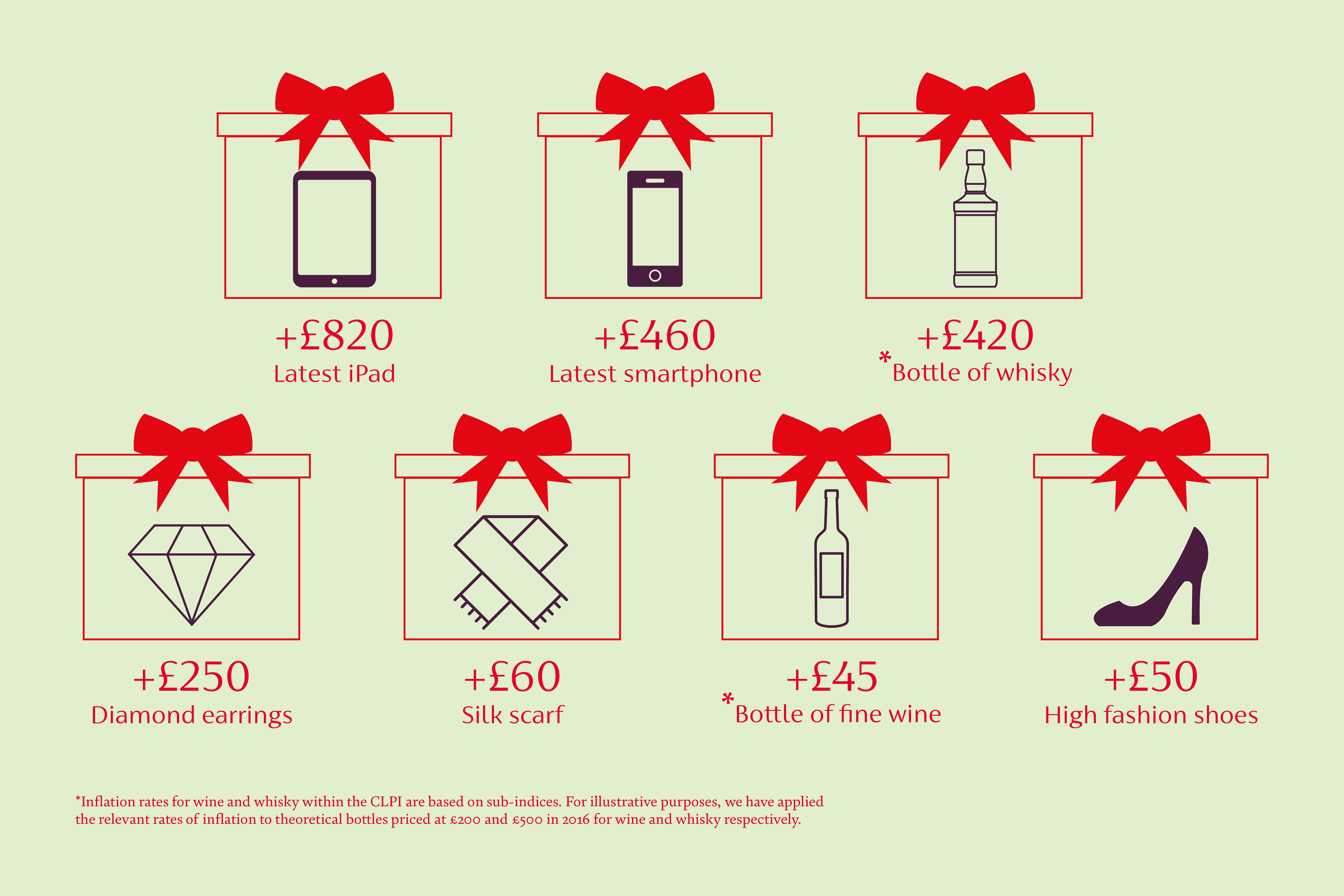 When you become a client of Coutts, you will be part of an exclusive network.

Read More
Inside the CLPI (12 months to October 2019)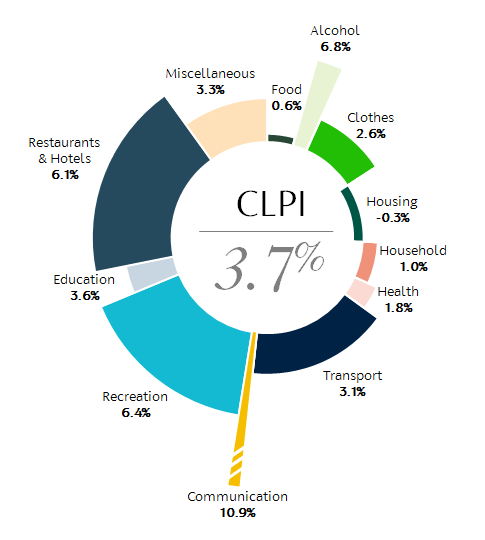 Height: Rate of inflation
Width: Weight within the index
Source: Coutts & Co, October 2019
If you would like to discuss the latest CLPI findings in more detail, and how Coutts could help you preserve the purchasing power of your wealth, please speak to your private banker. You can also find out more about investing with Coutts.
When investing, past performance should not be taken as a guide to future performance. The value of investments, and the income from them, can go down as well as up and you may not recover the amount of your original investment.
About Coutts investments
With unstinting focus on client objectives and capital preservation, Coutts Investments provide high-touch investment expertise that centres on diversified solutions and a service-led approach to portfolio management.
Discover more about Coutts investments