How far will your money go?
Our unique analysis of luxury inflation reveals the rapidly rising cost of a first class flight.
2 min read
Most Popular
27 Feb 2023

As the new tax year approaches, you might want to know about possible changes to what you'll pay in tax.

3 min
The cost of a first-class flight has risen by 22% a year on average since 2016, according to the latest Coutts Luxury Price Index (CLPI).
Our research shows that flying from London to New York cost £4,500 three years ago, but today the same flight sets you back £6,000 – an extra £1,500*. When John Alcock and Arthur Whitten Brown completed the world's first non-stop transatlantic flight 100 years ago this year, they probably couldn't have imagined that people would one day pay so much for such a journey.
These high-flying fare hikes are a problem if you like to travel in style but aren't keeping the value of your money above climbing prices. Your cash just won't get you as far in the world as it used to.
It also highlights the added price pressures involved with luxury goods and services. While the costs of rare materials and higher levels of service fuel higher price tags to begin with, increasing demand and limited supply are the main drivers of above-inflation price rises.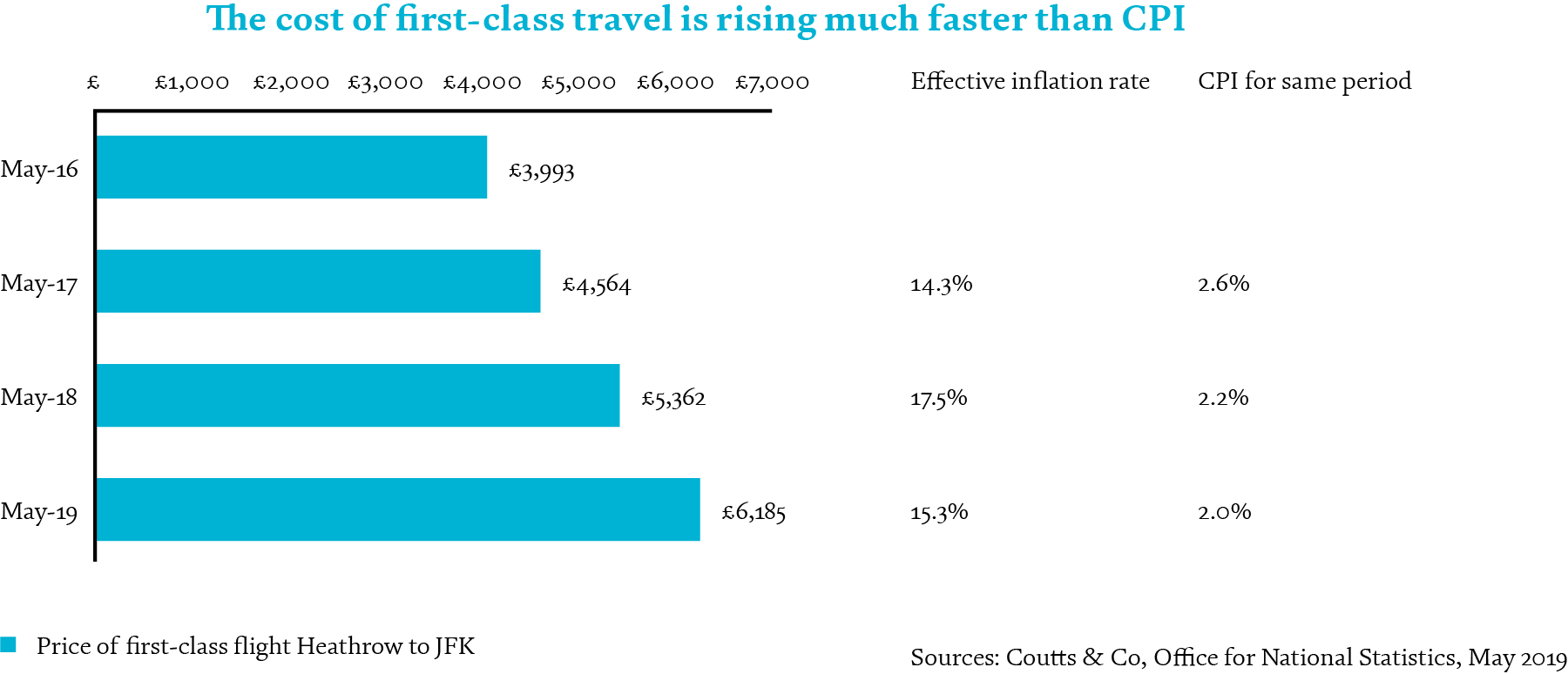 *Data is for flights booked six weeks in advance. Source: Citi, May 2019
When you become a client of Coutts, you will be part of an exclusive network.

Read More
What can you do about it?
Coutts head of asset management Mohammad Kamal Syed says one way to try to beat the effects of inflation is to invest as part of a carefully thought out financial plan.
"The fact is that holding cash in a savings account could cost you dearly," he says. "You may see it as a safe-haven tactic, but inflation can quietly, constantly corrode the real value of your money when prices rise faster than the interest it makes.
"Investing over the long term, on the other hand, could potentially provide a greater return than a standard savings account and help preserve, or ideally increase, the value of your wealth."
Always remember, though, that the value of investments can fall as well as rise so you may not get back what you put in. Savings accounts can have a place in your financial planning as well of course, with benefits including instant access and relative security.
Luxury inflation still trumps mainstream measure
The latest edition of the CLPI shows that luxury inflation rose by 2.9% over the 12 months to May 2019. That compares to the current mainstream inflation figure of 2%, as measured by the Consumer Prices Index (CPI).
Published twice a year, the CLPI is our meticulously researched measure of inflation on high-end items and experiences, covering around 150 goods and services across 12 categories.
It is intended to be used to complement the CPI. Every one of our clients is unique and will therefore have their own 'personal inflation rate' which would normally be a figure somewhere between the CPI and CLPI.
FACING FIERCE INFLATION – SCHOOL FEES, PHONES AND FINE WINES
Other Key findings of the latest CLPI include:
Communication costs climb by a massive 43.5%
Can you imagine life without your smartphone? Probably not – which is a chief reason why the communications category always turns in a huge number. It's even bigger than usual this time though as Samsung now sits squarely alongside Apple in the 'phone for over £1,000' market.
SCHOOL FEES RISE AGAIN – THIS TIME BY 5.2%
Widespread international demand, higher wages for staff and investment in facilities are among the reasons behind the rapidly rising price of your children's education, with the rate of increase accelerating from 4.3% in November's CLPI. Five years of private senior school fees added up to around £50,000 two decades ago. Today it's about £155,000.
Whisky and wine prices shoot up by 9.5%
Fine wines and whiskies are always popular for collectors, investors or simply those who like a tipple. Whisky in particular is enjoying a surge in popularity – the number of bottles of single malt sold at auction in the UK last year rose by 29% compared to 2017, according to broker Rare Whisky 101.
Inside the CLPI (12 Months to May 2019)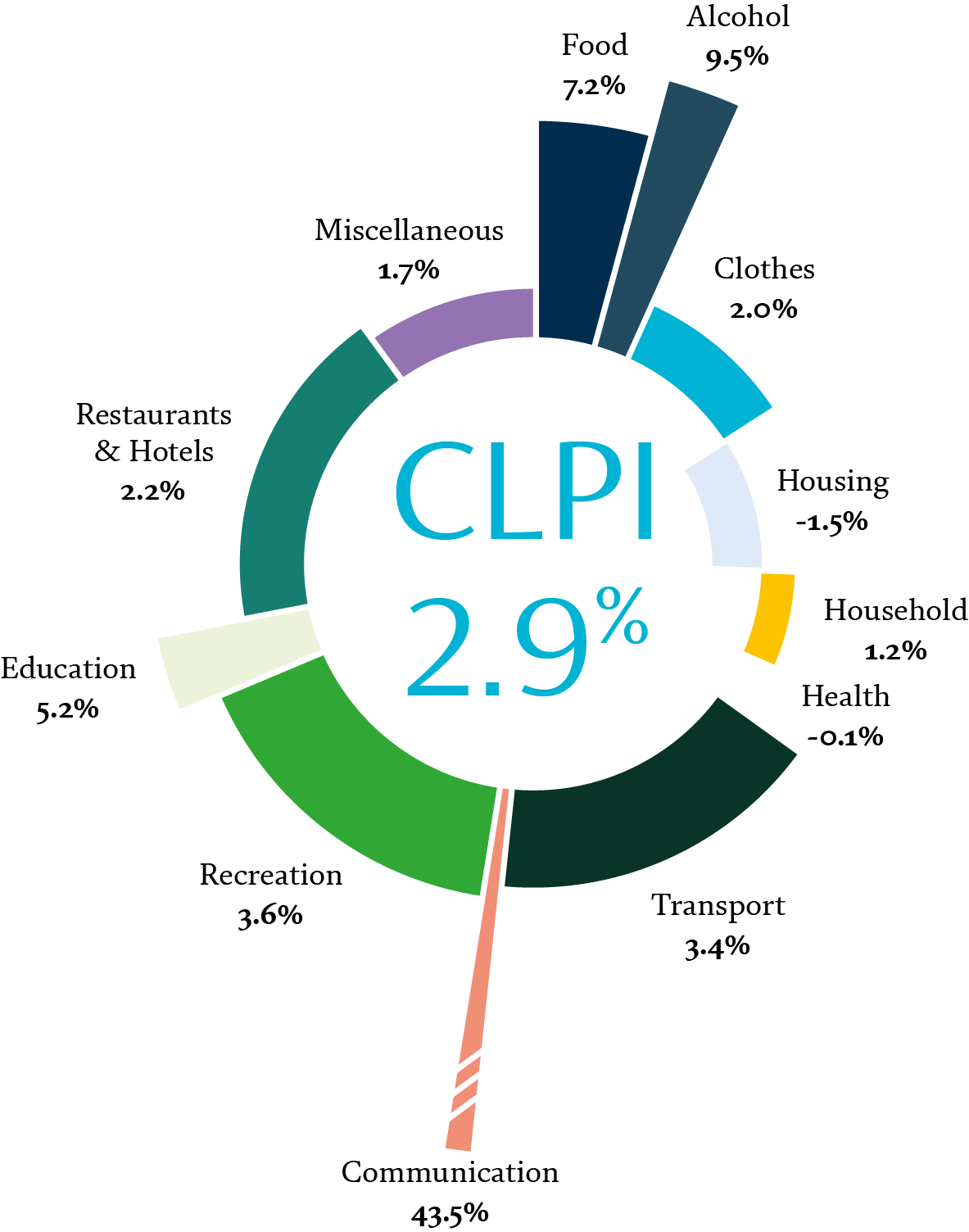 Source: Coutts & Co , May 2019




Height: Rate of inflation






Width: Weight within the index



If you would like to discuss the latest CLPI findings in more detail, and how Coutts could help you preserve the purchasing power of your wealth, please speak to your private banker. You can also find out more about investing with Coutts.
Past performance should not be taken as a guide to future performance. The value of investments, and the income from them, can go down as well as up, and you may not recover the amount of your original investment.
Key Takeaways
Inflation can quietly corrode the real value of your wealth as prices rise faster than the interest it earns. And the latest Coutts Luxury Price Index shows that those who enjoy even a few high-end goods and services face steeper price rises.
For example, our research found that first-class flight fares have risen by 22% a year on average since 2016, while school fees have risen by 5.2% over the past year.
Investing is one way to try to beat these above-inflation price rises. Whatever your financial goals or aspirations, Coutts advisers have the expertise to help you plan for the future.
About Coutts investments
With unstinting focus on client objectives and capital preservation, Coutts Investments provide high-touch investment expertise that centres on diversified solutions and a service-led approach to portfolio management.
Discover more about Coutts investments