New economy: The End of the Middle Man
Disruption is spreading. With technology connecting consumers directly to service providers across more and more sectors, we identify the hot spots for future change.
8 min read
We live in an era where new technological, environmental and monetary frontiers are being constantly extended. Shifting demographics and rapid technological change are creating a new world and governments, businesses and people are struggling to stay ahead.
The technological disruption is universal and trends in data transportability, cloud platforms or the generational shift away from ownership towards experiences have created significant changes in recent years.
Data is becoming an increasingly valuable resource. As Bank of England Governor Mark Carney said in a recent speech: "Data is the new oil." [1]
In the same speech he also said that "today anyone can produce anything anywhere through 3D printing, anyone can broadcast themselves via YouTube or sell to China whatever the size of their business via Tmall."
The nature of commerce is changing. Sales are increasingly taking place online and over platforms, rather than on the high street.
Technology has significantly disrupted energy allowing the US to become the world's largest oil producer despite having only a tiny percentage of the world's reserves.
Technology poses major government-policy issues with regard to income inequality, privacy and cyber security.
Technology is having a dramatic impact on the economy and markets and, as ever, Wall Street reflects these themes. The share of technology companies, especially in US equity indices, has increased significantly over the last years. The weight of the Information Technology sector within the S&P 500 index increased from 19.4% at the end of 2014 to 26% in June 20182. [2]
[1] "New Economy, New Finance, New Bank", Mark Carney, Mansion House speech 21 June 2018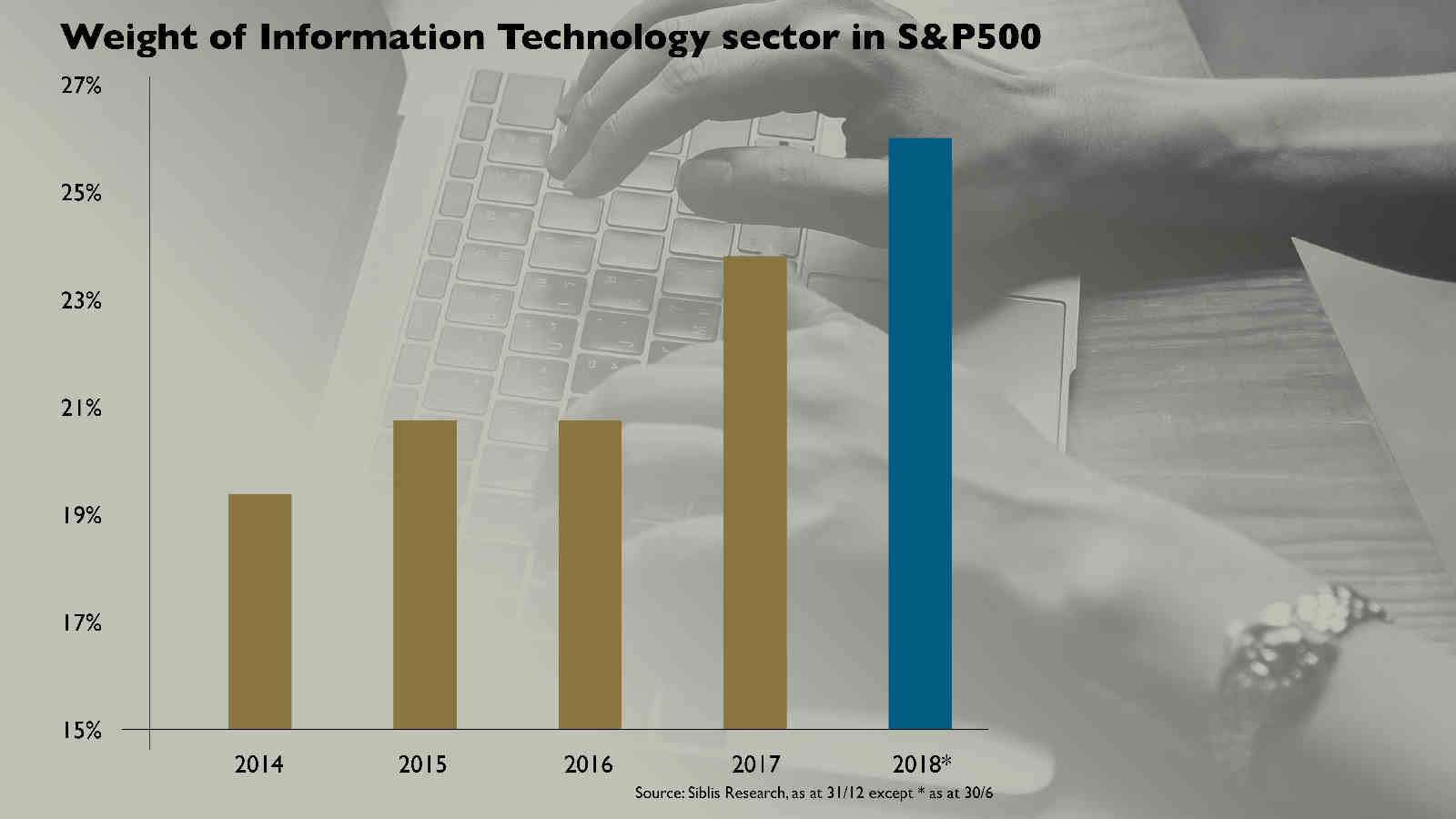 Ladder or snake?
Putting aside the excitement that new ideas can generate, the actual impact of technological innovation on economic growth, inflation and productivity remains difficult to measure. Do technological advances inevitably lead to economic growth? That argument has been going on for many years.
One point of view is that today's technology is more 'disruptive' than 'creative' and hardly delivers any improvements in terms of growth or productivity.
Venture capitalist and co-founder of PayPal Peter Thiel complained about the relative lack of progress in transportation and medicine since the early 1970s. He suggests that technology is proving far less transformative than hyped partly because well-established incumbents try to defend their market share. He infamously argued: "We wanted flying cars, instead we got 140 characters."
And, of course, there is the issue of rising unemployment. As machines perform more and more tasks in both manufacturing and service sectors such as banking, logistics or health care, more people will lose their jobs, leading to lower consumer spending and slower economic growth.
This position emphasises the delay between innovation and its final impact on economic growth and productivity. Economist Chad Syverson argues[1]. that the patterns in productivity growth from information technology are similar to those observed since the introduction of electricity. Erik Brynjolfsson and Andrew McAfee think that the global economy is set for a dramatic growth surge driven by smart machines and their exponentially growing capacity to handle data or enable artificial intelligence.[2]
[1] Chad Syverson "Will History Repeat Itself", University of Chicago 2013
[2] Erik Brynjolfsson, Andrew McAfee "The Second Machine Age: Work, Progress, and Prosperity in a Time of Brilliant Technologies", 2014
The Sharing economy
One of the most radical and visible changes in recent years has probably been the emergence of the sharing economy. Through smartphones and big data, direct consumer-to-consumer rental and lending have become easy and cost-efficient. Increasingly, people choose to rely on online avenues for things like arranging short-term property lets, making online payments or raising money – for charity or to fund a business idea.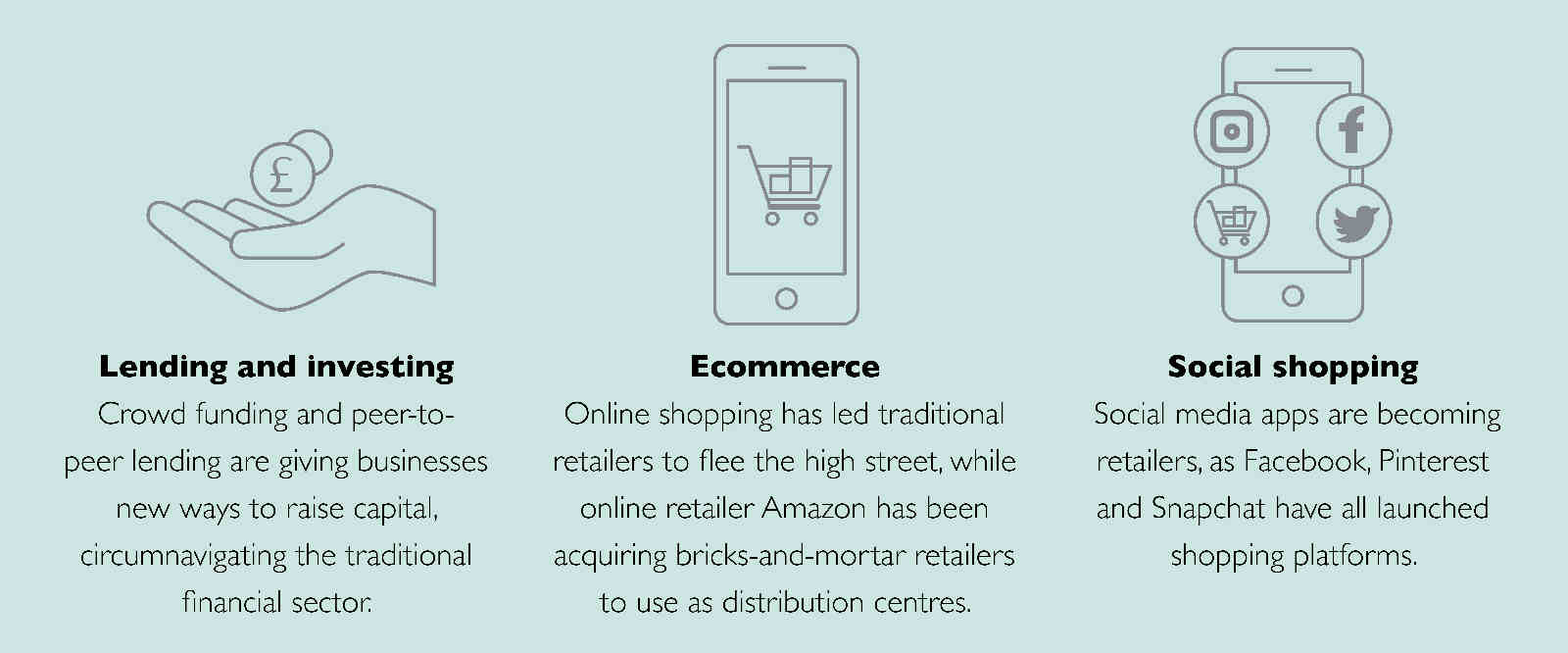 When you become a client of Coutts, you will be part of an exclusive network.

Read More
Asset sharing (lending) and investing
Peer-to-peer lending eliminates some of the complexity and high cost of traditional lending by eliminating administrative and infrastructure costs. Borrowers are often able to secure funding at a lower rate than through traditional sources. Innovators in this sector include:
LendingClub sources funds from individuals and institutions and allows its customers to borrow based on creditworthiness determined by a scoring system. The company has so far funded US$38bn in loans to 2.5 million customers.
Kickstarter launched in 2009 as a way for entrepreneurs to receive funding for projects. As of today, US$4bn in funding has been pledged from 15 million people for more than 152,000 projects.
Prosper was founded in 2005. It has funded over US$13bn in loans to-date. Using various financial metrics, the credit quality of each borrower is decided and corresponding interest rates are proposed.
Ecommerce and social shopping
More attractive online selections and faster delivery times mean that ecommerce is now growing at the expense of the high street.
In 2017, the UK saw 5,855 shops close, more than in any year since 2010, largely because of the rise in ecommerce. The trend has continued in 2018 with well-known brands such as Marks & Spencer and Debenhams closing branches and brands like Toys R Us closing down entirely.
In 2017, in a much-noted development, Amazon acquired the more than 400 shops and 15 distribution centres of Whole Foods. Amazon has stated that it will use Whole Foods locations to offer online ordering and in-store pickup, and will experiment with using locations as mini-centres for local grocery delivery.
Social shopping
People like to buy what their friends recommend. Traditional search-led online shopping lacks social interaction and therefore social influence plays less of a role in people's shopping decisions. Social commerce leverages social channels to add this missing social element to the shopping experience.

While social networking sites have captured strong advertiser interest, they have had minimal success as shopping platforms. But Facebook, Instagram, Snapchat and Pinterest, are increasingly looking for ways to monetise users and their engagement through shopping features.
Facebook has been involved in building the online shopping platform Marketplace.
Pinterest launched Lens, a visual search shopping tool, in 2017, which is now being used to make 600 million searches every month (140% growth on last year).
Snapchat has partnered with Amazon to introduce Visual Search, which will allow users to buy items on Amazon by taking pictures of whatever catches their eye.
The end of intermediaries
The rise of the sharing economy shows how technology is changing the paradigm in key sectors. Already, traditional retailing has been turned upside down and financial services look set to follow shortly. Increasingly companies that have a traditional intermediary role are challenged in their business models as technology opens up new channels for producers to reach out directly to their market.
And investment itself may yet come under pressure from these same forces. We're only scratching at the surface of the potential applications for blockchain technology, for example. This could include the eventual elimination of conventional stock markets in favour of blockchain-driven market places.
While we're unlikely to see stock markets disappear overnight, in the longer term we can't ignore the possibility that the traditional distribution networks for capital – stock markets, lenders, the people that manage them – could go the way of DVDs and CD players.
Direct Investment in innovative companies
For centuries, Coutts has been the bank of change makers and today we are proud to support fast-growing businesses in the UK that are innovating for the future.
Connecting people
The Coutts Investment Club connects some of our highly experienced and financially sophisticated clients with high-growth private company investment opportunities in innovative, disruptive new ideas.
Raising capital
Over the past few years we've raised capital for a range of companies that are changing the world we live in from virtual reality gaming, hand-held rapid DNA diagnostics, drone mapping for large scale infrastructure projects, fertility diagnostics and real-time imaging technology for cancer surgeons.
Supporting start-ups
The UK is a world-class breeding ground for innovation and technology start-ups. Our team makes the most of the Coutts client base, our extensive network of business connections, and our relationship with NatWest to find exciting opportunities across a broad range of sectors.
Hans Prottey, Head of Strategic Solutions at Coutts, said: "The service is designed to introduce proprietary private company investment opportunities to an impressive group of experienced clients that can offer both capital and experience to early-stage businesses."
Speak to your private banker if you would like to know more.
Key Takeaways
The relationship between commerce and technology is creating new avenues for exchange. Producers and service providers are increasingly circumnavigating the 'middle man' and reaching directly to consumers.
In the meantime, social media is extending its reach beyond 'influencing' with platforms such as Facebook launching shopping portals.

And it's not just retail. Platforms like Kickstarter, LendingClub and Prosper are bringing together investors and borrowers in new ways that could revolutionise finance.

Coutts Investments
With unstinting focus on client objectives and capital preservation, Coutts Investments provide high-touch investment expertise that centres on diversified solutions and a service-led approach to portfolio management.
Discover more about Coutts Investments