Climate change urgency "cannot be exaggerated", Attenborough tells Coutts clients
Sir David Attenborough sends stark warning to Coutts clients at climate change event.
2 min read
Most Popular
27 Feb 2023

As the new tax year approaches, you might want to know about possible changes to what you'll pay in tax.

3 min
Renowned broadcaster and naturalist Sir David Attenborough told Coutts clients he was "baffled" more hadn't been done to use the sun to meet the world's energy needs.
When you become a client of Coutts, you will be part of an exclusive network.

Read More
The 93-year-old was speaking at a Coutts event on climate change at the bank's headquarters in central London.
Sir David said: "We could get all the energy we need right now directly through the sun. The sun pours more energy than we could possibly use on to every part of this earth at some time or another. Why has it taken us so long to think about capturing it directly? Every other method we've tried has had terrible consequences."
Addressing an audience of over 300 of the bank's clients, the Blue Planet narrator said, "The levers that need pressing I think may well lie within this room.
"This is not a theoretical problem. The urgency cannot be exaggerated. We have to do it now. You have such power. Please use it because we can't wait. The world is warming at an intolerable rate."
Impending catastrophe
Talking more generally about the "impending catastrophe" of climate change, Sir David said the only way to solve the problem was for the whole world to work together.
"We have been parasitic on the world for a very long time," he said. "The system is rapidly becoming bankrupt and when that happens, not only will our ecosystem disappear, but we ourselves will be at hazard.
"Humanity as a whole for the first time in history has to deal with a worldwide problem by mutual agreement as to what's to be done. If we continue with our nationalistic views, we are heading for catastrophe."
No magic required
Sir David then took questions from the audience alongside his fellow panellists – who included Chris Stark, chief executive of the Committee on Climate Change, and consultant Sue Garrard who successfully led the work to embed sustainability at global consumer goods company Unilever.
Mr Stark said his organisation had found it was perfectly possible to achieve a 100% fall in carbon dioxide or greenhouse gas emissions – known as the 'net-zero' target.
"It's important we do that because that's the moment, globally, when we will stop warming the planet and all the problems that come with that," he said.
"In the UK, we find it's possible to get to net-zero without any 'magic'. And crucially, if we do that, the cost to the economy is very small indeed."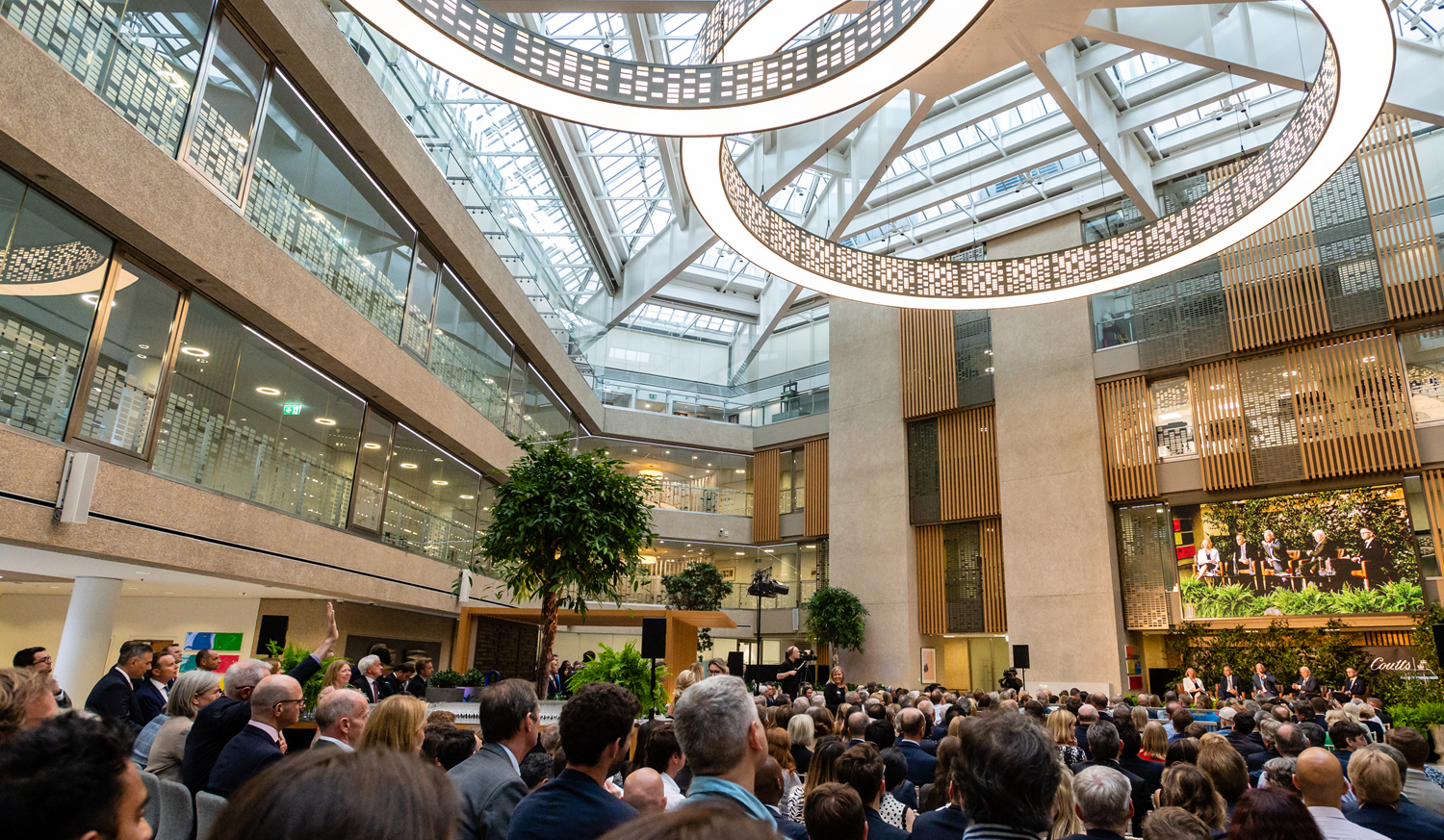 Growth driver

Sue Garrard said that, when Unilever started on its sustainability journey, the company gave itself 10 years to achieve "three unbelievably ambitious goals" because it knew it needed to learn and make mistakes. But it also knew that, ultimately, it would create a competitive advantage.
She said: "What happened was that we had five years of some very painful learning. But the result of that was that we started to understand how this actually wasn't just going to de-risk the business but, much more excitingly, was a growth driver.
"We ended up with 26 of our biggest brands embedding elements of sustainability. And they are now growing 67% faster than the rest of the portfolio. That is simply phenomenal."
After the lively Q&A, chaired by Channel 4 news presenter Jon Snow, Coutts CEO Peter Flavel closed the event.
He said: "Our clients are among the most successful and influential families in the UK. And if we are going to make a difference, who better to work alongside than all of you?
"We think that, if we act together, we have the opportunity to make a real impact."
Key Takeaways
Coutts clients have the power to make a real difference in the fight against climate change according to broadcaster and naturalist Sir David Attenborough.
Coutts takes climate change very seriously and can work with clients to help tackle it, whether through their investing or their philanthropy.
When investing, past performance should not be taken as a guide to future performance. The value of investments, and the income from them, can go down as well as up, and you may not recover the amount of your original investment.