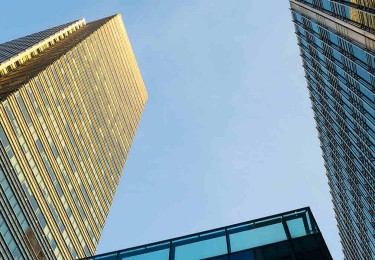 Coutts Commercial
Real Estate
With expertise and connections across the real estate spectrum, Coutts Commercial Real Estate bankers work closely with our in-house chartered surveyors to provide an exceptional service for your commercial property needs.
"Coutts Real Estate business is driven by a sector-skilled team with in-depth experience of structuring debt solutions for both commercial and residential investment transactions. In addition to financing standing assets, we also finance a wide range of residential development projects across London and the Home Counties. Supported by an in-house chartered surveyor, the team has a passion for the built environment and prides itself on driving the best outcome for our clients."

Coutts dedicated Commercial Real Estate team was established in 2009 in response to increasing demand from Coutts clients looking to invest in commercial property. Our highly experienced team has a continuing reputation for providing flexible and intelligent banking services to the industry, and we pride ourselves on the continuity of our relationships and the highest quality of our service. The multi-cyclical experience and maturity of our team enables us to build enduring relationships with our clients, underpinned by an unsurpassed depth of understanding.

Coutts Commercial Real Estate experts take a highly proactive approach, expertly drawing on long-standing insight and extensive networks to help clients and their businesses move swiftly in the dynamic world of real estate.

With long-standing relationships with carefully selected professional surveying and property-specific legal firms, Coutts Commercial Real Estate provides a full relationship-managed service that caters for every aspect of your banking needs. Coutts Commercial Real Estate works with a range of clients – from institutional funds and corporate investors, family offices and private clients, to London estates and regional developers.
The Coutts Commercial Real Estate team has extensive industry connections through which we pass invaluable information on to our clients to enhance their investments. Coutts is proud to work with the Association of Property Lenders, the Royal Institution of Chartered Surveyors and the Worshipful Company of Chartered Surveyors, and regularly attends the MIPIM property conference.
Intelligent
Services
The Coutts Commercial Real Estate team provides comprehensive banking services for clients investing in commercial and residential property. Finance facilities are available for each stage of the property process: from development finance, which includes senior debt with capitalised interest to investment finance, which includes term loans and amortising or interest-only facilities for lower-geared assets.

As with all of our commercial banking offering, a fully comprehensive banking service is available that includes deposits, transmission and online capabilities.

Commercial
Property Assets
An in-depth insight into clients' assets and wider circumstances is key to supporting every aspect of your commercial property requirements. Development funding is considered according to the pre-sale or pre-let agreements, covenant strength, location, your own circumstances and the wider market. Asset quality, covenant strength, location and asset management are key to determining investment finance.
Residential
Property
When looking at residential development funding, our Commercial Real Estate team will undertake a detailed review of the property, the market and your own circumstances, developmental experience and objectives. Investment funding will be assessed in line with asset quality and diversity, management ability, tenant strength and sustainability of cash flow.
Over 18s only. All credit is subject to approval and affordability checks. Terms and conditions apply. Security may be required. Product fees may apply.
Any property used as security, which may include your home, may be repossessed if you do not keep up repayments on a mortgage or other debt secured on it.
Head of Commercial Real Estate, Coutts Commercial
Barry Williamson
Barry Williamson has 40 years' experience within retail and corporate banking. He manages a team of 16 experts who specialise in the provision of a full suite of banking facilities and senior debt to a wide mix of corporate clients for commercial investment and development projects.
Telephone: 020 7753 1233 | Email: barry.williamson@coutts.com