OUR LATEST LUXURY LONDON PROPERTY INSIGHT



What happened in Q1 and where might the market go from here? Here's our latest insight on London's prime property sector.
Though best-in-class properties have held their value, there has been a slowdown in transactions throughout London's prime property sector – properties worth £1 million or more. But there are clearly opportunities, especially for buyers.
We've analysed the latest market developments, and here are some of the key facts and figures for luxury property in London from the last quarter. This is based on what we're seeing ahead of the next bi-annual Coutts London Prime Property Index, which will be out later in the year.
How has the market performed in Q1 2023?
As predicted last quarter, it's been a relatively sluggish start to the year for prime London property transactions. Transaction volumes are down 24.8% compared to the end of 2022, and down 33.9% compared to the same period last year (Q1 2022).

We expect Q2 to be much stronger in terms of transaction volumes. The number of deals currently under offer is up 26% on last quarter and up 3% compared to the same period last year. So, it looks like there's a backlog of deals about to happen in Q2.

There is an active pool of buyers in the market, and buying agents on our panel are telling us best-in-class properties are continuing to hold their value.

Given there is such a small quantity of these best-in-class properties, and very limited turn-key stock – properties ready to move into right away – other than new builds, values for good quality assets in prime London are likely to hold their value.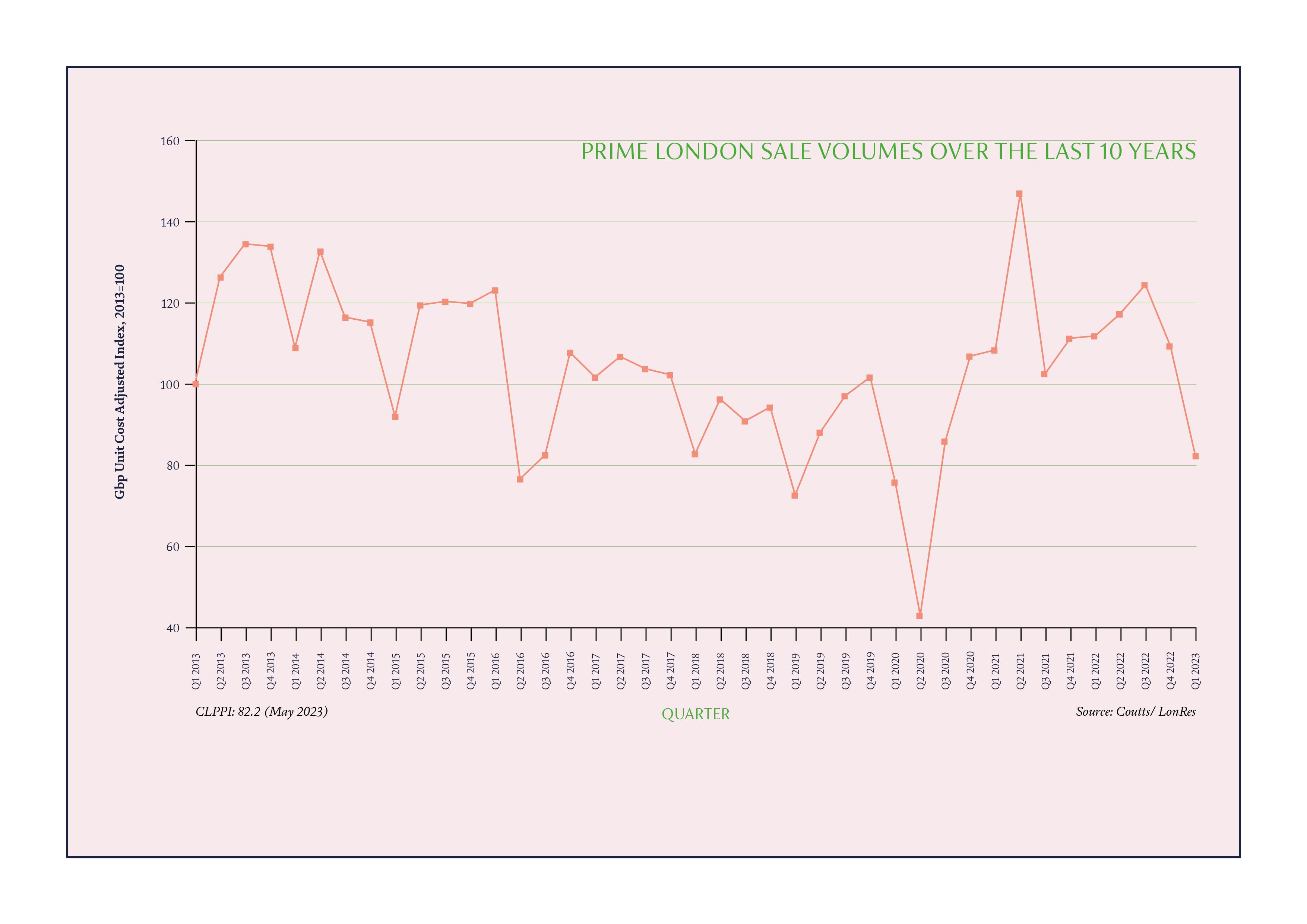 Prime Property Prices: Is it best to buy or sell?
Prime property prices fell 2.2% in the first quarter of the year, but over the last 12 months prices are still up 3.3% on average across prime London.

Prices on average are now -7.5% below their peak back in 2014, but this varies significantly by postcode.

Buyers are pricing in what they think the market will look like next year but are at a stand-off with sellers who are hanging on to prices from last year. The hope is that the second half of the year will see the market recover if inflation comes under control.

45.1% of listings have reduced in price from their original listing. That's up from 36.9% compared to the end of 2022. Buyers have been able to negotiate higher discounts off the asking price too, with average discounts creeping up to 8.6%, from 5.6% six months ago.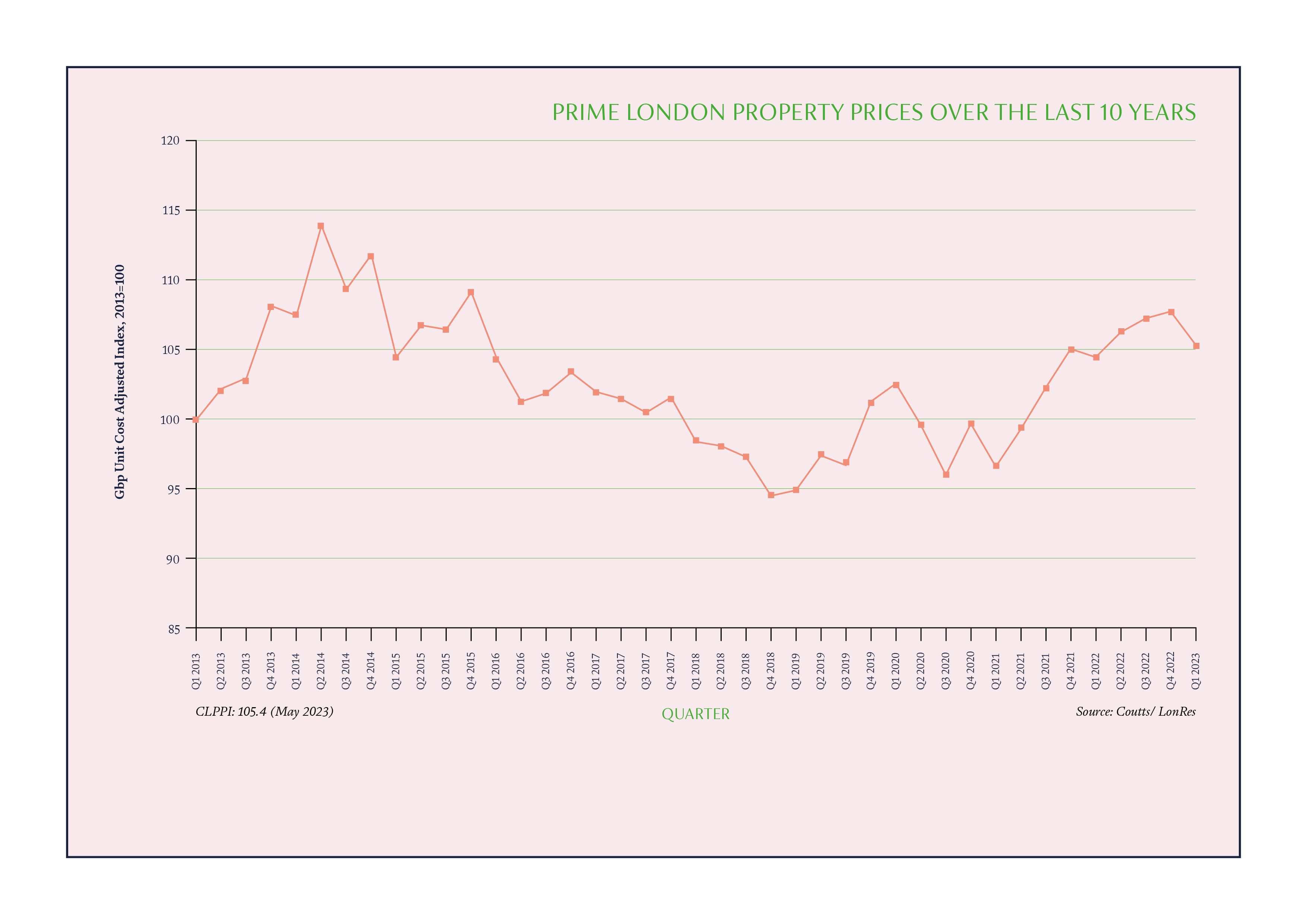 Local Insights
The prime (£1m+) and super prime (£10m+) markets are expected to perform better than the mainstream (<£1m) market, particularly over the next 12 months. Although we expect some nuances between different areas within the capital.
Resilience in prime Central London
With the continued increases in interest rates, we expect activity to remain strongest in those parts of the market least reliant on mortgage debt, such as prime central London postcodes.

That said, there is still a lot of buyer appetite as signals suggest that interest rates will start settling down.

Some of these prime central locations also represent best value relative to historic pricing. For example, prices in:

Knightsbridge & Belgravia are 17.3% below the height of the market in 2014.
Marylebone, Fitzrovia & Soho are 17.2% below the height of the market.
Chelsea are 15.5% below the height of the market.

These markets also tend to have more interest from international buyers. Dollar-denominated buyers have the added impetus of the strength of the dollar versus the pound – though the pound has shown some recent signs of recovery.
What does outer prime London property look like?



As predicted, we are seeing activity start to slow down in some outer prime markets which are dominated by domestic and mortgage-reliant buyers.
For example, transaction volumes have fallen significantly in some outer prime markets such as:


Battersea, Clapham & Wandsworth – transaction volumes are down 47.6% compared to the end of 2022.
Wimbledon, Richmond, Putney & Barnes - transaction volumes are down 47.6% compared to the end of 2022.
Hampstead & Highgate - transaction volumes are down 40.8% compared to the end of 2022.

Prices have come off in a few outer prime markets too:


Prices in Wimbledon, Richmond, Putney & Barnes are now down 15.8% compared to a year ago.
Prices in King's Cross & Islington are now down 12.3% compared to a year ago.
However, prices in Battersea, Clapham & Wandsworth are still holding firm and are actually up 0.5% on last year (and up 2.2% Q on Q).
Considering your next move? Let Coutts help
Our real estate team could help you find the perfect property. And our bespoke mortgage service means we could provide a mortgage that's as unique as you are.
Or contact your private banker to find out how we could help you.
Your home or property may be repossessed if you do not keep up repayments on your mortgage. Changes in the exchange rate may increase the sterling equivalent of your debt (multi-currency debt only).
Over-18s only. Terms and conditions apply. You may not be eligible for all Coutts mortgage solutions. Security may be required. Product fees may apply.