BACK ON TRACK: WHY WE EXPECT SUPPLY CHAINS TO NORMALISE IN 2022
The disruption to global supply chains is expected to ease this year, with the potential for long-term changes to where we get our goods.
3 min read
Most Popular
19 Sep 2023

By leaving your money invested for longer you could take advantage of compounding to help realise greater returns and potentially protect your wealth from volatility.

4 min

13 Sep 2023

August can be a tough time for equities and this year was no exception. Despite the initial volatility, the market's mood lifted as the month drew on, boosted by a run of strong earnings reports.

3 min
It's been almost two years since pandemic-related pressures created an array of global trade issues that persist to this day. But supply chain bottlenecks may finally be easing.
From the panic buying, product shortages and empty shelves of the initial lockdown to warnings of a Christmas crisis last year, our supply chains have struggled to manage the continuous disruption that has shaped the last couple of years. Intermittent national lockdowns have seen factories suddenly shut, ports closed, and backlogs build up.
It is a situation exacerbated by the surging demand for certain goods. As the service industry came to a grinding halt, consumers stuck at home during lockdowns increasingly sought to spend their money on physical goods – an economic demand somewhat encouraged by government support schemes, particularly in the US.
Consumers shifted spending from services to goods during the pandemic, dramatically increasing pressure on supply chains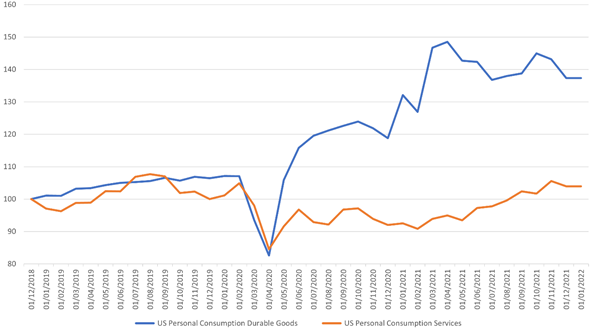 What does this mean for 2022?
The good news is that we expect supply chains to normalise this year. Disruptions are likely to ease towards the second half of 2022 as economies reopen, restrictions become rarer and businesses implement Covid-considered production protocols to help make their supply chains more resilient. At the same time, rising inflation is constraining consumer spending, and the demand for services is gaining momentum again.
However, the pace at which supply chains recover is dependent on a few factors. The emergence of the Omicron variant has seen China implement strict local lockdowns as part of its zero-Covid policy, impacting a number of its major port cities and production centres. This could lead to further bottlenecks, though they are likely to be more temporary. Similarly, the UK labour shortages of last year remain an ongoing issue. Brexit will continue to influence the country's ability to adapt and bring in the necessary skillsets on short notice.
"Whether businesses seek to transform or localise their supply chains, resiliency will be a key consideration in 2022."
What might the long-term impact be?
The pandemic has shone a light on the fragility of the global supply chains on which we rely. This ultra-optimised, just-in-time system is highly efficient but also highly strung, where small disruptions can have disproportionately big impacts.
As a result, we are seeing many businesses increasingly considering re-onshoring or 'near-shoring': localising both their production and supply chains. A 2021 McKinsey survey found that almost 90 per cent of supply chain executives expected to pursue some degree of regionalisation during the next three years.
Companies recognise that elongated supply chains can leave them vulnerable and susceptible to disruption. The short term solution has typically focused on building resilience through increased inventories and multi-sourcing and dual-sourcing suppliers. But with governments increasingly looking to offer incentives to supply chain sovereignty, and with sustainability high on the agenda, the shift towards local and domestic supply is gaining traction. The US government, for example, published a 250-page report in June 2021 supporting re-onshoring operations.
Supply chain resilience, though, is not just about mitigating risks but anticipating issues. Here, digital technology is taking centre stage. Prediction analytics can model consumption and subsequently plan production and transport requirements, while simulation engines are used to test scenarios to minimise supply chain risks.
So, already we are seeing businesses and economies adapt and improve operations to mitigate the bottlenecks of last year. As these changes filter through, we also expect to see a peak to inflation, which should then lessen throughout the year. However, whether businesses seek to transform or localise their supply chains, resiliency will remain the watchword in 2022.