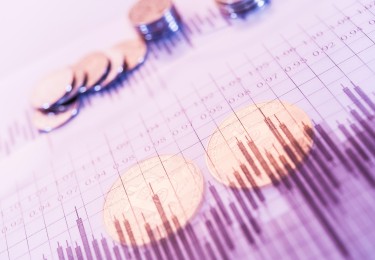 Investments | 21 April 2021
Are cryptocurrencies finally moving from fad to fundamental asset type? We take a look at why you might want to get involved, and the risks to steer clear of.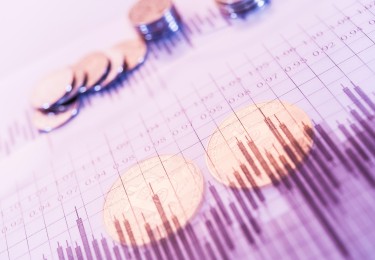 Investments | 21 April 2021
Are cryptocurrencies finally moving from fad to fundamental asset type? We take a look at why you might want to get involved, and the risks to steer clear of.
Most Popular
19 Sep 2023

By leaving your money invested for longer you could take advantage of compounding to help realise greater returns and potentially protect your wealth from volatility.

4 min

13 Sep 2023

August can be a tough time for equities and this year was no exception. Despite the initial volatility, the market's mood lifted as the month drew on, boosted by a run of strong earnings reports.

3 min
While digital currencies still make up only a tiny fraction of online transactions, mainstream companies like MasterCard and PayPal are making moves to accept them. At the same time, we've seen large investment banks open trading facilities, a headline-grabbing $1.5 billion purchase of Bitcoin by Tesla and the landmark listing of the cryptocurrency exchange platform Coinbase.
As well as the staggering gains in recent months – Bitcoin has risen in value by around 500% since the end of October last year – a growing acceptance of cryptocurrencies among major financial institutions means that a lot of people believe that crypto's time is about to come.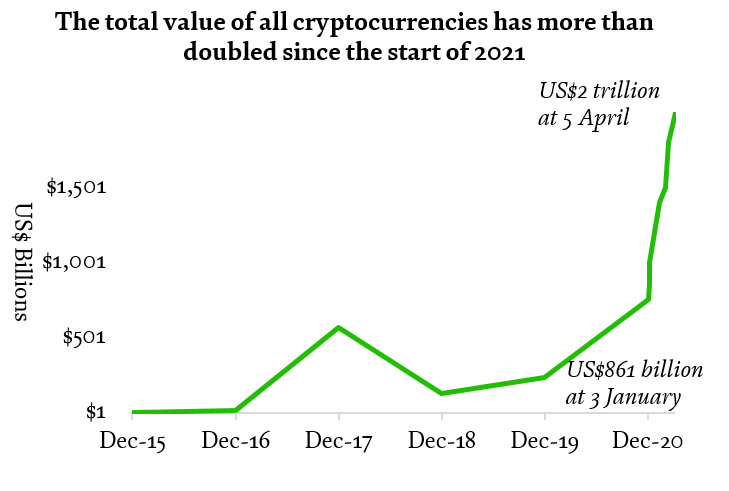 Source: Statista.com,CoinGecko, April 2021
PUTTING YOUR MONEY WHERE YOUR MOUSE IS



There's been something of a goldrush in cryptocurrencies in recent months, which has fuelled investor interest. We outlined our views a few weeks ago, but our opinion hasn't really changed since we first looked into the topic in 2018:
Cryptocurrencies are highly speculative and volatile
It's difficult to make predictions on price movements in the future because there is no obvious intrinsic value
Cryptocurrencies' recent moves seem to correlate with other risk assets and did not provide an alternative "safe haven" asset
There's been rapid growth in derivative products based around cryptocurrencies that can exaggerate sudden price moves
In our view, these factors make cryptocurrency too risky to be considered as either an investment or a reliable store of value for most private investors.
There are also regulatory barriers for companies like Coutts around offering investments in cryptocurrencies to its clients. In the UK, the Financial Conduct Authority doesn't allow investment in them in any UK-registered funds or portfolios provided to individual investors. This includes investing in other products with direct exposure, like derivatives and structured products.
Some companies have invested small amounts in funds based in offshore centres that aren't governed by those restrictions. We see this as an expensive way to invest – with several levels of transaction fees – in an asset that we're not 100% convinced about in the first place.
You can buy cryptocurrencies yourself through a retail bitcoin exchange. There could be a platform fee involved, and you'll also pay for the processing time and significant amounts of energy used to calculate the blockchain, known as 'mining'. How much you pay can vary at any given time, depending on supply and demand – since the start of 2021 the fee for resolving Bitcoin transactions has varied from around US$5 to US$26. This can make Bitcoin an expensive way to undertake day-to-day transactions, although fees for other cryptocurrencies can be lower.
WHAT'S THE REAL COST OF CRYPTO?
But there's another hidden cost of cryptocurrencies that we think is worth considering – the environmental impact. The calculations involved in resolving the blockchain take up an enormous amount of energy, and it's only increasing as cryptocurrencies become more popular.
The website Digiconomist, which researches the environmental consequences of technological trends, has calculated the environmental impact of Bitcoin.
42 million tonnes
Carbon generated by Bitcoin each year –that's about the same carbon footprint as Norway.
380 kilograms
Carbon generated by a single Bitcoin transaction – equivalent to 958,211 VISA transactions, or 72,056 hours watching YouTube.
Other cryptocurrencies are less energy intensive, but if climate change is one of your priorities, we'd suggest you think carefully before investing.
A POTENTIAL ASSET IN THE FUTURE
There may come a time when investing in cryptocurrencies makes sense. As a completely decentralised currency they may be insulated from 'paper currency' debasement through government policy or inflation, and many people think they could evolve into a stable 'store of value', like gold.
Our environmental concerns could be addressed using renewable energy sources. There are moves in that direction already, and we could see a 'green' cryptocurrency launched in the future.
For the time being, however, we're keeping a careful eye on their development, including environmental impact and regulation, and what role they could play in our investment strategy.
FIND OUT MORE ABOUT investing WITH Coutts.
Past performance should not be taken as a guide to future returns. The value of investments can go down as well as up and you may get back less than you invest.