Keeping companies accountable through coronavirus
The pandemic brings boardroom behaviour around staff and suppliers to the fore in our latest quarterly report on our responsible investing activity
3 min read
Most Popular
30 Nov 2023

The head of our Business Exit Programme, Greg Kyle-Langley, details how advice and guidance at the crucial moment of exit could provide lifelong value.

3 min

28 Nov 2023

From hampers and champagne to gardens, book collections and the chance to give to those in need – our specially curated gifts and offers for clients could provide the perfect gifts this Christmas

3 min
When you become a client of Coutts, you will be part of an exclusive network.

Read More
The coronavirus outbreak does not give companies a carte blanche to forget their responsibilities to their people, wider society and the environment – and Coutts has been keeping them on track.
We voted against management over environmental, social and governance (ESG) issues at more than a third of the shareholder meetings we took part in. This shows how willing we are to act on our concerns if we feel the companies we invest in on our clients' behalf fall short of our high responsible investing standards.

A focus on treating staff and suppliers fairly
Most of the topics tackled during the quarter were around governance – board structure and pay – as companies continue to deal with the massive drop in economic activity created by the coronavirus outbreak.
They included:
ensuring the safety and wellbeing of their workforce and finding ways to keep people employed, seeking government support as appropriate
treating their suppliers fairly, serving their customers and supporting the efforts of governments and wider society in dealing with the COVID-19 crisis
strengthening their balance sheets and acting in their long-term interests when spending money
Strong, sustainable leadership crucial

Leslie Gent, Head of Responsible Investing at Coutts, says, "The focus on board-level activity this quarter comes as the coronavirus outbreak shows the need for companies to have strong leadership that's focused on the future, particularly during such challenging times.
"The long-term value of the companies we invest in is crucial to our aim of delivering robust returns for our clients over time.
"As a bank with clear purpose, we want to do all we can to assist and influence the companies that we invest in to become more sustainable. That's been more important than ever in 2020."
The difference between voting and engagement

Voting – as owners of shares, we have the right to vote at company shareholder meetings. We can use our votes to support policies that address our clients' ESG concerns or oppose those that act against them.
Engagement – ongoing dialogue between shareholders and the directors of a company to influence their behaviour.
Example: We might engage with an oil company by having regular discussions with them on setting ambitious targets to lower their carbon emissions. And then we might vote 'yes' on a shareholder resolution that proposes the company explains how its strategy is consistent with the goals of the Paris Agreement on climate change.
Definition from the Principles of Responsible Investment: "Engagement and voting practices are interlinked and feed into each other. Investors might start a dialogue with companies before the voting season in relation to particularly contentious items on remuneration, board structure or shareholder rights, and then start a more in-depth engagement to achieve a required change in corporate governance."
Working with the best in the business
Our voting and engagement with companies is done in partnership with EOS at Federated Hermes (EOS), which works with businesses on behalf of investors to encourage responsible behaviours. EOS represents investors in 14 countries with over £850 billion in assets under advice (as at 31 March 2020).
Dr Hans-Christoph Hirt, Executive Director, Head of EOS, recently wrote to all partner companies including Coutts. He said lessons could be learned from the response to the coronavirus crisis with regards to climate change.
His letter stated, "Business and governments will need to learn from and comprehensively act on the lessons from this crisis, not only for future pandemics, but for other known risks, such as the climate crisis – an emergency that requires far greater planning, resolve and commitment than we have seen so far in addressing the coronavirus pandemic in most countries.
"The world will not be the same again - or at least, it should not be."

The environment isn't saved yet
Leslie adds that the recent, inadvertent progress made on climate targets as the world goes through lockdown should not detract from the ongoing, urgent need for wider change.
"The International Energy Agency has said that carbon emissions could fall by 8% this year as a result of the coronavirus keeping us all at home," she says. "But once lockdown ends and things return to normal, those emissions will shoot back up again. So there remains much more to do, and a huge role for business to play."
Find out more about responsible investing at Coutts. And look out for our first annual Sustainability Report, coming soon.
When investing, past performance should not be taken as a guide to future performance. The value of investments, and the income from them, can go down as well as up and you may not recover the amount of your original investment.
OUR VOTING AND ENGAGEMENT IN NUMBERS, Q1 2020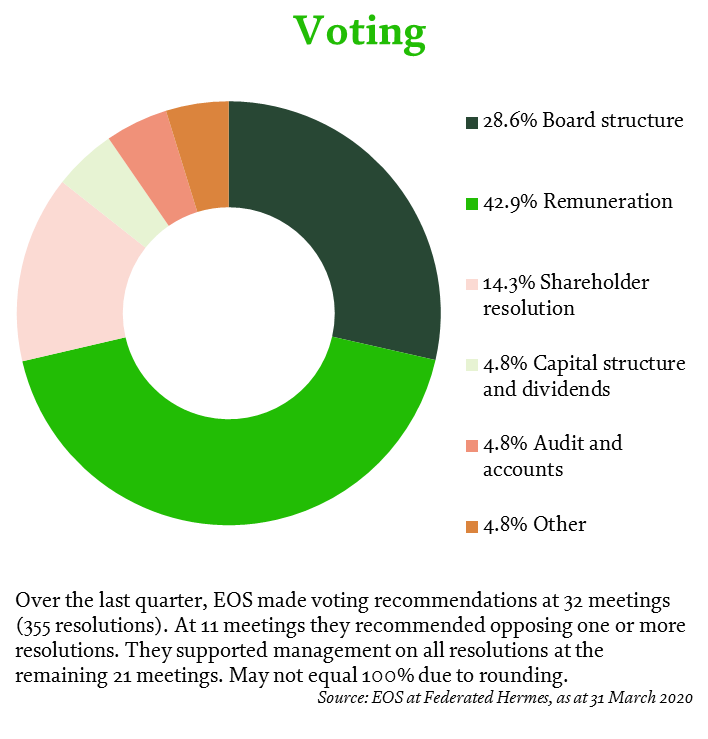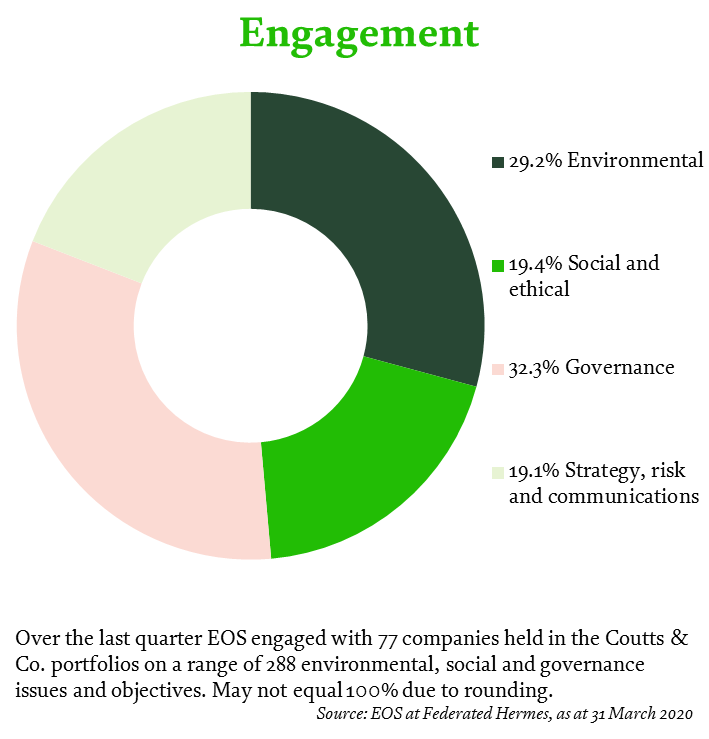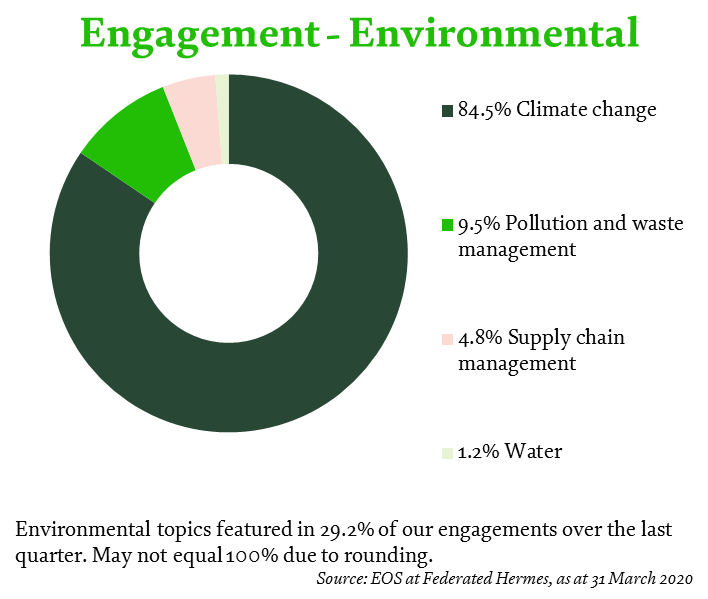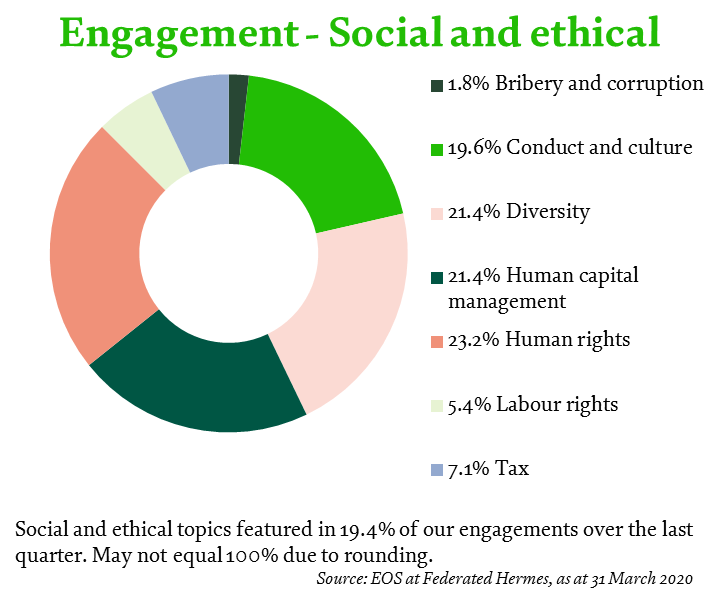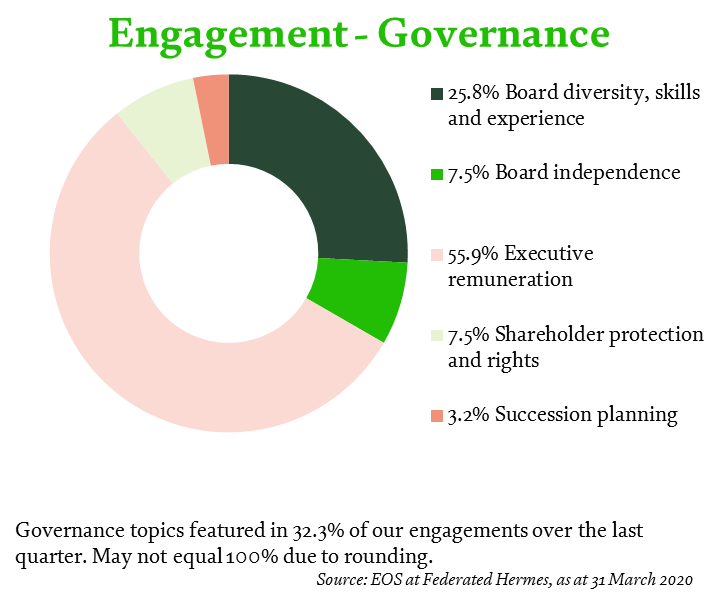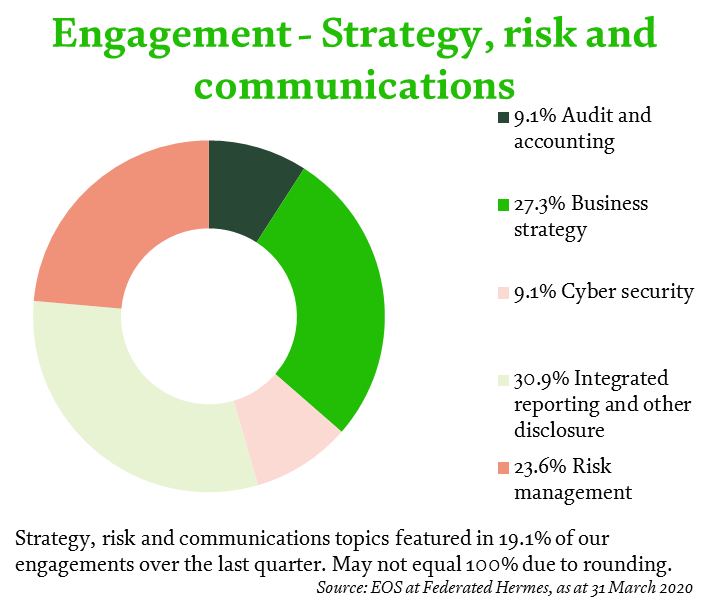 About Coutts investments
With unstinting focus on client objectives and capital preservation, Coutts Investments provide high-touch investment expertise that centres on diversified solutions and a service-led approach to portfolio management.
Discover more about Coutts investments