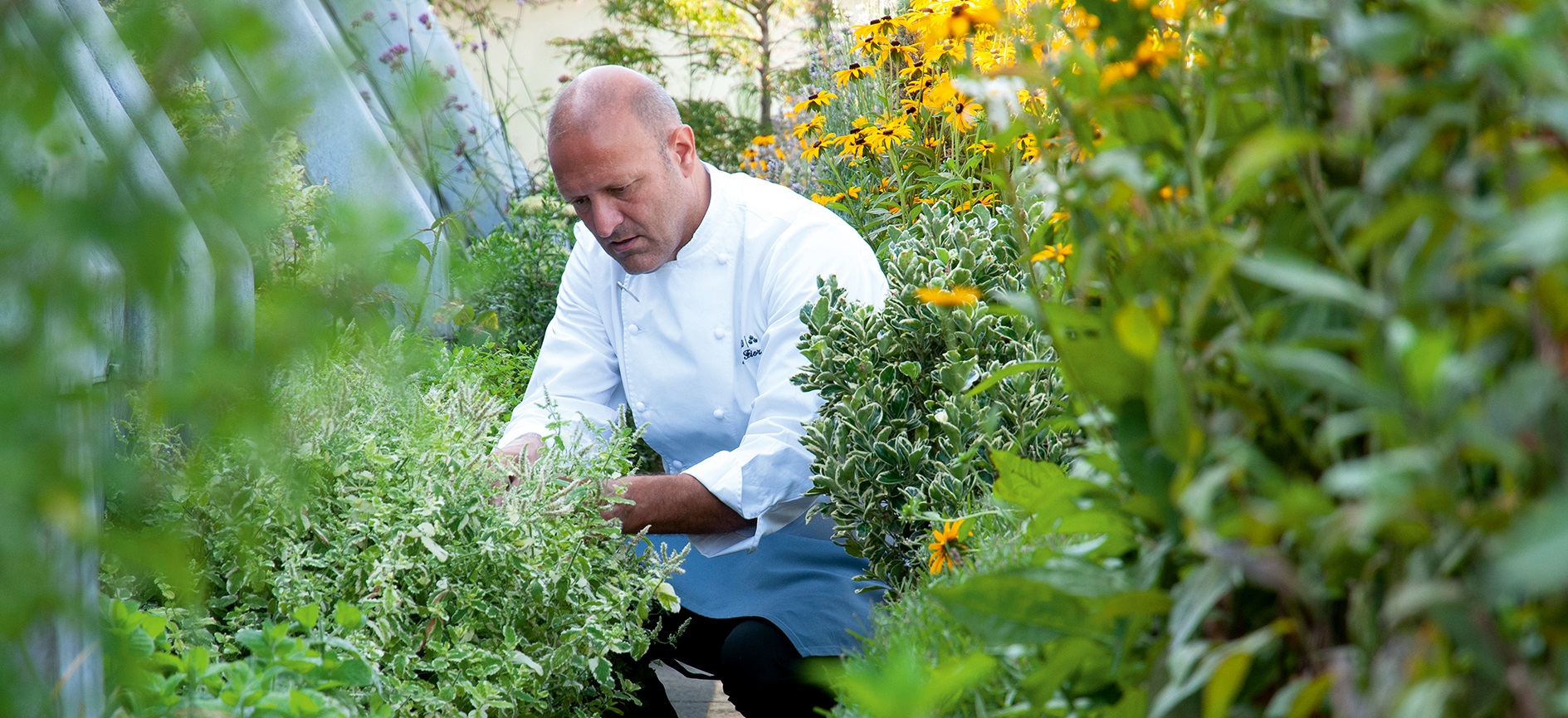 Peter's Pantry
Our Executive Chef, Peter Fiori, has been busy picking some store cupboard ingredients to create recipes for a range of cooking abilities. From Italian mountain soup to Japanese Chicken Curry there's something to help lift spirits and inspire almost everyone.
Tips for a successful barbecue
Buy good quality tools such as tongs, a fish slice and gloves.

Be patient wait for the best time to start cooking, you need the flames to die down and coals should be white.
Control the temperature across the grill, once the coals are white push them to the back so that the back is much hotter than the front, this will give you control, gone are the days of dry burnt food.
Make a herb brush by tying long sprigs of rosemary and thyme to a wooden stick and use this to baste your food whilst cooking.
Baste your food continually to keep it moist.
Fill a plastic spray bottle with cold water and spray the barbeque coals if it gets too hot.
Always cook your meat and fish from room temperature, never straight from the fridge.
Only season the meat and fish at the last moment just before placing on the barbeque.
Once your meat or fish is on the barbeque, flip it once or twice, don't press down on it.
Do not overcook the meat. There is nothing worse than dry fish or meat!
Barbecue Tuna Or Sword Fish With Salsa

Serves 4

Ingredients

4 x 125g tuna steaks or sword fish steaks (you can adapt any fish you prefer for this recipe)
Salt and pepper
Olive oil

Salsa

2 red onions finely chopped
2 green peppers finely chopped
2 green chilies finely chopped
1 garlic clove finely chopped
1 tbs olive oil
The juice of 2 limes
8 plum tomatoes skinned, seeded and finely diced

Method

For the salsa, combine the red onions, peppers, chilies and garlic in a bowl. Add the olive oil and lime juice followed by the chopped tomatoes and season with salt and pepper.

To cook the fish, brush the fish with olive oil and season well with salt and freshly ground pepper. For 1 cm fish steaks barbecue the fish for a maximum of 2 minutes on each side and serve with the salsa.

Classic Cheeseburger

Serves 4

Ingredients

500g beef mince, 75% lean 25%fat
4 brioche buns
4 slices of cheddar cheese roughly the same size as the burgers
Dill pickles sliced
1 beef tomato sliced
1 little gem lettuce sliced
1 tbs tomato ketchup
3\4 tbs mayonnaise
1\4 tbs English mustard
1\4 tbs hot chili sauce (I use Habanero chili sauce)
1\4 tbs Worcestershire sauce

Method

Gently knead the beef mince into 4 x 125g patties roughly the same size as the brioche bun and store in the fridge.

Mix together the Ketchup, mayonnaise, mustard, chili sauce and Worcestershire sauce to create the sauce.

Remove the burgers from the fridge and when at room temperature brush them with sunflower oil and season generously with salt and pepper. Place on the barbecue and cook for 2 minutes, flip over the burgers and top with the cheese, then cook for a further 2 minutes.

Halve each bun and place on the barbecue to toast, once toasted on the bottom of each bun spoon on a little of the sauce and top with the burger followed by a slice of beef tomato, the dill pickle and little gem lettuce. Spoon some more sauce on the other half of the bun and place on top of the burger.

Ingredients

2 tbs butter
1 onion finely chopped
1 garlic clove finely chopped
250ml Ketchup
55g brown sugar
2 tbs treacle
2 tbs maple syrup
2 tbs cider vinegar
1 tbs American mustard
2 x 400g tins kidney beans

Method

In a large pot over a moderate heat melt the butter, add the onions and cook for 5 minutes until soft. Add the garlic and cook for a minute, then add the Ketchup, brown sugar, treacle, maple syrup, vinegar and mustard. Stir and bring to the boil. Reduce the heat and simmer for 5 minutes, then add the beans, cover with a lid and cook for 5 minutes. Remove the lid and simmer for a further 10 minutes until thickened.

Grilled Corn And Lime Mayonnaise

Serves 4

Ingredients

4 cobs of corn

2 tbs chili salt or chipotle salt
2 tbs chopped coriander
2 tbs lime juice
250ml mayonnaise

Method

Mix the lime juice with the mayonnaise. Place the corn in a pot of boiling water and cook for 5 minutes, remove the corn from the water, place on the barbecue and griddle for 6 mins turning regularly until nice and charred. Serve the grilled corn coated in lime mayonnaise, seasoned with the chili or chipotle salt and sprinkled with the coriander.

Sour Baked Potatoes

Serves 4

Ingredients

4 baking potatoes
2 tbs olive oil
The juice of 1/2 a lemon
Seasoning
4 tbs sour cream
4 tbs of grated cheddar

Method

Roast the baking potatoes at 200c for 1 hour until soft in the middle and crispy on the outside. Once cooked split them lengthways and fork out the inside, saving the skins to serve the potatoes in. Mix the potato with the olive oil and lemon juice before adding the sour cream. Season with salt and pepper, then spoon this mixture back into the potato skins, top with some grated cheddar and cook in the oven, or on the barbecue with the lid down.


Ingredients

1\2 red cabbage shredded as thin as possible
125ml cider vinegar
100g brown sugar
50ml pomegranate molasses
1 tbs olive oil
2 tbs lime juice
1 handful of chopped mint leaves

Method

Place the shredded cabbage in a bowl. Put the vinegar, brown sugar and molasses in a pan and simmer until the sugar has dissolved. Pour the hot mixture over the cabbage and add the oil, lime juice and roughly chopped mint leaves. Leave for at least an hour before serving.

Ingredients

250g grated celeriac
The juice of 1 lemon
12 walnuts roughly chopped
3 apples with cores removed, peeled and grated
1\2 tsp salt
1 tsp caster sugar
1 pinch ground black pepper
100g crème fraiche
100g mayonnaise

Method

Mix the grated celeriac with the grated apples and add the lemon juice straight away to stop them going black. Add the sugar, salt and pepper. Mix the crème fraiche with the mayonnaise and mix all the ingredient together gently, then scatter with the walnuts. This salad is great with a barbecue!


Pear Chicory and Roquefort Salad

Serves 4

Ingredients

1 large pear halved, cored and finely sliced
1 celery stick finely sliced
4 small chicory bulbs quartered lengthways
100g hazelnuts roughly chopped
85g Roquefort cheese chilled
2 tsp chopped chives

Dressing

50g Roquefort cheese at room temperature
20ml warm water
1 tbs white wine vinegar
2 tbs extra virgin olive oil
Seasoning

Method

First make the dressing in a large bowl using a spatula. Cream the cheese to a smooth paste, add the warm water and vinegar and whisk till smooth. Then gradually whisk in the olive oil, season to taste.

In a bowl mix the pears, chicory, nuts and celery. Break down the chilled Roquefort into small pieces and add to the rest of the ingredients before adding the dressing. Finally sprinkle with the chopped chives.


Ingredients

125ml olive oil
2 tbs lemon juice
1\2 tbs loosely chopped basil
1\2 tbs loosely chopped coriander
1 tsp chopped rosemary
1 tsp chopped thyme
Seasoning

Method

Combine all the ingredients. Brush on the fish 5 minutes before cooking and continue to baste the fish on the barbecue.

Ingredients

2 tbs butter
1 finely chopped onion
2 garlic cloves chopped
1 tsp cayenne pepper
450g treacle
220g brown sugar
125ml mustard
125ml Ketchup
250ml cider vinegar
250ml orange juice
125ml Worcestershire sauce

Method

In a large pot melt the butter over a low heat, add the onions and cook till light brown. Add the garlic followed by the cayenne pepper and mustard and cook for 3 minutes, stirring regularly to avoid burning.

Add the rest of the ingredients and increase the heat and boil rapidly for a minute. Reduce the heat and simmer gently for an hour stirring regularly. Allow the sauce to cool down, it will keep for a couple of weeks in the fridge. Serve this with any meat or fish as an accompaniment.

Ingredients

500ml cider vinegar
1 tbs brown sugar
2 tbs chili flakes
1 tbs salt
1 tbs freshly ground black pepper
1 tsp sweet paprika

Method

Place all the ingredients in a pan and bring to the boil. Reduce the heat to low and simmer for 15 minutes. Cool the sauce before using. You can use it to baste the fish, meat and vegetables whilst cooking on the barbecue. This will keep for 2 weeks in the fridge.


Ingredients

9 tbs Ketchup
120ml white wine vinegar
3 tbs Worcestershire sauce
A few drops of Tabasco sauce
150ml olive oil
150ml extra virgin olive oil
Seasoning

Method

Mix together the Ketchup, vinegar, Worcestershire sauce and Tabasco, then gradually add the oils using a whisk or hand blender. Season with salt and pepper.

This dressing is great with salad leaves, or with grilled meat and fish.


Ingredients

2 egg yolks
2 tbs Dijon mustard
2 tsp salt
1 pinch black pepper
150ml white wine vinegar
Pinch of nutmeg
600ml sunflower oil
100ml water

Method

In a bowl mix the egg yolk with the mustard, add the salt, pepper, vinegar and nutmeg then mix with a hand blender. Start to add the oil a bit at a time while continuing to blend. Once all the oil has been added, blend in the water. This is great as a salad dressing!

recipes from our Skyline kitchen Garden
Chilled Tomato Gazpacho

Serves 4 - 6

Ingredients

1.5kg ripe tomatoes cut into wedges (it's important that the tomatoes are good quality)
400g tin of piquillo peppers
1 cucumber peeled chopped roughly
1 celery stick chopped roughly
4 tbs red wine vinegar
4 tbs Worcestershire sauce
200ml extra virgin olive oil
1 small bunch of basil leaves
Tabasco sauce - a few splashes to your taste
Seasoning

Method

Place the tomatoes, peppers (with their juices), cucumber, celery, basil and vinegar in a food processor and blend well. While continuing to blend, add the Worcestershire sauce, followed by the Tabasco and finally the extra virgin oil. This will give you a silky chilled soup. If you want your soup a little thicker then you can add a slice of bread and blend with the food processor.

Serve chilled with crusty bread.


Garden Soup and Pesto

Serves 4

Ingredients

Soup

200g onion diced into 1cm cubes
200g carrot diced into 1cm cubes
100g leeks diced into 1cm cubes
200g butternut squash diced into 1cm cubes
125ml extra virgin olive oil
200g potatoes peeled and diced into 1cm cubes
200g courgettes diced into 1cm cubes
Vegetable stock
3 bay leaves
3 sprigs of thyme
100g fresh peas
100g broad beans podded and skinned
100g tinned haricot beans
4 skinned, seeded and diced tomatoes
100g cooked macaroni pasta

Pesto

3 garlic cloves
1 bunch of basil leaves
50g grated Parmesan cheese, plus a little extra for serving
100ml olive oil (not extra virgin)

Method

Soup

Place a large heavy based pot on a moderate heat. Add the extra virgin oil followed by the onions, carrots, leeks and butternut squash, then cook for 3 minutes. Add the potatoes and courgettes and sweat for a couple more minutes. Cover the vegetables with vegetable stock by roughly an inch and add the bay leaves, thyme, salt and pepper. Cover with a lid and bring to the boil, lower the heat and simmer until the vegetables are tender. Add the remaining ingredients and set aside.

Pesto

Combine all the ingredients except the olive oil in a food processor and blend. Then with the machine running, slowly pour in the olive oil until you have a beautiful green paste.

To serve

Remove the thyme and bay leaves from the soup and bring to the boil. Remove from the heat and at the last moment stir in the pesto. Serve with some extra grated Parmesan cheese should you wish.


Pan-Fried Goats Cheese with Nuts, Honey and Thyme

Serves 6

Ingredients

120g unsalted butter
200g skinned hazelnuts
2 tbs cider vinegar
Seasoning
300g good quality goats cheese cut into 6 even slices
Sunflower oil
A few sprigs on thyme, leaves removed

Method

Melt the butter in a saucepan over a moderate heat. Add the hazelnuts and cook until golden all over. Remove the pan from the heat and add the cider vinegar and honey. Season with a little salt and pepper and set aside.

Heat a non-stick frying pan over a high heat and when hot, brush the cheese slices with a little sunflower oil and fry the cheese slices quickly for no more than 30 seconds on each side until they are golden brown.

Transfer the cheese slices to a serving dish and spoon over the hazelnut butter and vinegar dressing. Finish with a sprinkling of thyme leaves.


Broad Bean Hummus, Mozzarella and Peas

Serves 4

Ingredients

Broad bean hummus

5 sprigs of mint
1kg broad beans podded
50g unsalted butter
3 garlic cloves peeled
2 tbs tahini paste
1 lemon zest and juice
2 tbs crème fraiche
Seasoning

Dressing

15ml Dijon mustard
15ml sherry vinegar
200ml extra virgin olive oil
1\2 juice of a lemon
Seasoning

To serve

2 balls of mozzarella cheese
2 tbs cooked peas
2 tbs good quality stoned black olives
100g washed rocket salad

Method

For the hummus

Bring a pot of salted water to the boil. Add the mint followed by the broad beans and boil for 4 minutes, drain and refresh under cold running water and place in a colander. Squeeze out the inner kernel from each bean and put them in a food processor, add the butter, garlic, tahini, lemon zest, lemon juice and crème fraiche, then blitz to a puree. Season with salt and pepper and keep to one side.

For the dressing

Put the mustard and sherry vinegar into a bowl with seasoning and gradually whisk in the extra virgin olive oil. Finish with a squeeze of lemon juice.

To finish

Spoon some hummus on each serving plate and top with the cooked peas, olives and rocket salad. Tear the mozzarella equally between the plates and finally drizzle over the dressing.

This is great served with flat bread.

Beetroot, watercress, pickled cucumber and horseradish Smoked fish

Serves 4

Ingredients

To serve

Smoked salmon (you can use smoked fish of your choice)
8 baby yellow beetroots
8 baby red beetroots
1 bunch of young watercress sprigs

Beetroot Puree

25g butter
150g cooked beetroot diced into 2cm cubes
1 tsp honey
Lemon juice
100ml Apple juice
50ml Port

Pickled Cucumber

1\2 cucumber peeled and halved lengthways, deseeded and sliced as thinly as possible
Salt and pepper
2 tbs honey
2 tbs white wine vinegar
4 tbs water

Horseradish cream

200ml double cream
2 tbs horseradish cream

Method

To serve

Steam the baby beetroots until tender, peel them and put to one side and leave to cool. Wash the watercress gently and place in a colander.

For the beetroot puree

Melt the butter in a pan on a moderate heat and add the diced beetroot followed by the port. Add the apple juice and reduce down to a syrup. Add the honey and a squeeze of lemon juice, then liquidise to a puree and place to one side to cool.

For the pickled cucumber

In a pan bring the vinegar, sugar, water and seasoning to the boil, remove from the heat and pour over the cucumber and leave to cool.

Horseradish cream

Whisk the double cream to soft peaks, then fold in the creamed horseradish, leave to one side.

To serve

Serve the smoked salmon or smoked fish of your choice with the cold steamed beetroots, watercress, beetroot puree, a mound of pickled cucumber and a spoon of horseradish cream. This is great with toasted sour dough bread.

Ingredients

200g carrots peeled and diced into 1cm cubes
200g cauliflower chopped into 1cm cubes
200g cucumber deseeded and chopped into 1cm cubes
200g green beans diced into 1cm cubes
200g silver skin onions peeled
150g sea salt
400ml white wine vinegar
1 tbs mustard powder
1 tsp ground ginger
1 tsp ground turmeric
1 tbs mustard seeds
100g caster sugar
2 tbs cornflower

Method

Once all the vegetables are prepared, sprinkle them with the salt and leave overnight in the fridge. Next day put the vinegar in a pan and bring it to the boil. Drain the vegetables of any residual liquid and add them to the vinegar. Add all the remaining ingredients except the cornflour. Cook the vegetables in the vinegar and spices until tender. When the vegetables are tender mix the cornflour with a tablespoon of cold water to a paste and add this to the boiling vegetables, cook for a further 2 minutes. Set aside to cool before putting the piccalilli into a kilner jar. It will keep for 4 weeks in the fridge and is fabulous with cooked meats, especially ham.
Asparagus, Ham and Manchego Cheese

Serves 4

Ingredients

20 spears of asparagus peeled (roughly 2 bunches)
4 free range eggs
Malt vinegar
300ml vegetable stock
4tbs sliced mixed mushrooms
100g chilled diced butter
8 slices of cured ham
4tbs grated Manchego cheese
1 dsp butter
1 tbs fresh breadcrumbs
1 tbs roughly chopped walnuts, hazelnuts and almonds
1 tbs chopped parsley

Method

Fry the bread crumbs in the butter until they are crispy, then add the chopped nuts and parsley remove from heat and leave to cool for later.

Bring a pot of water to the boil, simmer gently then add a few splashed of malt vinegar. Break your eggs into the water and simmer gently for 4-5 minutes, depending on the size of the eggs.

In the meantime place a saucepan on a medium heat and add the asparagus followed by the vegetable stock. Put a lid on the saucepan and cook the asparagus for a minute then add the mushrooms and cook for another 4 minutes until the asparagus is tender. Remove from the pan leaving a little cooking liquor in the pan.

Add the chilled butter to the asparagus pan on the heat and whisk to create a creamy sauce, you may need to add a little water to the pan.

Serve by placing the asparagus on each plate, top with the mushrooms, then the poached egg, then the ham and then the grated Manchego cheese. Finally scatter over the breadcrumbs and nuts to give additional crunch to the dish.

Wild Garlic and Nettle Soup

Serves 6

Ingredients

2 x sliced onions
100g butter
1x large leek sliced
4 x small potatoes sliced thinly
3 bay leafs
3 sprigs it thyme
1 1/2 litres of hot chicken stock
2 x large handfuls of roughly chopped wild garlic
1 x large handful of roughly chopped stinging nettles
Splash of cream
Squeeze of lemon juice

Method

Place a large pot on the heat and add the butter followed by the onions then the leeks and sweat using a lid for 4 minutes.

Add the bay leaves and thyme followed by the potatoes and seasoning. Put the lid back on and sweat for 4-5 minutes.

Pour over the hot chicken stock, bring to the boil and add the wild garlic and nettles. Put the lid on and cook for 5 minutes boiling rapidly.

Add a dash of cream and boil for 2 minutes adding a squeeze of lemon and adjusting the seasoning.

Remove from the heat and remove the bay leaves and thyme, then liquidise the soup until silky smooth and serve.

It's great with a hot roll and a piece of cheese.

Italian Mountain Soup

Serves 4

Ingredients

800g savoy cabbage washed and chopped into 1"slices
1.5 litres of chicken or vegetable stock (use stock cubes if no fresh stock)
2 large thick slices of wholegrain bread cut into big chunks
4 tablespoons of extra virgin olive oil
40g butter
300g fontina cheese (cheddar if you don't have) grated
60g parmesan cheese grated
Salt and freshly ground black pepper
2 cloves garlic peeled and sliced

Method

Pre heat the oven to 200*c, 400*f, gas mark 6.

Cook the chopped cabbage in a pan of salted water for 15 minutes.

Heat up the stock and set aside (or add stock cubes to boiling water).

Heat the olive oil and butter in a frying pan and fry the bread for a few minutes until golden brown, add the garlic for a further minute.

Remove the bread and garlic and place onto kitchen towel. Discard the oil/butter.

In a large ovenproof dish build a layer of cabbage, then bread, then cheese.

Add a grind of black pepper.

Add some of the stock to soak the bread then sprinkle some of the parmesan.

Repeat these layers until ingredients used up pouring all stock into the dish.

Stuffed Courgette Flowers in Tempura Batter and Tomato Chutney

Serves 4

Ingredients

Tomato Chutney

500g ripe tomatoes
10ml olive oil
1 small onion, finely chopped
3 garlic cloves, crushed
1 tbs tomato paste
50ml Chardonnay vinegar
50g caster sugar
1 tbs thyme leaves, finely chopped
2 tbs basil, finely chopped
1 tbs chives, finely chopped
1 tsp ground coriander
1 tsp ground cumin
Salt

Stuffed Courgette Flowers

200g Dorstone goats' cheese
100g Parmesan, grated
4 baby courgette flowers, courgettes still attached

Tempura Batter

250ml chilled soda water
80g plain flour
65g cornflower
6 ice cubes

To Finish

Vegetable oil, for deep frying
50g plain flour, for coating
Salt and pepper
40g honey
10g summer truffle, sliced

Method

Cut a cross in the tops of the tomatoes and plunge them into boiling water for 15 seconds; remove and plunge into ice water. Remove the skin and seeds from the tomatoes and chop them into 1cm cubes.

Heat the olive oil and gently cook the onion and garlic until soft, add the tomato paste, vinegar and sugar and cook for 2 minutes, then add the tomatoes.

Cook slowly until all the liquid from the tomatoes has evaporated (approximately 15 minutes). Add the thyme, basil, chives, spices and salt, and reserve for later.

Blend the Dorstone cheese and the Parmesan in a food processor and place in a piping bag. Remove the stamens from within the courgette flowers. Pipe enough cheese mixture into the flowers so that they slightly bulge, then pinch the tops of the flowers together to seal the ends ready to fry later.

To make the batter, place the soda water into a bowl and stir in the flours to form a smooth batter. Add the ice cubes at the last minute to help achieve a crispy batter.

Preheat a deep fat fryer to 185c. Roll the flowers and courgettes in the coating flour and gently shake off the excess, then dip just the flowers in the batter. Fry for 2 minutes until golden and crispy, drain on absorbent paper and season with salt and pepper. Spoon some tomato chutney onto 4 plates and place the courgette tempura on top. Drizzle with some honey and slices of truffle for a luxurious finish.


Frittata di Peperoni

Serves 4-6

Method

Using a 25cm frying pan heat 5 tablespoons of the olive oil and add the pepper strips and red onion, cooking on a medium heat, stirring occasionally.

Add garlic slices and fry gently for 2-3 minutes, be careful not to burn.

Add the vinegar and carry on cooking on a medium heat until the liquid has evaporated.

Take the pan off the heat.

Beat all the eggs in a bowl and add the salt and pepper.

Return the pan of peppers & onion to the heat, add the remaining tablespoon of oil and then add the beaten eggs.

Stir occasionally with a spatula and cook for approx 5 minutes until set, but not too firm, and a crust has developed on the base.

Place a large plate over the top of the pan and flip out the frittata.

Serve with a green salad dressed with a little white wine vinegar and a drizzle of olive oil, sprinkle of salt and pepper.


Polenta Porcini Ragout

Serves 4-6

Ingredients

Tomato cep sauce

3 tps of olive oil
1 onion finely chopped
1 small carrot finely chopped
1/2 a stick of celery finely chopped
120g chestnut mushrooms sliced
3 bay leafs
1 sprig of thyme
200ml dry white wine
40g dried cep mushrooms soaked in boiling water for 2-4 hours to soften
200ml chicken stock
600g chopped tinned tomatoes

Soft polenta

240g polenta grain
40g unsalted butter
6 tablespoons of grated parmesan cheese
150g mozzarella torn into small pieces.

Method

Preheat the oven at 190c.

Place a deep sided pan on a moderate heat and add the olive oil followed by the onions, carrots, celery bay leaf and thyme. Place a lid on the pan and sweat for a couple of minutes, then add the white wine and reduce by half.

Remove the ceps from the water, chop roughly and add them to the pan followed by the soaking water. Make sure you do not use the last bit of water as there may be a little grit in the bottom.

Add the chicken stock and reduce the sauce by half.

Finally add the chopped tomatoes and cook gently for around 30 mins until you have a nice sauce, check seasoning and if required add salt & pepper.

Cook the polenta to the manufacturers guidelines and once cooked add the butter and 2tbs of the grated Parmesan and season with salt & pepper.

To finish - in a large baking tray build layers of polenta followed by the sauce the remaining grated Parmesan and the mozzarella, like you're building a lasagne. Once you've built the layers place the tray in the oven and bake for 10 minutes, remove and serve.

Chorizo Risotto With Griddled Tuna

Serves 4

Ingredients

4 x 150g tuna fillets
200g paella rice
2tbs grated parmesan cheese
1/2 tin of chopped tomatoes
1/2 chopped chilli (seeds in)
4 large button mushrooms 5mm diced
1/2 green pepper 5mm diced
1/2 red pepper 5mm diced
1/2 onion 5mm diced
1, 1/2 cooking chorizo sausage 5mm diced
1/4 bulb fennel 5mm diced
650ml hot chicken stock
2tbs olive oil plus a little extra
Splash of cream
Squeeze of lemon juice

Method

Heat the olive oil in a deep pan over a moderate heat and add the onions, chilli and peppers, using a lid to sweat the vegetables.

Add the fennel followed by the mushrooms and then the chorizo. Season with salt and pepper, put the lid on and cook for 4 minutes.

Remove the lid add the tomatoes followed by the rice then the hot chicken stock. Place the lid on top and simmer gently for 15 minutes.

Remove the lid and heat the griddle pan. Brush the tuna fillets with a little olive oil, season with salt and pepper and griddle for a minute on each side.

In the meantime, add a dash of cream, the parmesan cheese and a squeeze of lemon to the rice. Serve immediately with the griddled tuna and a little extra olive oil should you wish.

Japanese Chicken Curry

Serves 4 Generously

Ingredients

8 chicken thighs (skinless) cut into quarters
2 large carrots sliced into circles (1/2cm thick)
1 large onion chopped
300ml chicken stock (use stock cube)
1 tablespoon veg oil
1 teaspoon salt
Grind of black pepper
Ginger (paste is fine 1 tablespoon)
Garlic 2 cloves crushed
1-2 teaspoon chilli powder
1 ½ teaspoon Chinese 5 spice
1 ½ teaspoon turmeric
1 ½ tablespoon tomato puree
1 tablespoon cornflower to thicken the sauce (mixed into a paste with 1 tablespoon water)
250ml milk

Method

Cook onion, carrots & salt in the vegetable oil for 3-4 minutes to soften in a heavy bottomed pan on moderate gas.


Add all spices and tomato puree and stir in well for 2 minutes then add chicken, gently coating the chicken with all the ingredients and cook for 5 minutes.

Add the chicken stock and carry on cooking gently.

In the meantime, add the cornflower paste to the pan of ingredients as well as the milk and a grind of pepper.

Stir well and cover the pot.

Cook on a simmer for 15-20 minutes until chicken is cooked.

Serve with rice.


Ingredients

1 small ciabatta loaf or small sour dough loaf
2 large red peppers
350gr Good quality beef tomatoes
1 tsp of capers
6 anchovy fillets drained of their oil

Dressing

400gr ripe large vine tomatoes
2 garlic cloves peeled
Rock salt
4 anchovy fillets drained of their oil
1 bunch basil leaves
160gr extra virgin olive oil
3 tbsps cab sauvignon vinegar
1 tsp capers

Method

Preheat a hot grill.

Char the red peppers all over until they go black. Put them in a bowl and cover with a lid.

Leave to cool before scrapping off as much of the skin as possible. Rinse off any seeds then cut the peppers into 1 cm strips.

For the dressing score the skins of the Vine tomatoes then drop them into a pan of boiling water and cook for 1 minute.

Remove the tomatoes with a slotted spoon and place into ice water then remove the skins.

Crush the garlic with 1 teaspoon of rock salt using a pestle and mortar till smooth. Add the anchovy and half the basil pounding to a paste.

Remove the seeds from the tomatoes and using a hand blender blend them to a pulp, then add to the garlic and anchovies.

Add the olive oil, red wine vinegar, capers and mix well.

Remove the crusts from the bread and discard, cut the bread into 2cm pieces and place into a large serving bowl, add the peppers, pour over the dressing and toss well so the bread soaks up the dressing.

Roughly cut the beef tomatoes into bite size pieces and place into a separate bowl with the remaining basil leaves. Spread the tomatoes and basil over the top of the salad then top with the capers and anchovies.

Method

Preheat the oven 200c gas mark 6

With the apples standing upright peel and halve them through the core, then remove the cores using a teaspoon.

Place the sugar into a 22/24 cm ovenproof frying pan, it's important that the pan has deep sides and fits in your oven.

Place the pan over heat and cook the sugar until it becomes a golden caramel, then add the butter and stir in carefully until the mixture combines, don't worry if the mixture splits, remove the pan from the heat.

Arrange the apples in the pan standing on their sides until the pan has taken all the apples from the outside to the centre. Its important to pack the apples in the pan as tightly as possible.

Place the pan in the oven and bake for 25 minutes then remove from the oven and leave to cool for 10 minutes.

While the apples are cooling roll the puff pastry into a disc 3mm thick and roughly 2cm wider than the rim of the pan, carefully lay the pastry over the apples and tuck the excess pastry around the edge of the pan to surround the apples.

Place the pan back in the oven and cook for a further 25 minutes until the pastry is golden all over.

Once you've removed the tarte from the oven leave to cool for 5 minutes then place a large upturned plate over the top of the pan and with your hand firmly over the plate and being very careful not to burn yourself, turn over the pan onto the plate to release the tarte onto the plate.

While still warm Serve with whipped double cream.


chocolate Soufflés

Serves 4

Video player requires JavaScript enabled. You can watch this video here: https://www.youtube.com/watch?v= https://youtu.be/1_DrPuu20B4

Ingredients

140g milk
2 egg yolks
20g caster sugar
7g cornflour
40g golden cane sugar
150g good quality dark chocolate
110g egg whites

Method

Butter the inside of 4 ramekins and coat with the cane-sugar.

To make the pastry cream; whisk the egg yolks with 10g of caster sugar until pale, add the cornflour, bring the milk to the boil, pour it over the egg yolk mixture and mix.

Pour the pastry cream into a saucepan and gently bring to the boil stirring all the time until it thickens.

Add the chopped chocolate to the pastry cream and mix well until the chocolate melts.

Whisk the egg whites until you have a light meringue, slowly add the remaining 10g of caster sugar whilst whisking, then gently fold into the chocolate pastry cream keeping it light and airy.

Fill your ramekins to the top and bake at 190c for 10 minutes until beautifully risen.

Method

Pre heat oven to 160*c, 325*f or gas mark 3.

Put milk and cream into a saucepan and add sugar, vanilla and lemon zest.

Bring to boil and when the sugar is dissolved pour everything into a large ovenproof dish that should be at least 4"deep.

In a sieve, rinse the rice under cold running water until the water is clear then add to the mixture in the oven dish and stir in with a fork.

Place the ovenproof dish onto a baking tray and put in the oven for 20 minutes.

Take out and stir the rice around to make sure it is distributed around the dish.

Put back in for 1 hour and do not open the oven door.

After this hour take out the dish. A golden brown skin should have formed. Cover the dish in foil.

Now turn down the oven to 150*c, 300*f, gas mark 2 and put the foil covered dish straight back into the oven for a further 30 minutes.

Cooking should now be finished, there should be a slight wobble in the centre.

Serve warm.


Cinnamon and Orange Marmalade Truffles

Makes 25 Truffles

Method

Bring the cream, honey, cinnamon and marmalade to the boil, pour over the chopped milk chocolate and stir to combine all the ingredients.

Cool and leave the mixture to set in the fridge.

Once set divide the mixture into 25 and roll into balls then place in the freezer for 1 hour.

Melt half the chopped white chocolate in a bowl over a pan of simmering water.

Once melted remove the bowl from the heat, slowly add the remaining white chocolate and stir in until all the chocolate has melted.

Remove the truffles from the freezer and using a cocktail stick, coat the truffles in the melted white chocolate then leave to set in the fridge.