Coutts London Prime Property Index Q2 2023



Has Q2 suggested a return to a more competitive market or are buyers still on for a potential winner? Here is our latest insight on London's prime property sector.
We've analysed the latest market developments and here are some of the key facts and figures for luxury property in London from the last quarter. This is based on what we're seeing ahead of the next bi-annual Coutts London Prime Property Index, which will be out later in the year.
During Q2, we've seen significant variability across different areas of London in terms of deals done, prices paid and discounts received, which we've summarised below.
28.8%
Q2 sales volume increase
5.7%
more properties for sale than last year
2.8%
average price increase in Q2
28.8%
Q2 sales volume increase
5.7%
more properties for sale than last year
2.8%
average price increase in Q2
How has the market performed in Q2 2023?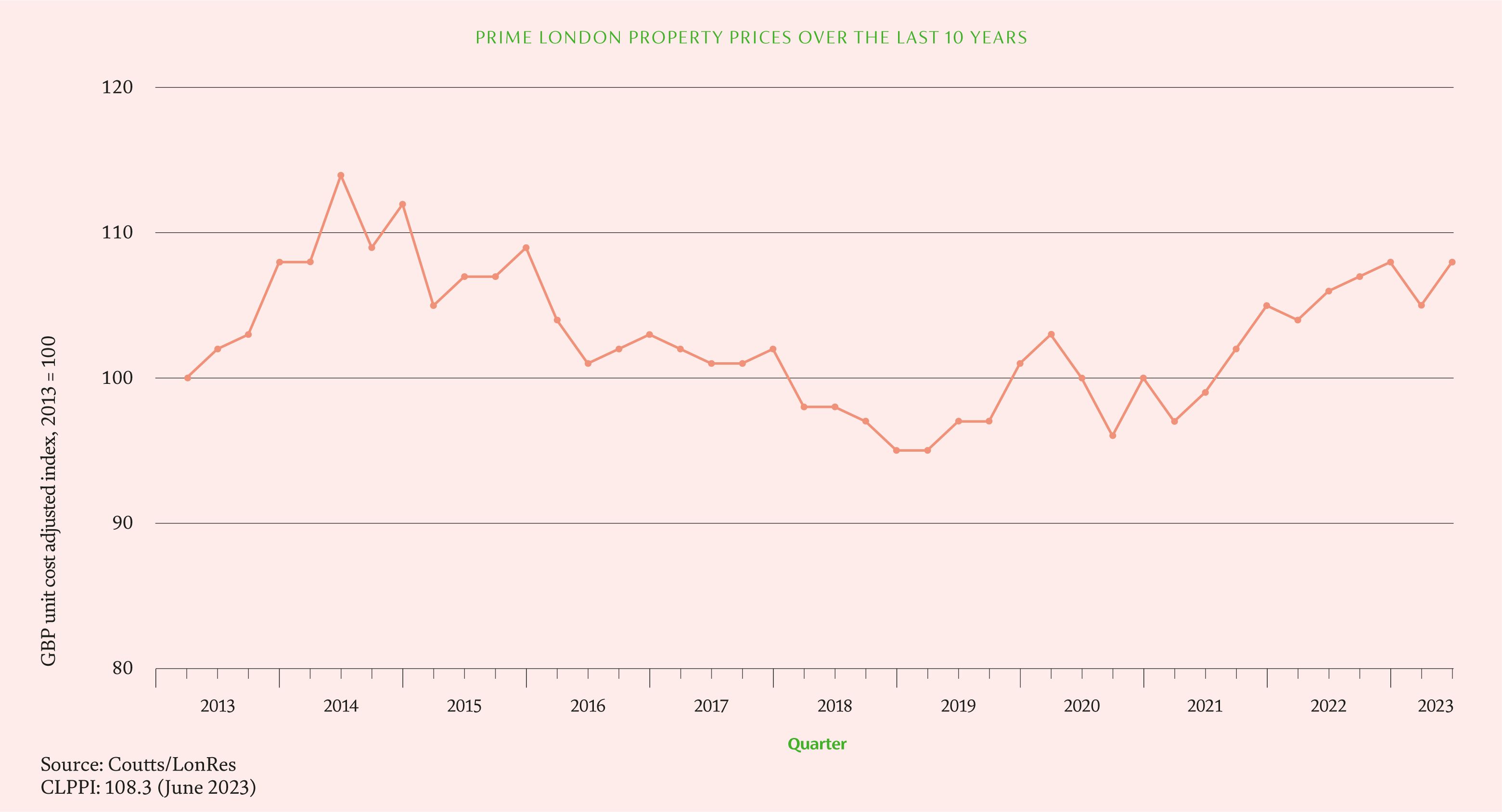 Prime London prices increased 2.8% in Q2, bringing annual price growth across prime London to 2.6%. Prices are now just 4.9% below the height of the market.

After a relatively sluggish start to the year, sales volumes increased as expected and were up 28.8% in Q2 compared to the start of the year. That said, sales volumes are still down 9.8% compared to this time last year.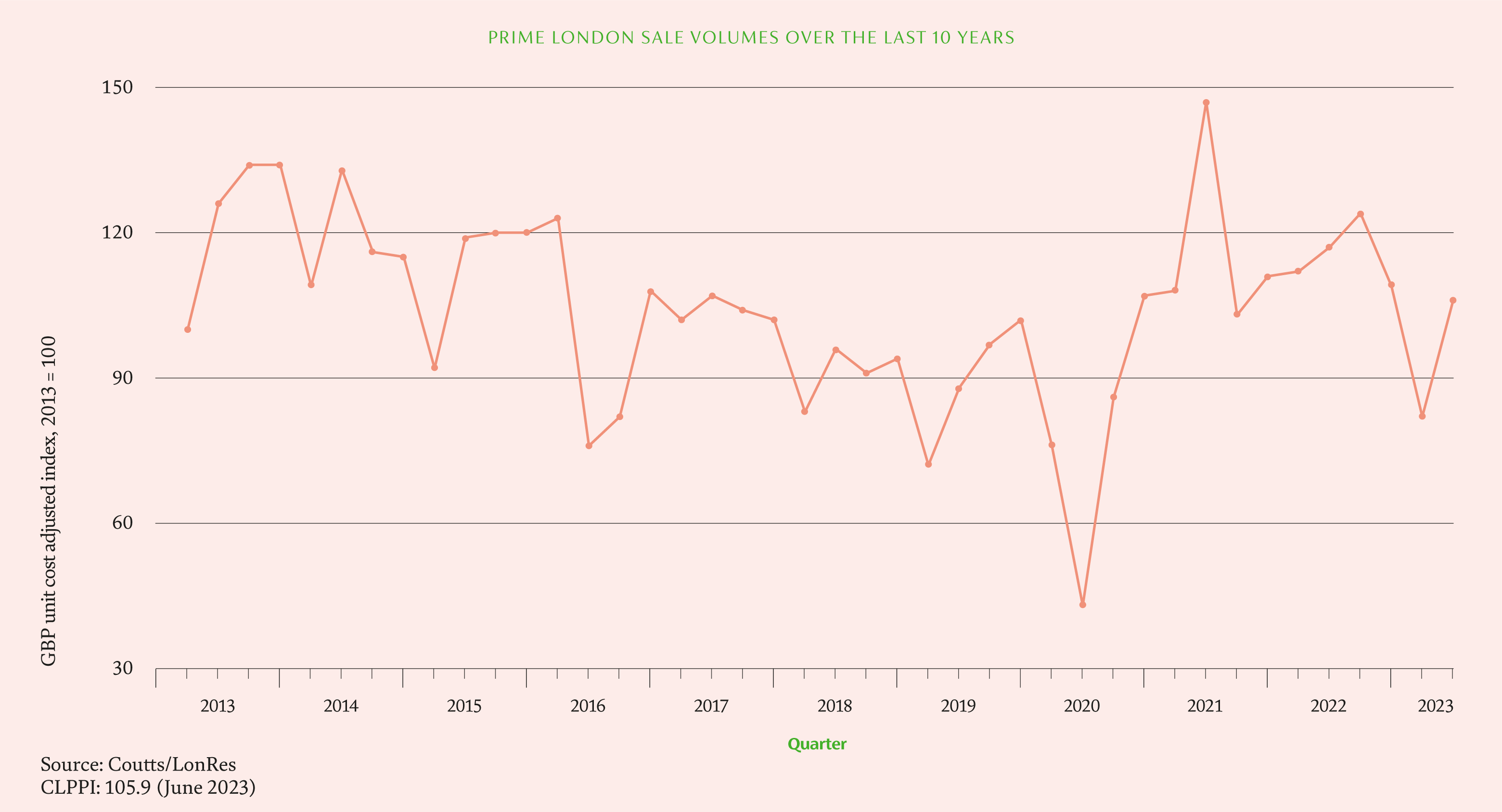 Although the number of properties available for sale is up 5.7% on last year, new listings are down 8.0%, making it more difficult for buyers who have been looking for a while without much success.



Gross rental yields have increased steadily over the past 12 months, rising to a resilient 4.3%. This follows a turbulent period through the pandemic which saw yields fluctuate between 3.5% and 3.9%.
Why are there the most deals under offer for over a decade?
As of July 2023, there are currently 917 deals under offer across prime London. This is the highest figure we've seen for over a decade due to the extended timeframe between offers being accepted and contracts being exchanged.
In 2015 – 2019 the average deal time was 87 days. This increased to 94 days by the end of 2021 and is now at 116 days in Q2 2023.
Reasons for this include the difficulty of obtaining mortgages due to fluctuating interest rates and conveyancing delays because of increased requirements around due diligence and local authority searches. As well as this, there are challenges for buyers trying to sell their current property before being able to take on the new one.
Prime Property Prices: Should I pay the asking price?
The average discount buyers are negotiating across prime London is now 7.7%. That's slightly down on the previous quarter's figure (8.6%), although it remains higher than the same period in 2022 when discounts were at 5.5%.
38.1% of listings are reduced in price from the original listing (i.e. the published asking price is reduced), again slightly down from last quarter's figure (45.1%). This suggests there was a little more competition in the market in Q2 compared to a notably quiet Q1.
The level of discounts available also demonstrates the continued willingness of sellers to let properties go cheaply and take the income available, rather than hold out for higher profits.
LOCAL INSIGHTS
What areas have seen the biggest price rises and falls in £ per square foot (£SF)?
Hampstead & Highgate – more expensive now than it's ever been at £1,370 £SF and with 9.8% quarter-on-quarter growth. Prices are up 7.8% in the last year (the highest annual growth figure across our index).
Knightsbridge & Belgravia – despite being the second most expensive area in London, prices are still 16.1% below the height of the market.
South Kensington – prices are still 18.9% below the height of the market.
Buyers in Mayfair & St James's are negotiating large discounts, 14.3% on average this quarter, almost double the average across prime London markets. But the area still represents the most expensive in London at £2,221 £SF.
Despite an average 9.8% fall in the number of properties sold across the capital compared to Q2 2022, Mayfair & St James's; Marylebone, Fitzrovia & Soho; and Battersea, Clapham & Wandsworth have seen growth in properties sold of 55.6%, 51.4% and 50.0% respectively compared with Q2 2022.
Considering your next move? Let Coutts help
Our real estate team could help you find the perfect property. And our bespoke mortgage service means we could provide a mortgage that's as unique as you are.
Or contact your private banker to find out how we could help you.
Your home or property may be repossessed if you do not keep up repayments on your mortgage. Changes in the exchange rate may increase the sterling equivalent of your debt (multi-currency debt only).
Over-18s only. Terms and conditions apply. You may not be eligible for all Coutts mortgage solutions. Security may be required. Product fees may apply.