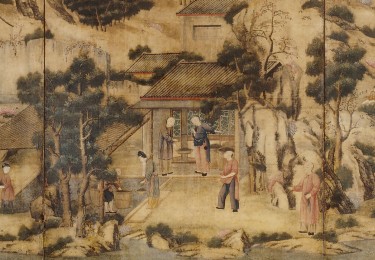 THE COUTTS FOUNDATION TRUSTEES,
STAFF AND ADVISORS
The Board of the Coutts Foundation includes members who are appointed by Coutts and Trustees who are independent of Coutts. The Foundation is run by the Director and is fortunate to be supported by volunteers and staff of Coutts who offer their expertise pro-bono.
Chair
Lord remnant
Lord Remnant joined Coutts as a Non-Executive Director in 2022, becoming Chairman on 1st January 2023.
Lord Remnant brings substantial advisory, regulatory and listed company experience to the Board, having worked in senior roles across the financial services sector, including banking, insurance and asset management. He is the Senior Independent Director of Prudential plc and sits in the House of Lords.

In 2022, he stepped down from Severn Trent plc after nine years on the Board and retired from the Takeover Panel after 10 years as Deputy Chair. Previously, he was Chairman of the City of London Investment Trust plc and of M&G Group Limited.

After qualifying as a chartered accountant, Lord Remnant spent his working life in the City as an investment banker, first with Kleinwort Benson and latterly with Credit Suisse. He was vice-chairman of Credit Suisse First Boston Europe and head of the UK investment banking department. He was Director General of the Takeover Panel for two years between 2001 and 2003, and again in 2010.

At the time of the financial crisis in 2008 Lord Remnant was working within Government as Chairman of the Shareholder Executive. He then sat on the board of UKFI, which was responsible for the Government's shareholdings in RBS and Lloyds, and was also appointed to the board of Northern Rock as one of two government appointed directors.

Lord Remnant is a fellow of the Institute of Chartered Accountants in England and Wales.
dr. Linda Yueh cbe
Dr. Linda Yueh CBE is Trustee and Chair of the Audit, Finance and Investment Committee of the Coutts Foundation. She is Fellow in Economics at St Edmund Hall, Oxford University, and Adjunct Professor of Economics at London Business School.
Dr. Yueh is Executive Chair of The Royal Commonwealth Society. She is Chair of Baillie Gifford's The Schiehallion Fund Ltd and Non-Executive Director of Rentokil Initial plc, SEGRO plc and Standard Chartered plc. She is an Adviser to the UK Board of Trade and was a Member of the Independent Review Panel on Ring-fencing and Proprietary Trading of the UK Treasury. Previously, she was Chief Business Correspondent for BBC News and Economics Editor at Bloomberg TV, as well as an attorney at Paul, Weiss, Rifkind, Wharton & Garrison.
She is a widely published author and her latest book is The Great Crashes: Lessons from Global Meltdowns and How To Prevent Them.
Rachel Harrington
Rachel joined Coutts in 2011, having previously worked in the non-profit sector for several years. As a specialist adviser in the Coutts Institute, she works with clients across the UK to develop their family strategies for wealth, prepare the next generation for the opportunities and responsibilities of wealth, and create philanthropy strategies that are effective and rewarding. She has a particular interest in Diversity and Inclusion and has previously chaired the Coutts Women's Network and Diversity and Inclusion Council.

Rachel holds a BA (Hons) in Modern History and English from the University of Oxford. She is also a Trustee of Breaking Barriers, a charity that supports refugees into employment, and is a member of the Advisory Board of the Environmental Funders Network. Rachel has previously held trustee roles at Philanthropy Impact and the British Youth Council.
Laura Lines
Laura is a Grants Manager at the Esmee Fairbairn Foundation, one of the largest independent grant-makers in the UK spending £40.5 million a year towards a wide range of work within the arts, children and young people, the environment and social change.

Laura's specialist area is social justice with an emphasis on gender equality, refugee and migration and criminal justice. She co-convenes the Association of Charitable Foundation's network on criminal justice and is also a Trustee of Safe Ground, which empowers people to change, reduce reoffending and build stronger communities.

Judith Mcneill
Judith joined the KPMG Foundation as CEO in June 2019 and has over 25 years of leadership experience in the not for profit sector.
Judith has worked in some of the UK's most well known charities including Scope, Macmillan, WaterAid and Comic Relief, and worked alongside many more. She is an experienced relationship builder, grant maker, and is a passionate advocate for social change. She draws on her roots in the north west of England, a family life in one of London's most diverse boroughs, and learning from community organisations and social entrepreneurs across the world, from Derry to Delhi.
Judith's early career was in biochemistry with a doctorate in cancer research and has recently worked in the City of London with one of the UK's oldest philanthropic organisations. She has undertaken fascinating freelance assignments in the youth, environment and health sectors and is a Trustee of the Nationwide Foundation.
Linda Urquhart obe
Linda has over 30 years' experience in the legal industry as a former partner, CEO and Chairman of Scottish law firm, Morton Fraser.

She is currently a Non-Executive Director of Edinburgh Airport as well as Coutts & Co, where she is the Chair of the Performance & Remuneration Committee. She was formerly Chairman of This is Remarkable and a non-executive Director of Adam & Co. She is a former board member of the CBI and Scottish Enterprise and was awarded an OBE for services to business in 2012.

In the charitable sector, Linda is a Vice President of Girlguiding as well as President of Girlguiding Scotland. She was previously a Trustee of Marie Curie and involved in the Prince's Trust Scotland as a member of their Edinburgh and Lothians Board then their Scottish Development Board.
javid cante
Bringing 30 years of experience in finance, governance and regulations, Javid is currently the Chief Financial Officer for the UK & EMEA region at Compagnie Financiere Tradition S.A. – one of the world's largest brokers. He was formerly the Group Financial Controller for the CLS Group (including CLS Bank) which operates the largest global multi-currency cash settlement system for the FX market. His earlier career has included leadership roles at UBS Wealth Management, Barclays and KPMG in a variety of finance and risk roles.
Javid holds a degree in Economics and Accounting from the University of Mumbai and an MBA from the London Business School. He is a member of the Institute of Chartered Accountants in England and Wales (ICAEW), the Chartered Governance Institute of the UK and Ireland (CGI/ICSA) and of the Chartered Institute for Securities and Investment (CISI).
Javid currently serves as a trustee and treasurer of the Zoroastrian Trust Funds of Europe and is a trustee of Community Links.  Previously he has served as a trustee and audit committee chair at the British Postal Museum & Archive and as a trustee at the Contemporary Art Society. He volunteers as an advisor to charities and start-up businesses; and is currently on the advisory board for Master Money –a service empowering young ethnic minority professionals to gain Financial Skills.
VICKI DELA AMEDUME MBE
Originally training as a scientist with degrees in both pharmacology and computer science, Vicki Dela ran away to join the circus and performed across the world as one of the UK's leading aerial artists. In 2006 she founded and is the Artistic Director of Upswing - an award- winning performance company that expands the possibilities of circus not only as an art form but as an evolving and adaptive set of practices that can help us imagine and shape the world we want to live in. With Upswing Vicki has created/directed large-scale 'headline' events for festivals, theatre projects working with older people in care homes and outdoor touring work for town centres.
Outside of Upswing Vicki is an Associate Director at the New Vic and Creative Director at The Albany, Deptford.  Vicki is Chair of the Baring Foundation Arts Committee and was awarded an MBE in 2022 The Queen's Birthday honours for Services to Circus.
director
CLARE RICHARDS MBE
Clare joined the Coutts Foundation in 2022; previously CEO of the ClementJames Centre, Clare has over 20 years of leadership experience in the not for profit sector. Clare is also a founder and Trustee of IntoUniversity and Trustee of The Grenfell Foundation.

Clare was awarded an MBE in 2011 for services to the community in North Kensington.
SUPPORT STAFF
Neil Henderson is the company secretary and Jennifer Coleman provides additional advice and support. Francesca Willson is the administrator.