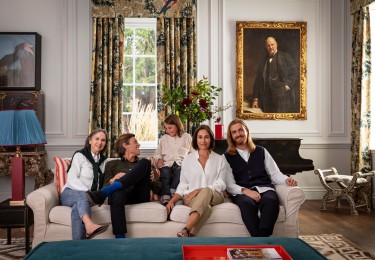 Ways of banking with us
Coutts provides flexible and innovative ways for our clients to manage their money, while preserving the personal touch and accessibility for which we are renowned.
Our faster, more intuitive digital service

Secure, intuitive and simple, our digital services give you a clear view of your Coutts accounts and everything you need to manage your daily finances. Plus, you can set up and pay new payees quickly and easily from the Coutts app.

Targeted advice for every aspect of your wealth

Our carefully selected private bankers and wealth managers partner with our clients to understand their requirements and provide targeted advice.

Our private bankers use their expertise of the risks and complexities associated with each individual's unique financial situation. By carefully forging a sound understanding of your circumstances and objectives – now and in the future – your dedicated private banker will use their insight to manage your complete financial affairs. From on-going banking solutions to meeting your lifestyle requirements and managing your lending needs, every aspect of our service will be in keeping with your wider wealth and personal circumstances.

Coutts wealth managers will take the time to understand your circumstances, your life goals and your attitude to risk. Working with private bankers, our highly qualified wealth managers build a financial framework that spans both sides of the balance sheet to help navigate the complexities of the financial markets.

Through our detailed recommendations we will connect you to highly skilled professionals from within and outside Coutts to provide tailored solutions for each stage of your wealth journey. From protection and pensions through to tax, trusts and estate planning, we will provide a truly consolidated approach to managing your wealth. Continuously collegiate in our approach, we will work with your existing advisers and draw on our external intermediary network to provide the best solutions for your needs.

Complemented by our renowned Telephony team, Coutts 24 and our digital services, Coutts clients can access their wealth through a multitude of channels – each of which maintains the personal touch and high standards of delivery for which we are known.

Exceptional service, personally delivered

Our highly trained Coutts 24 team is on hand 24 hours a day, seven days a week to respond to your day-to-day banking needs – from requesting balances to cards enquiries, dealing with payments and transfers, and basic lending requests. Our Digital team will help you with any digital query, and our dedicated fraud experts are on hand to offer advice and support should you ever need it.

A call to Coutts 24 will usually be managed by a single contact from our London offices – ensuring a consistent and personal service in keeping with your overarching circumstances.

We know from client feedback that being able to speak directly with one of our diverse team at any time is both expected and valued. We are even open on Christmas Day – our clients will vouch for it.

Face-to-face transactional banking

We offer a full counter service at our headquarters in 440 Strand.

Alternatively, our clients are able to visit any NatWest or Royal Bank of Scotland branch to pay in cash and cheques and, by arrangement, make withdrawals.

If you live in or visit a rural community, the NatWest and Royal Bank of Scotland mobile branches could provide a convenient alternative. As a Coutts client you can deposit up to £3,000 per day in cash and unlimited cheques using a pre-printed paying in slip. You can also set up a cashing facility to enable you to withdraw up to £2,000 a day using your Coutts chequebook. To arrange a cashing facility, or for further information, please contact Coutts 24 or your Private Banker.

ROYAL BANK OF SCOTLAND MOBILE BRANCH ROUTES

Please note, transactions carried out in a NatWest, Royal Bank of Scotland or respective Mobile Branch:

Will be processed overnight and therefore will not show on your account immediately.
May take longer to reach your account if the vehicle is delayed due to circumstances such as by bad weather or road congestion.

To ensure the timetable is fulfilled in all of the communities visited, this service is only able to operate within the published timetable.

Banking in convenient locations

You can get access to a range of counter services at thousands of Post Office branches across the UK. As a Coutts Client, you will now be able to:


Check your balance using your debit card or cash card and PIN
Withdraw cash using your debit card or cash card and PIN
Pay-in cash with your debit card or cash card and PIN
Make cheque deposits with a pre-printed paying-in slip

Find out more about Post Office banking.
Already a client?
For more information about our
services, please speak to your
adviser or call +44(0) 20 7957 2424.
When you become a client of Coutts, you'll be part of an exclusive network