When 'safe-haven' gilts
look ghastly
Long-term investors in gilts are almost certain to lose money in real terms; we prefer various alternative investments
Inflation used to be the enemy of the investor. In the 1970s and 1980s, the major goal was to find investments that could beat inflation, which peaked at 26.9% in August 1976, and even as late as October 1990 spiked up to 10.9%[1].
The index-linked gilt market emerged in the early 1980s to protect investors against the depredations of inflation. If you expect to retire in 30 years' time, for example, you can buy a 30-year index-linked gilt whose value is guaranteed to move with Retail Price Index inflation over the next 30 years, thus protecting your savings against inflation.
But this insurance has become expensive recently. At the time of writing the 30-year UK index-linked gilt trades at a negative yield of -1.6% (see graph). So if you hold it to maturity the government guarantees you that you will lose about 23% of the real value of your investment over that period, measured via the Consumer Price Index (which we view as a better measure of the cost of living than the RPI).
This is one of the most remarkable distortions in the world of finance. By contrast, back in 1992, the yield on a 30-year index-linked gilt (UK government bond) was 4.6%, so investors were guaranteed to quadruple the real (inflation-adjusted) value of their money by the year 2022.
The madness of pension funds
Who would buy a gilt with a negative real yield? The answer is simple: pension funds! UK defined-benefit pension schemes have liabilities of £1.9tn (August 2016) linked to inflation by government regulation. They have an insatiable demand for inflation-hedging products that will help them manage their interest rate and inflation risk – albeit at the cost of losing their investors lots of money.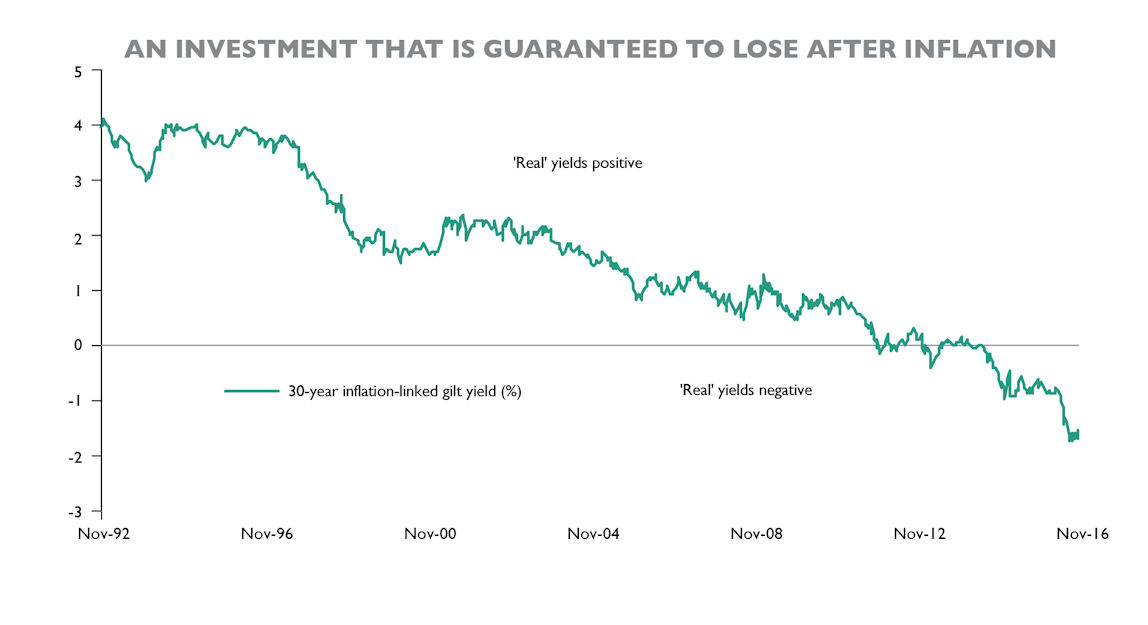 We consider this to be highly unattractive. In our view, pension funds should favour risk assets like equities with positive expected returns in the long run. Unilever shares, for example, pay a 3% dividend and the prices of the firm's products like Lipton, Magnum and Omo move quite closely with inflation.
The value of investments, and the income from them, can go down as well as up, and you may not recover the amount of your original investment.
Index-linked gilts are an extreme case. But even conventional gilts offer little to investors. The 10-year, for example, yields 1.25% at the time of writing, even after a recent sharp rise. Like the Bank of England, we expect UK CPI inflation to average around 2% p.a. over the next 10 years, after being pushed up by the fall in sterling this year. In that case, investors in 10-year gilts can expect to lose 7% in real terms if they hold the bond until maturity.
Government bonds have traditionally been the bastion of defensive investing, providing inflation-beating returns to investors and often performing best when economies slowed or went into recession and equities were weak. At current levels of interest rates, though, we expect gilts to lose in real terms in most plausible economic scenarios, and have cut our holdings to a minimum.
Long-term investors in gilts are almost certain to lose money in real terms; we prefer various alternative investments
Alternatives
Instead, we are increasingly investing in alternative strategies – ways of generating returns that are not closely linked to the direction of equity and bond markets. These include:
Global macro, a 'go anywhere' approach seeking to benefit from macroeconomic trends across the world
Equity market-neutral, balancing long (positive) positions in promising companies and short (negative) positions in what are seen as the weakest ones
Trend-following, by which managers seek to buy when markets are rising and sell when they're falling (see next article)
We expect that a basket of such strategies will outperform government bonds over two or three years and have a reasonably defensive returns profile, preserving their value in periods when equities fall.
[1] As measured by the Retail Price Index (RPI)
IMPORTANT INFORMATION
This webpage is produced by Coutts for information purposes only and for the sole use of the recipient and may not be reproduced in part or full without the prior permission of Coutts.
The value of investments, and the income from them, can go down as well as up, and you may not recover the amount of your original investment.
Past performance should not be taken as a guide to future performance.
In the case of some investments, they may be illiquid and there may be no recognised market for them and it may therefore be difficult for you to deal in them or obtain reliable information about their value or the extent of the risks to which they are exposed. Where an investment involves exposure to a foreign currency, changes in rates of exchange may cause the value of the investment, and the income from it, to go up or down. Investments in emerging markets are subject to certain special risks, which include, for example, a certain degree of political instability, relatively unpredictable financial market trends and economic growth patterns, a financial market that is still in the development stage and a weak economy.
The information in this webpage is not intended as an offer or solicitation to buy or sell securities or any other investment or banking product, nor does it constitute a personal recommendation. Nothing in this material constitutes investment, legal, credit, accounting or tax advice, or a representation that any investment or strategy is suitable or appropriate to your individual circumstances, or otherwise constitutes a personal recommendation to you.
The information in this webpage is believed to be correct but cannot be guaranteed. Any opinion or forecast constitutes our judgment as at the date of issue and is subject to change without notice. The analysis contained in this document has been procured, and may have been acted upon, by Coutts and connected companies for their own purposes, and the results are being made available to you on this understanding. To the extent permitted by law and without being inconsistent with any applicable regulation, neither Coutts nor any connected company accepts responsibility for any direct or indirect or consequential loss suffered by you or any other person as a result of your acting, or deciding not to act, in reliance upon such information, opinions and analysis.
This document has been produced by Financial Advice & Investment Solutions at Coutts and does not constitute investment research. Neither this document nor any copy thereof may be sent to or taken into the United States or distributed in the United States or to a US person. In certain other jurisdictions, the distribution may be restricted by local law or regulation.
Wealth division of Royal Bank of Scotland Group.
Coutts & Co. Registered in England No. 36695. Registered office 440 Strand, London WC2R 0QS. Authorised by the Prudential Regulation Authority and regulated by the Financial Conduct Authority and the Prudential Regulation Authority.