The Art and Science of
Fund Selection
Identifying fund-manager skill is a blend of art and science
Throughout our Investment Outlook 2017 series we have identified a range of investment opportunities as well as dangers for the coming year. At Coutts we also believe how our views are implemented in our investment solutions is becoming more import than ever before. In our final article of the series we will be looking at why investing requires the analysis of numerous factors – some within our control, but also some that are not – particularly given some of the big shifts in the geopolitical landscape that we've been considering.
To navigate often complex markets, we believe it is important to be able to employ the experience of skilled fund managers. Skilled managers do exist, and we focus our own skills, experience and efforts on uncovering those who we believe can deliver on their objectives for our clients over the long term. There is no correct or incorrect approach to active fund management, it's more a case of matching the right approaches with the right skills.
Before we set out to find these managers, it is important to understand what makes up the returns of a fund. At the most basic level, fund returns can be divided into the market return, or 'beta', and a return in excess of the market, or 'alpha'. Alpha, which may also be negative, can be regarded as a measure of skill. When we assess a manager's skill we are analysing their ability to deliver positive alpha over the long term.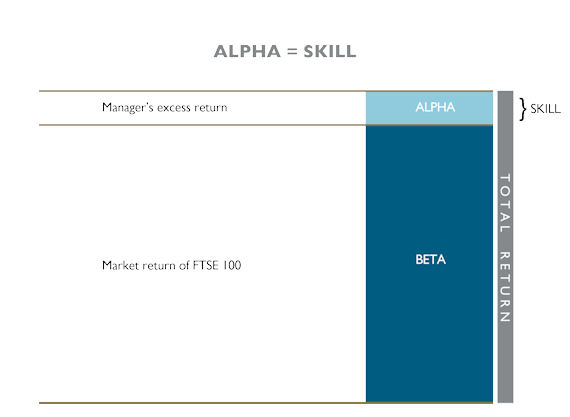 We are very mindful that longer-term outperformance (or alpha) will almost always come at the expense of short-term periods of underperformance and we cast our eye over the full market cycle when judging managers.
Typically, a greater degree of long-term outperformance brings with it a greater possibility of short-term underperformance. It's often the case that past performance is not a reflection of future performance potential, and we have regularly seen top-ranked managers falling down the performance rankings, and vice versa. What we seek to understand is whether the manager's alpha-generating ability is repeatable.
This can be boiled down to identifying and understanding a fund manager's particular 'edge', and why this is likely to add value over the long-term. Equally important is to understand a manager's area of competence, so we can determine whether they are straying from their core competency. We must truly understand what we are buying, and how it complements other portfolio holdings. Diversification across fund managers that have different 'edges' can help produce better and more stable long-term returns as well as reducing overall risk.
For example, we recently invested in a manager who experienced short-term negative performance in an environment that wasn't rewarding his particular edge, playing to one of our core investment principles – going against the crowd. We maintained our confidence in his ability to deliver alpha over the long-term and saw this as a good opportunity to buy the fund at a reduced price. Subsequently, the fund has begun to produce positive returns from a market environment that has become more conducive to his particular approach and skills.
It is crucial to identify, understand and buy into a fund manager's particular 'edge'
We employ both quantitative, or statistical, analysis and qualitative research of the fund management team and the business they work for. For example, a continuity of key people and investment process is crucial for replicating past successes. It is also paramount to ensure we have access to the fund manager and the investment team to allow us to make a true assessment of their character and personality, which can be key qualitative components in fund due diligence.
We prefer to select fund managers who own the businesses they work for, or at least are significantly invested in the funds that they manage. This ensures long-term alignment of interest between manager and investor. Those managers that own their own businesses have essentially 'self-selected', based on their belief in the ability of the team and process to generate good long-term results.
A good example of this is a fund we invested in recently with a demonstrated ability to generate alpha over the very long term. The fund managers are rewarded on a four and eight-year cycle, tying their remuneration to long-term outperformance. We believe this ensures the interests of fund managers and their employees are very closely aligned with investor interests and timeframes.
All of the above factors are assessed and determined at the outset of selecting funds, but continual monitoring is just as important to ensure we maintain our conviction that a manager can preserve their ability to deliver long-term outperformance.
Finally, much the same as we view our own responsibility to our clients, we look for good stewards of capital. This leads us towards individuals and businesses that are going to 'take care' of the capital which has been invested with them. We seek those who recognise that they have been 'entrusted' with their investors' capital, not 'given' it, and understand their clients' needs.
IMPORTANT INFORMATION
This webpage is produced by Coutts for information purposes only and for the sole use of the recipient and may not be reproduced in part or full without the prior permission of Coutts.
The value of investments, and the income from them, can go down as well as up, and you may not recover the amount of your original investment.
Past performance should not be taken as a guide to future performance.
In the case of some investments, they may be illiquid and there may be no recognised market for them and it may therefore be difficult for you to deal in them or obtain reliable information about their value or the extent of the risks to which they are exposed. Where an investment involves exposure to a foreign currency, changes in rates of exchange may cause the value of the investment, and the income from it, to go up or down. Investments in emerging markets are subject to certain special risks, which include, for example, a certain degree of political instability, relatively unpredictable financial market trends and economic growth patterns, a financial market that is still in the development stage and a weak economy.
The information in this webpage is not intended as an offer or solicitation to buy or sell securities or any other investment or banking product, nor does it constitute a personal recommendation. Nothing in this material constitutes investment, legal, credit, accounting or tax advice, or a representation that any investment or strategy is suitable or appropriate to your individual circumstances, or otherwise constitutes a personal recommendation to you.
The information in this webpage is believed to be correct but cannot be guaranteed. Any opinion or forecast constitutes our judgment as at the date of issue and is subject to change without notice. The analysis contained in this document has been procured, and may have been acted upon, by Coutts and connected companies for their own purposes, and the results are being made available to you on this understanding. To the extent permitted by law and without being inconsistent with any applicable regulation, neither Coutts nor any connected company accepts responsibility for any direct or indirect or consequential loss suffered by you or any other person as a result of your acting, or deciding not to act, in reliance upon such information, opinions and analysis.
This document has been produced by Financial Advice & Investment Solutions at Coutts and does not constitute investment research. Neither this document nor any copy thereof may be sent to or taken into the United States or distributed in the United States or to a US person. In certain other jurisdictions, the distribution may be restricted by local law or regulation.
Wealth division of Royal Bank of Scotland Group.
Coutts & Co. Registered in England No. 36695. Registered office 440 Strand, London WC2R 0QS. Authorised by the Prudential Regulation Authority and regulated by the Financial Conduct Authority and the Prudential Regulation Authority.