Keeping an Eye on
The Future
An ageing global population provides interesting investment opportunities but reinforces the 'new normal' of lower expected returns for investors.
One of our core investment principles – patience – seems to have gone out of fashion in today's digital world with its insatiable appetite for more and faster information. Investors seem to be neglecting longer-term trends that can influence the economic outlook and investment performance. We believe changing demographics are one such long-term driver – as an ageing population, particularly in developed economies, reinforces the 'new normal' of lower expected returns.
Longer lifespans + declining birth rates = ageing populations
By the year 2030 the world's population is expected to rise by 16% to about 8.5 billion people, and to 9.7 billion in 2050. The growing population is also expected to get older as life expectancy continues to rise and birth rates drop over the period. This will be a feature not only of developed economies but of some emerging economies too – and the pace is expected to be much quicker in the latter.
For example, while it took 150 years for the percentage of France's population older than 60 to grow from 10% to 20%, countries like Brazil and China are likely to manage this in about 25 years (see chart below).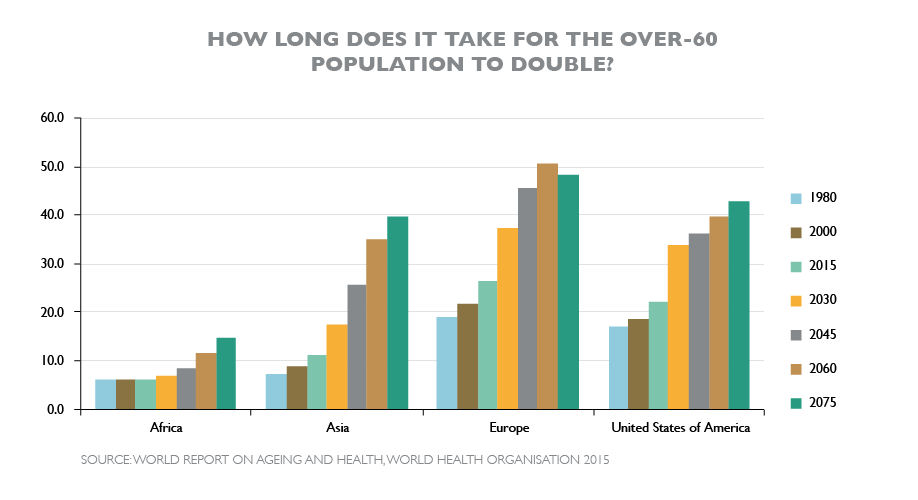 This combination of rising life expectancy and falling birth rates raises the dependency ratio – the number of people aged 65 and older divided by the population aged 15 to 64. For the world as a whole, the United Nations forecasts that this ratio will triple over the next 84 years, driven by rapid ageing in less-developed countries. For example, the UN projects that China's dependency ratio will increase fivefold between 2015 and the end of the century. In more-developed countries like Europe, Japan and the US, the ratio will double over this period.
That's not to say we won't see some regional differences in areas such as the Middle East and Africa, particularly in the short term, where a rapid expansion in the younger population is expected.
Falling birth rates lead to slower growth of the working-age population, which is a headwind for economic growth – usually described as a function of labour, capital and productivity. To make matters worse, productivity growth worldwide has plunged in the last 10 years or so, hence it's unlikely that productivity can offset the negative demographic trends.
Baby boomers and asset prices
In many developed countries like the US, population growth surged in the two decades after the Second World War, as couples who could not afford families earlier made up for lost time. These 'baby boomers' are now beginning to retire, which could influence asset prices. As investors retire, they sell assets to finance their retirement; if enough people are retiring at the same time, like the baby boomer generation, it's been suggested we could get an asset-price 'meltdown' as would-be sellers outweigh potential buyers.
But this theory is exaggerated. The main factors limiting the meltdown effect are increased longevity, leading retirees to hold onto their investments for longer, the need in an ageing society for more capital to replace labour, and demand from international investors.
Moreover, equity assets are concentrated in the richest part of the population, who are unlikely to sell them all. But investors in the developed markets should expect some headwinds to asset values and returns over the next fifteen years, as a large segment of the population enters retirement.
One study found that a 1% rise in the share of 50-54 olds in the population raises equity returns by about 1% per year, while a 1% rise in the share of the 70+ age group cuts equity returns by about 2% per year. The results for bonds are similar but less pronounced, partly because many investors switch from equities to bonds as they age.

Demographics and investing
In an ageing world, poor countries with favourable demographic profiles like India and Nigeria could be big winners. High-quality multinational companies with good access to the growing markets should perform well. Companies in sectors that cater directly to an ageing society such as healthcare (see the next article in our Investment Outlook 2017 series: 'Healthy long term returns') and tourism should also benefit from these secular trends.
Baby boomers in the developed markets have only just begun retiring and this trend is likely to continue for at least another 20 years. During the early stages of retirement asset sales tend to be modest so it's too early to observe a 'retirement impact' on asset values just yet. In due course, though, we can expect retiring baby boomers to act as headwinds for asset prices.
IMPORTANT INFORMATION
This webpage is produced by Coutts for information purposes only and for the sole use of the recipient and may not be reproduced in part or full without the prior permission of Coutts.
The value of investments, and the income from them, can go down as well as up, and you may not recover the amount of your original investment.
Past performance should not be taken as a guide to future performance.
In the case of some investments, they may be illiquid and there may be no recognised market for them and it may therefore be difficult for you to deal in them or obtain reliable information about their value or the extent of the risks to which they are exposed. Where an investment involves exposure to a foreign currency, changes in rates of exchange may cause the value of the investment, and the income from it, to go up or down. Investments in emerging markets are subject to certain special risks, which include, for example, a certain degree of political instability, relatively unpredictable financial market trends and economic growth patterns, a financial market that is still in the development stage and a weak economy.
The information in this webpage is not intended as an offer or solicitation to buy or sell securities or any other investment or banking product, nor does it constitute a personal recommendation. Nothing in this material constitutes investment, legal, credit, accounting or tax advice, or a representation that any investment or strategy is suitable or appropriate to your individual circumstances, or otherwise constitutes a personal recommendation to you.
The information in this webpage is believed to be correct but cannot be guaranteed. Any opinion or forecast constitutes our judgment as at the date of issue and is subject to change without notice. The analysis contained in this document has been procured, and may have been acted upon, by Coutts and connected companies for their own purposes, and the results are being made available to you on this understanding. To the extent permitted by law and without being inconsistent with any applicable regulation, neither Coutts nor any connected company accepts responsibility for any direct or indirect or consequential loss suffered by you or any other person as a result of your acting, or deciding not to act, in reliance upon such information, opinions and analysis.
This document has been produced by Financial Advice & Investment Solutions at Coutts and does not constitute investment research. Neither this document nor any copy thereof may be sent to or taken into the United States or distributed in the United States or to a US person. In certain other jurisdictions, the distribution may be restricted by local law or regulation.
Wealth division of Royal Bank of Scotland Group.
Coutts & Co. Registered in England No. 36695. Registered office 440 Strand, London WC2R 0QS. Authorised by the Prudential Regulation Authority and regulated by the Financial Conduct Authority and the Prudential Regulation Authority.