Investing for Change
Danger and Opportunity
Investing for change means looking out for dangers, but also embracing the opportunities.
"The Chinese use two brush strokes to write the word 'crisis.' One brush stroke stands for danger; the other for opportunity. In a crisis, be aware of the danger - but recognise the opportunity."
In June 2016 we had a vivid glimpse of what populism might mean for the world in years to come. At the time of the UK referendum there was little to indicate that this might be the start of a trend that seems to be taking hold around the world, moving the political dial from globalisation to the nationalism and economic protectionism we saw in the recent US elections.
But while this shift could influence longer-term trends in corporate and macro economic behaviour, our analysis also identifies a broad range of investment opportunities for the coming year. These include:
| Sterling | Short-dated Bonds | Financial Debt | European Equities | Global Healthcare | Technology | Alternative Investment Strategies |
| --- | --- | --- | --- | --- | --- | --- |
| + | + | + | + | + | + | + |
Since the UK voted in June to leave the European Union, dark clouds have formed over sterling which was trading recently at its lowest level since a long and steep decline in the first half of the 1980s. For sterling-based investors, the silver lining in this cloud has been higher returns from overseas assets. But we see a different path for sterling in 2017 – and a different set of opportunities for UK investors.
Elevated returns from overseas assets this past year imply lower sterling-based returns in 2017 if, as we suspect, we see the sterling exchange rate moving back towards its longer-term average. A recovery in sterling could turn many of 2016's winners into losers in 2017. These include almost all investments in overseas equities. So how can we mitigate this risk?
Hedging against currency risk
First, we can look to take profit on some of our overseas investments and re-invest the proceeds in sterling-denominated assets, while still maintaining a diversified portfolio. Where possible, we might also hedge against moves in exchange rates.
This can be done by using hedged share classes of funds investing in overseas equities, thus maintaining exposure to non-UK markets while hedging out the currency risk. In some instances, hedging out currency risk via the use of derivatives, such as currency futures, will allow investors to lock in future exchange rates at particular levels.
This would mean, of course, that in times when sterling was weakening, as it has post Brexit, these investments would miss out on currency-related gains. Conversely, they would be protected from losses if sterling were to revert back to its longer-term trading range, a view we will outline in a subsequent feature in our Investment Outlook 2017 series: 'Sterling's dependence on the kindness of strangers.'
Looking for the opportunities
Since the EU referendum in the UK, we have also been looking at asset classes that suffered most from the vote to leave, and may offer value today. Apart from sterling, the main asset classes that suffered were small to mid-size domestically-focused UK shares, like those in the FTSE 250 and commercial property.
While the FTSE 250 plunged post the referendum result, it has surged since, as the chart below shows. This mid-cap index has produced stronger and more stable earnings growth than the FTSE 100 since the global financial crisis, reflecting the solid performance of the UK economy relative to most of the developed world.
We believe, though, that the FTSE 250's sharp recovery from post-referendum lows has discounted a better outcome for the UK economy outside the EU than feared. Given ongoing uncertainties about what form Brexit ultimately will take – 'hard' or 'soft'? – we prefer to wait for better buying opportunities.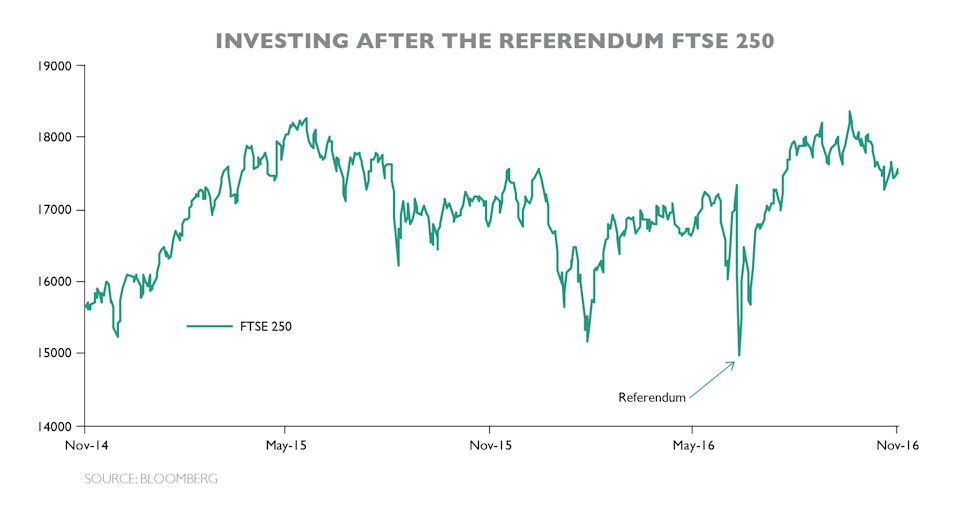 Commercial property is a favoured income diversifier given the ultra-low yields from government bonds and should remain solid if the UK economy remains strong. But UK commercial property funds have already surged since August, with some only slightly down for the year at the time of writing, after being down about -15% at one stage. Transaction costs are high for these funds (i.e. they are expensive to buy), and though we regard existing holdings as attractive, we are inclined to wait for better buying opportunities in this area as well.
The other side of the coin
On the other side of the coin, safe-haven UK government bonds (gilts) enjoyed a strong rally post-referendum (see graph). But these gains have now evaporated, with 10-year gilts, for example, down 6% from their highs in just two months. With an annual income of only 1.4% at the time of writing, this 'safe' asset looks decidedly unattractive.
We still see gilts having a role in providing liquidity (they can be easily sold if cash is needed) and helpful diversification away from equities (they tend to rise in value when equities are falling). However, we see better solutions for providing income and diversification, which we will address in a later instalment of Investment Outlook 2017: 'When safe-haven gilts look ghastly.'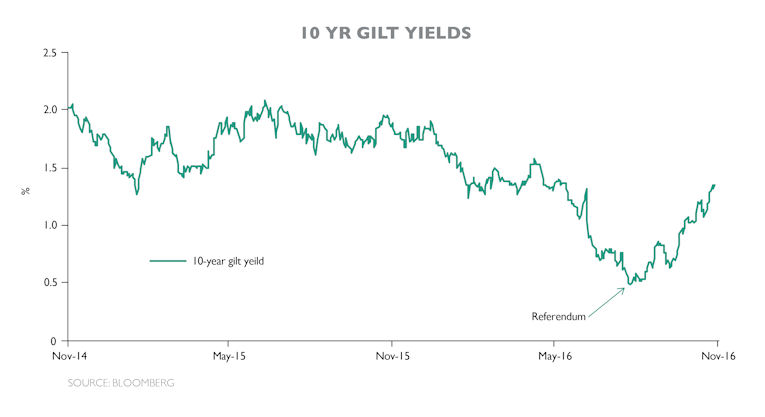 IMPORTANT INFORMATION
This webpage is produced by Coutts for information purposes only and for the sole use of the recipient and may not be reproduced in part or full without the prior permission of Coutts.
The value of investments, and the income from them, can go down as well as up, and you may not recover the amount of your original investment.
Past performance should not be taken as a guide to future performance.
In the case of some investments, they may be illiquid and there may be no recognised market for them and it may therefore be difficult for you to deal in them or obtain reliable information about their value or the extent of the risks to which they are exposed. Where an investment involves exposure to a foreign currency, changes in rates of exchange may cause the value of the investment, and the income from it, to go up or down. Investments in emerging markets are subject to certain special risks, which include, for example, a certain degree of political instability, relatively unpredictable financial market trends and economic growth patterns, a financial market that is still in the development stage and a weak economy.
The information in this webpage is not intended as an offer or solicitation to buy or sell securities or any other investment or banking product, nor does it constitute a personal recommendation. Nothing in this material constitutes investment, legal, credit, accounting or tax advice, or a representation that any investment or strategy is suitable or appropriate to your individual circumstances, or otherwise constitutes a personal recommendation to you.
The information in this webpage is believed to be correct but cannot be guaranteed. Any opinion or forecast constitutes our judgment as at the date of issue and is subject to change without notice. The analysis contained in this document has been procured, and may have been acted upon, by Coutts and connected companies for their own purposes, and the results are being made available to you on this understanding. To the extent permitted by law and without being inconsistent with any applicable regulation, neither Coutts nor any connected company accepts responsibility for any direct or indirect or consequential loss suffered by you or any other person as a result of your acting, or deciding not to act, in reliance upon such information, opinions and analysis.
This document has been produced by Financial Advice & Investment Solutions at Coutts and does not constitute investment research. Neither this document nor any copy thereof may be sent to or taken into the United States or distributed in the United States or to a US person. In certain other jurisdictions, the distribution may be restricted by local law or regulation.
Wealth division of Royal Bank of Scotland Group.
Coutts & Co. Registered in England No. 36695. Registered office 440 Strand, London WC2R 0QS. Authorised by the Prudential Regulation Authority and regulated by the Financial Conduct Authority and the Prudential Regulation Authority.