Three lessons from February's market turbulence
Summary
Mohammad Kamal Syed, head of asset management at Coutts considers how a diversified portfolio helped to preserve wealth during the worst of market falls in February
3 min
read
The last week of February saw the biggest market falls since the financial crisis in 2008 as the extent of the spread of coronavirus became clear. Restrictions introduced in China to prevent the spread began to bite, and infections and deaths in the US, UK and Europe brought the impact closer to home for many.
To our mind, there are three key points to remember about the month just gone.
1. Changing perspectives can lead to sudden short-term corrections
With the world's new awareness of risk, came a reassessment of assets and a general reduction in risk appetite across the board. The result was a massive sell off.
For equities, there was nowhere to hide. Major markets were all substantially down across regions, sectors and capitalisation. The last week of February saw the MSCI World Index of global equities fall by 9%. The S&P 500 was down by -8%, the MSCI UK Index by -8% and the MSCI Europe Index by -8.2% (in sterling terms).
2. Defensive assets do their job
Government bonds meanwhile did their job, making gains as equities fell. Over the month as a whole, gilts returned 1.4% while US Treasuries returned 2.65%. Over the year to date, returns are 5.26% and 5.16%, respectively.
Investment grade debt made a modest positive return of 0.86%.
3. Diversification provides the route through choppy markets
Against this backdrop, portfolio diversification was the best defence for investors looking to reduce the impact of market falls. A prudent mix of asset types, geographical and sectoral exposure helped multi-asset investors stay ahead of markets even as they fell. A mix of passive tracking funds and active managers – who tend to fare better in falling markets – also helped.
Taking the edge off market falls

For Coutts investors, a typical Balanced portfolio was 3.3% down over the month. Falls are always uncomfortable, but when seen in the context of a 9.1% fall in UK equities, the benefits of diversification are evident.
Some key positions were particularly effective at mitigating falling equity prices in February:
Good stock selection in US equities reduced the overall impact of market falls
Government bonds came into their own, providing ballast against equity falls; US Treasuries did particularly well and a high exposure benefited portfolios
The value of a diversified approach to risk was demonstrated once more as our position in financial credit fell less sharply than equities, reducing the overall negative impact of market falls
Note: above applies to a typical sterling balanced portfolio. Not all positions apply to all funds and portfolios offered by Coutts.
Stay focused on the long-term
As ever, we urge our clients to maintain a long-term view. Over five years to the end of February, a typical balanced fund has returned 23.8% after fees and charges, compared with an MSCI UK Index return of 14.4%.
As well as being ahead of markets, we are ahead of competitors over the long term, outperforming the Asset Risk Concultant (ARC) peer group by 6%.
Become A Client
When you become a client of Coutts, you will be part of an exclusive network.

Read More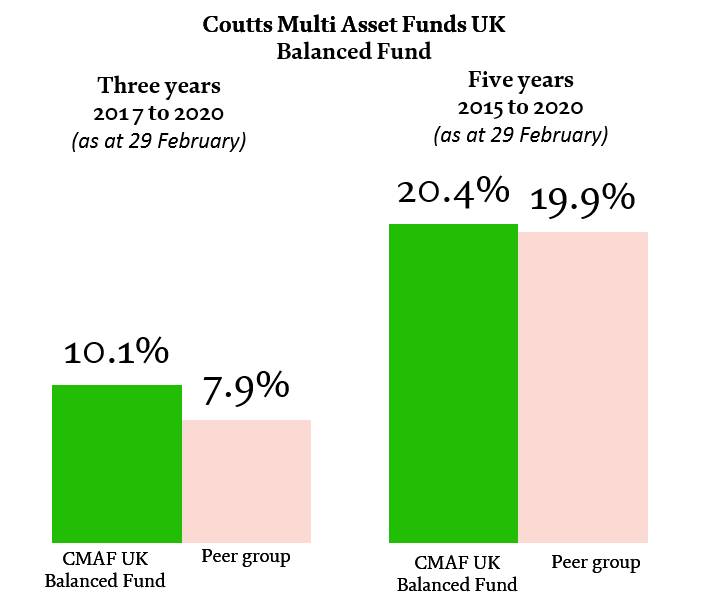 Cumulative returns calculated on sterling basis, including fees, charges and income to 29 February, 2020. Discretionary sterling balanced portfolio - calculated based on composite performance, individual portfolio monthly returns are asset-weighted based on their respective asset values at the beginning of the month. Peer group returns provided by Asset Risk Consultants (ARC); end-February data represents ARC estimate. Coutts Invest (medium risk fund) and Coutts Multi-Asset Fund – performance compared to Investment Association 20-60% Shares peer group sector. Sources: Coutts & Co, ARC, Investment Association, Morningstar, Eikon/Datastream. March 2020
Of course, you must always remember that past performance should not be taken as a guide to future performance. The value of investments, and the income from them, can go down as well as up, and you may not recover the amount of your original investment.
Market falls of the sort we've seen in the last few weeks can be highly unsettling, but it's vital to keep a cool head and make good, long-term decisions about your wealth. With a team of expert investors at your side, you can be better placed to endure difficult periods and prosper when conditions turn positive once more.
We'd welcome the opportunity to discuss the role investing could play in helping you achieve your long-term goals. Speak to your private banker or wealth manager, or call Coutts 24 on +44 (0) 20 7957 2424.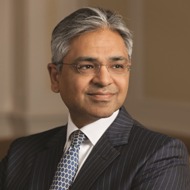 MOHAMMAD KAMAL SYED
Head of Asset Management
Coutts Investment Performance
| | | | | | | |
| --- | --- | --- | --- | --- | --- | --- |
| | Annualised since inception | Dec 2014 to Dec 2015 | Dec 2015 to Dec 2016 | Dec 2016 to Dec 2017 | Dec 2017 to Dec 2018 | Dec 2018 to Dec 2019 |
| Discretionary Portfolio Service –Sterling Portfolio | 4.7% | 1.3% | 12.2% | 9.1% | -5.1% | 12.4% |
| Coutts Multi Asset Balanced Fund | 6.0% | -0.4% | 11.8% | 9.5% | -7.0% | 14.4% |
| Coutts Invest (Personal Portfolio Funds) Medium Risk | 8.2% | n/a | n/a | 8.5% | -4.4% | 13.1% |
When investing, past performance should not be taken as a guide to future performance. The value of investments, and the income from them, can go down as well as up, and you may not recover the amount of your original investment.