Coronavirus – Will the US and Europe learn lessons from Asia?
Summary
The economic impact of coronavirus will depend on how the epidemic progresses in both scope and time frame and how government, business and households react and adapt. Could April be a turning point?
3 min
read
As the coronavirus has spread outside Asia, governments across the world have had to take severe measures to contain the outbreak.
The epidemic remains on an exponential trend globally, although the main growth of the outbreak is in Europe and the US now. China has effectively ended the epidemic – it took about a week from the shutdown imposed on January 23 until case growth slowed and a month until infections peaked. Similar measures, although less drastic, helped South Korea and other Asian nations to contain the spread.
Across the western world, governments are now starting to realise that Asian measures such as containment, testing and shutdowns are effective in slowing down the new case growth. As a result, we are seeing increasingly severe measures being put in place. But this level of restriction naturally comes at a financial and economic cost.
Demand shock will affect economies
The economic impact is going to be significant in the second quarter. Consumers are being told to stay home and this will have a massive impact on businesses.
Economic data from Europe and the US won't be available for several weeks yet, but we can see the effect that containment measures had in China. The Manufacturing Purchasing Managers Index (PMI) – which surveys businesses on upcoming activity – fell by 14.3 points to in February to 35.7 from 50 in January. A level of 50 indicates stability, with neither growth nor contraction, and so the reading for February indicates a severe reduction in manufacturing which is likely to be reflected in the rest of the economy.
One early indicator of the impact on the US economy is the New York Federal Reserve Empire Survey, which surveys businesses in New York State on their expectations for business activity. It fell by 34 points in February to its lowest level since the financial crisis, and this is for February before most of the impact really hits.
Central banks and governments are pulling out all the stops in an attempt to limit the fallout, turning on the taps for cheap loans to business and piling money into affected areas. But the world economy is heading for a period of negative growth as these impacts make their way through the system.
A turning point in April?
How deep the slowdown is, and how long it lasts, will depend to a large extent on how effective containment measures are. China is reporting no new infections at the end of this week, indicating that the measures taken, although severe, have had the desired effect. In Italy, new infections had shown signs of levelling off earlier in the week, although there was a spike in new cases on 18 March.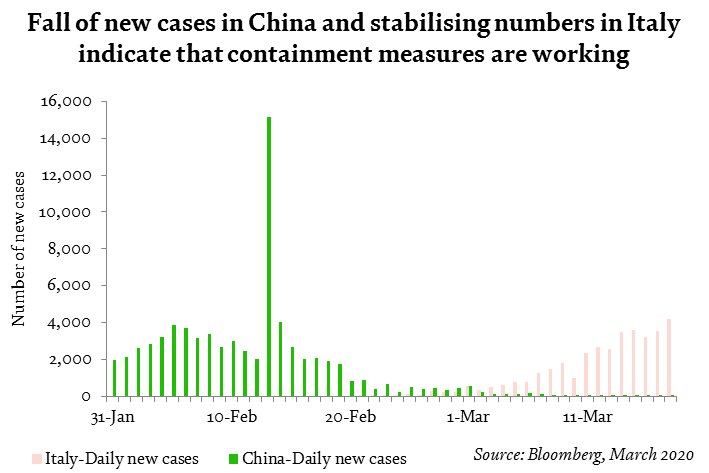 So there is some evidence that strict containment measures can slow the spread of the virus if respected. The less time that containment measures have to stay in place, the quicker the subsequent recovery will be, and vice versa.
A vaccine is still months away, possibly longer. In the meantime, other treatment measures may emerge that are effective at limiting the lethality and spread of the virus, which could alleviate the need for lockdown measures ahead of a cure being developed.
A possible timeline for recovery
Building on the experience of China in containing the spread of the virus, we could see lock down measures – and attendant economic disruption – extending into April. This should reduce the virus growth rate progressively over the month.
From late summer, in this scenario, we could see things start to change, and by the autumn a recovery could be starting to take hold. Given the levels of support from central governments and central banks, the recovery could be steep and economic activity could increase rapidly.
Assuming containment measures work along similar lines as we've seen in Asia, this is a timeline for a return to economic growth. It's based on a lot of assumptions and we'll be keeping a careful eye on how events unfold.
March
Infections stabilise in China, containment measures ease.
April
Infection growth rate peaks in US and Europe, containment measures ease at the end of the month. Negative GDP growth in all major economies.
May
Major economies all report negative growth. Monetary easing remains in place, potentially further fiscal stimulus. GDP growth stabilises in major economies. Unemployment rises.
June
Major economies report positive GDP growth. Activity in worst affected areas begins to recover, e.g. travel and hospitality.
July
Economic activity surveys turn positive.
August
Above-trend GDP growth, unemployment stabilises.
September
Signs of recovery emerge towards the end of the month.
October
Economic activity surveys turn strongly positive, clear signs of recovery in employment data.
Investors batten down the hatches and wait for opportunities
While we still don't have any clear information, we're taking a cautious approach. We've already reduced risk, by selling equity exposure in Europe and Russia and adding to our cash holdings. But we think it is important to remain invested, as far as is prudent, to avoid crystallising losses and to be ready for the recovery when it comes.
We are constantly reviewing and assessing our positioning. Our next move will depend on our assessment of the fiscal stimulus that will be rolled out in western countries in the next days and when the infections growth rate begins to recede in the US and Europe.
Until then a cautious approach seems be the right one for the time being.
When investing, past performance should not be taken as a guide to future performance. The value of investments, and the income from them, can go down as well as up and you may not recover the amount of your original investment.
About Coutts investments
With unstinting focus on client objectives and capital preservation, Coutts Investments provide high-touch investment expertise that centres on diversified solutions and a service-led approach to portfolio management.
Discover more about Coutts investments