"Cool and contemporary" – meet the man behind Cobra Beer
Summary
As we continue to celebrate Coutts Entrepreneur Month, Cobra Beer founder Lord Karan Bilimoria shares his entrepreneurial journey – from Cambridge University to an award-winning beer.
3 min
read
Walk into any Indian restaurant in the UK and if you ask for a beer you're almost guaranteed to be offered an 'impossibly smooth' bottle of Cobra.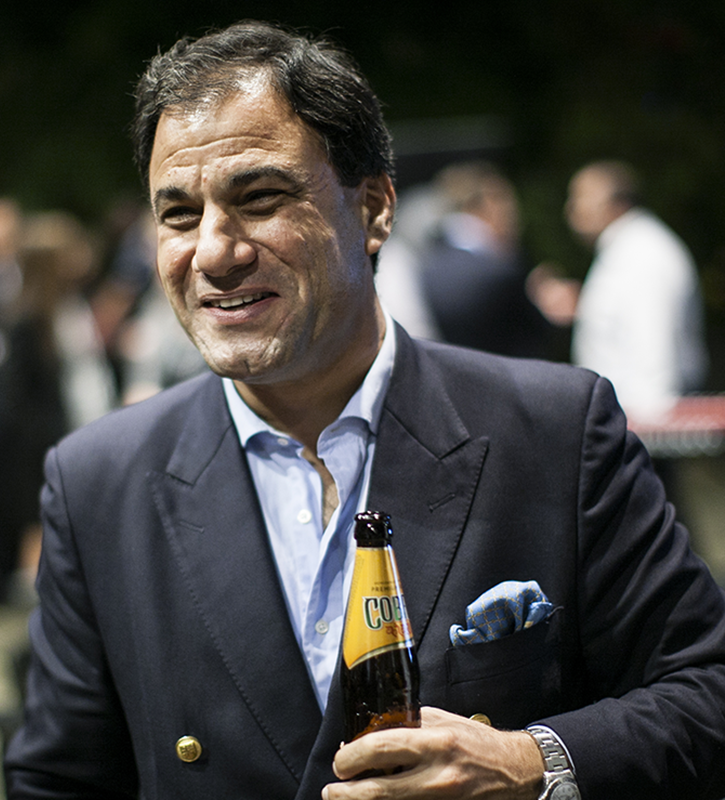 Its yellow and green label is about as iconic as one of Britain's favourite dishes, chicken tikka masala. But the road to success hasn't been an easy one for founder Lord Karan Bilimoria, who had to fight tooth and nail for every win.
Luckily, the Bilimoria family has always had the fighting spirit. "I am very fortunate to have been brought up in a family with many inspirational figures," says Karan, whose father was Lt General Faridoon Bilimoria, commander-in-chief of the Central Indian Army.
"My maternal grandfather, squadron leader J. D. Italia, would drink beer every day before his lunch. From time-to-time I remember being allowed sips, and I can still remember the hoppy aroma, the refreshing taste and the foam."

A fan of ales

It was as a law student at the University of Cambridge in the 1980s that the seeds were planted for what would turn into his own beer brand. Disliking the "bloating gassiness" of lagers, he became a fan of classic English ales but found them too heavy and bitter to be enjoyed with food.
Karan set out to create a beer that had the refreshing qualities of a lager but the smoothness of an ale.
After graduating, he was £20,000 in debt, but this did not deter him from creating an entirely new product from scratch. Alongside his childhood friend Arjun Reddy, he launched Cobra Beer from his Fulham flat in 1989.
Karan describes Cobra as the "perfectly balanced, rounded and smooth beer". Cobra has a complex recipe, double-fermented with ingredients including water, malted barley, yeast, rice, maize, wheat and three varieties of hops.
Its unique selling point was vital in marketing the brand with no budget.
"I knew that with no advertising budget, our brand would simply gather dust on supermarket shelves, and so we targeted restaurants," says Karan.
"I met face-to-face with both the big-name restaurants and smaller Indian curry houses. Our only marketing tool for these meetings was a flimsy tent card with the story of Cobra printed, explaining what made it different to other brands and where it was produced."
Become A Client
When you become a client of Coutts, you will be part of an exclusive network.
Read More
India in its DNA
In these early days, brewing was taking place in Bangalore, India with the help of "the country's finest brewmaster" Dr Subroto Cariapa. The brand had India stamped into its DNA from the outset, which encouraged restaurants to take a chance on the authentically imported Indian beer.
But the iconic 'Cobra' name almost never was. The brand was originally going to be called 'Panther', before last minute market research found the name to be unpopular.
Karan says it was the best decision he ever made.
"'Cobra' has the benefit of being both cool and contemporary, but also familiar. I've heard from many people that they believe Cobra Beer to have been around for over a century! This name is our most valuable asset."
There have been some rocky patches in this entrepreneurial story. Karan nearly lost the business on three occasions, including during the financial crisis a decade ago when the company restructured and created a joint venture partnership with global brewer Molson Coors.
Karan credits Cobra's survival to four factors:
customer loyalty
strength of brand
the support of his team
constantly operating with the right values
Cobra is now a global brand that has won 101 gold medals at the Monde Selection world quality awards since its first entry in 2001. Today it is exported to 40 countries around the world. In the UK, it is sold in 98% of Indian restaurants, all major supermarket chains and thousands of independent grocers, off-licences and restaurants.
Close relationship
A passionate advocate of strong UK-India relations, Lord Bilimoria dedicates much of his time to encouraging strengthening ties between the two countries.
He says: "I have always believed that Britain and India have a special, longstanding and close relationship. There has been tremendous investment both ways between the UK and India, but bilateral trade could be and should be much higher."
Despite openly criticising the government's immigration policies and being an open critic of Brexit, Karan takes a positive view of the future for his adopted home.
"Although Britain is a country with less than 1% of the world's population, it is still the fifth largest economy in the world," he says. "We are a country that continually punches above its weight with excellence in just about every field, from academia to manufacturing.
"At Cobra we are proud to be world-class manufacturers. As long as Britain remains an open economy, a country that encourages entrepreneurship and innovation, we will remain a global power with influence on the world stage."
Find out how Coutts can help entrepreneurs and read top tips from some of Britain's best business gurus.
Key Takeaways
Lord Karan Bilimoria started Cobra Beer from his Fulham flat in 1989. Over 30 years he has overseen its rise to the top of the menu in Indian restaurants all over Britain. Karan believes that a great business relies on a strong brand, a great team, customer loyalty and operating with the right values.
About Coutts Entrepreneurs