Don't get burnt by bad timing this summer
Summary
Markets might slow down over the summer but you should stay invested in our view.
2 min
read
Forget the folklore that tells investors to avoid the traditional summer slow-down by selling stocks in May. Trying to time the market comes with serious risks and can lead to reduced returns.

There is an old stock market saying – 'sell in May and go away, don't come back until St Leger Day.' It says that, as markets quieten down over the summer, investors should take their profits in May and reinvest in September – when the St Leger Day horse race ends the season and markets are low.
This old saw belongs in the past in our view.
It is true that seasonality plays a part in market movements but at Coutts we are guided by economic fundamentals, not old wives' tales. We believe it is better to focus on the long term and catch the days that deliver the best returns.
Monique Wong, Coutts Multi-Asset Investment Manager, said: "What matters is that global growth is still robust and we do not see signs of a US recession in the next 12 to 18 months. Companies are profitable, people have jobs, and on the whole inflation is rising, albeit in a moderate fashion.
"In our experience, if you do not see a recession, you should own equities."
Meanwhile, keeping your cash in a bank account may come with less risk but it isn't going to give you returns above inflation any time soon. So with investing potentially the better option for preserving your spending power and growing your wealth over time, there is a serious risk of missing out if you try to jump in and out of the markets.

Become A Client
When you become a client of Coutts, you will be part of an exclusive network.

Read More
Summer loving or summer losing?
The received wisdom is that markets are less active in the summer than the winter. It is a time when investors head off on holiday and trading slows.
But the facts show that money is still made while the sun is shining and missing out on any time in the market can have serious repercussions.
S&P 500 figures going back to 1928 show the second strongest three-month period of the year is actually from June to August – up 2.97% on average, according to Merrill Lynch
If you had missed the FTSE 350's 10 best days over the past 20 years, you would have cut the amount of money you made in half. Missing the best 30 days in the same period would have led to a loss even though the index returned more than 6% during that time
Market data from the last three decades shows that the notion of losing returns over the summer is more often wrong than right – the FTSE 100 rose in 16 of the last 30 summers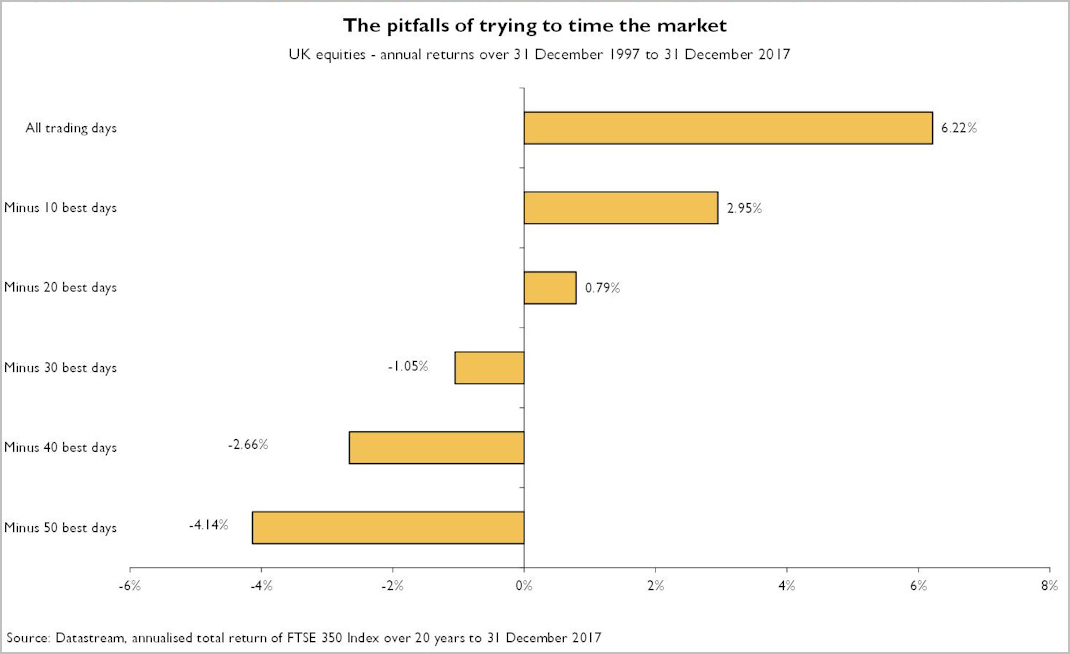 All in good time
It's human nature to worry about whether or not it's the right time to hold investments. But at Coutts it's not about the right time amid the highs and lows of markets. It's about investing in high-quality, good-value assets that help preserve and grow your wealth in the long term and for future generations.
The fact is that it's actually extremely difficult to time the markets anyway, and good investment is actually about time in the markets.
Investing will always involve risk, and there will always be a chance that you may not recover the amount you put in.
But if you're in it for the long term and stay invested through market fluctuations, it could be the best way to meet your financial goals – whatever the season.
Find out more about investment services at Coutts.
Past performance should not be taken as a guide to future performance. The value of investments, and the income from them, can go down as well as up, and you may not recover the amount of your original investment.

About Coutts Investments
With unstinting focus on client objectives and capital preservation, Coutts Investments provide high-touch investment expertise that centres on diversified solutions and a service-led approach to portfolio management. Our investment process is as disciplined as it is creative – ensuring tailored solutions with robust results.
Discover More About Coutts Investments