Coutts expertise excels for clients
Summary
Our investment decisions have helped preserve clients' wealth
3 min
read
Official investment data released last week has confirmed that our asset allocation decisions did more to preserve client wealth during recent market corrections than competitors.

Our asset allocation, carefully considered key investment themes and diversification have worked well when it comes to preserving clients' wealth.
In fact, the latest numbers show that we have outperformed our competitors so far this year.
Key contributors to this include:
Technology – a key investment theme of ours – has been the strongest performing sector this year
The defensive nature of healthcare stocks – another favoured area in our portfolios – meant that falls in this sector were lower than for the general market
Our allocation to emerging market bonds offset some of the volatility in other asset classes
We have also been relentless in our search for new opportunities, even as markets were falling. For example, we added to our FTSE 100 exposure as prices fell. We believe that the growing global economy will continue to support FTSE 100 companies which draw 70% of their income from overseas.

Become A Client
When you become a client of Coutts, you will be part of an exclusive network.

Read More
Ahead of the pack
Data for the first quarter of this year published by ARC (Asset Risk Consultants – who measure 60 of our peers as well as our own performance) show that we delivered top quartile performance in the first three months of 2018 (analysis refers to our most popular sterling portfolios).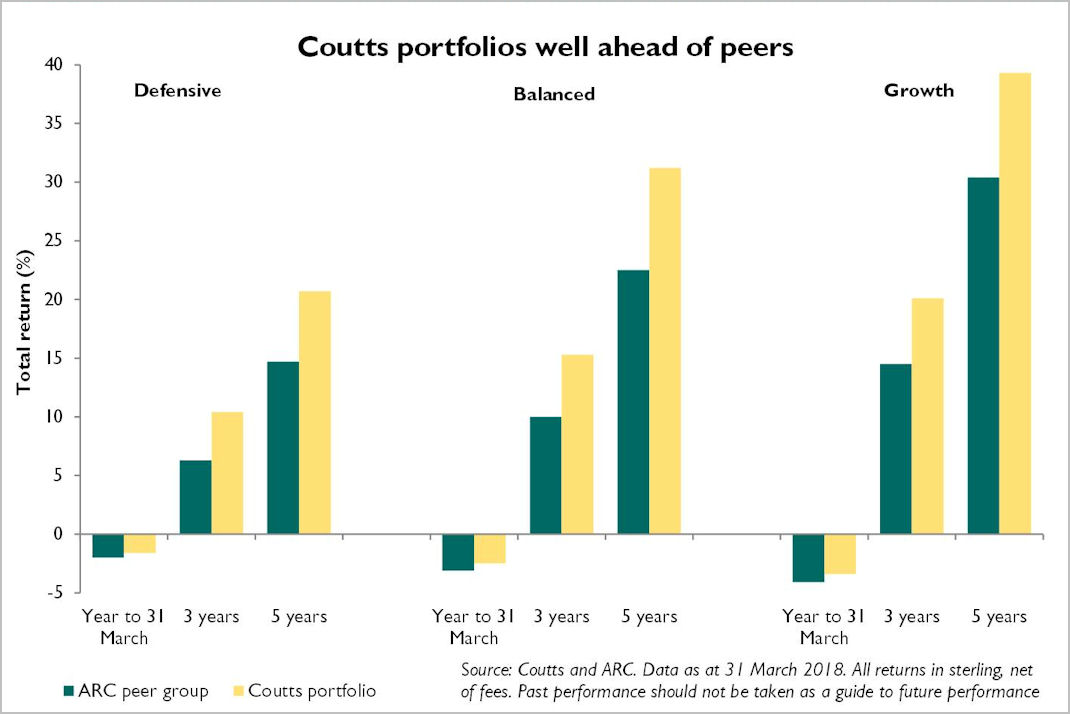 The good news doesn't end there. Our performance in April is widening the gap between us and our competitors even further. And all this on top of an excellent five-year track record. Find out more about our latest investment views and decisions in our most recent quarterly review.
The ARC numbers for the first three months of the year show that:
Coutts defensive portfolios outperformed our peer group average by 40 basis points (-1.6% compared to -2%)
Our balanced portfolios outperformed by 60 basis points (-2.5% compared to -3.1%)
Our growth portfolios outperformed by an impressive 70 basis points (down -3.4% compared to -4.1%)
These figures clearly show the positive impact of our investment process and strategic decisions. Put simply, we are ahead of the pack on preserving wealth in volatile markets and making the most of the opportunities that arise.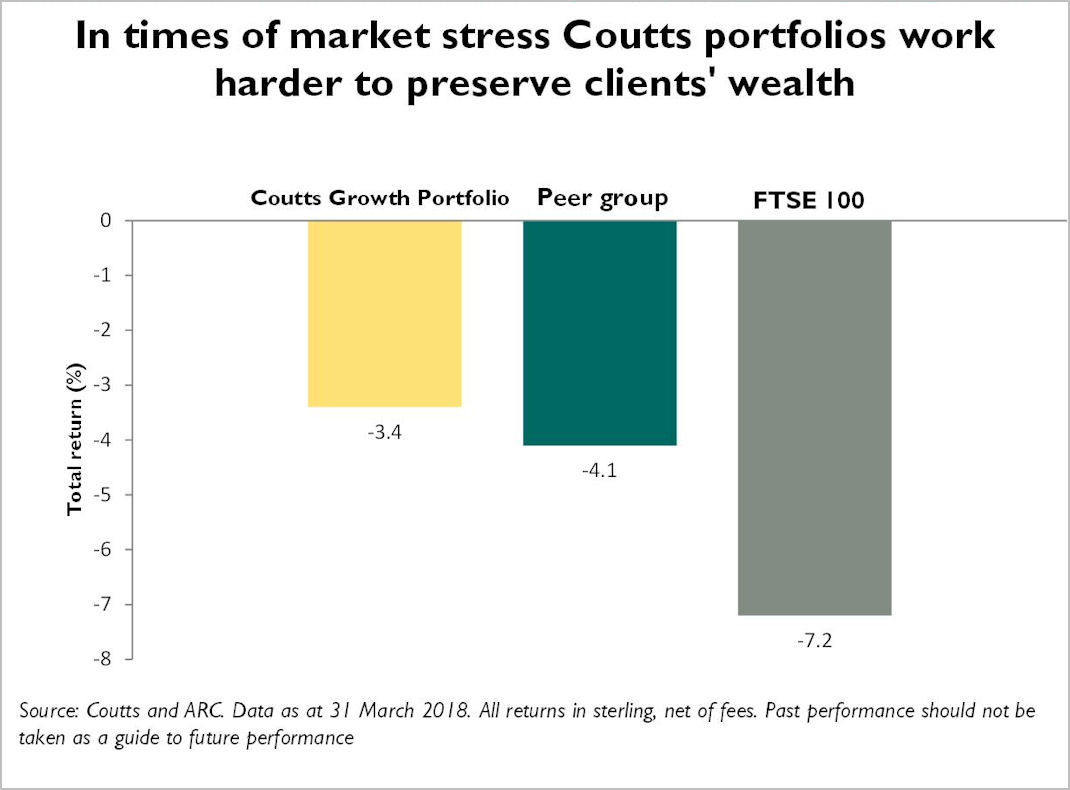 Springing ahead in April
Our April performance numbers show that:
Coutts defensive portfolios outperformed our peer group average by 10 basis points (up 1.1% compared to 1.0%)
Our balanced portfolios outperformed by 50 basis points (2.3% compared to 1.8%)
Our growth portfolios outperformed by an outstanding 80 basis points (3.4% compared to 2.6%)
With inflation continuing to corrode the spending power of our clients' wealth every single day, investing remains a strong option for helping you make the most of your money over the long term.
These figures are the latest proof that we are well-placed to support you.
Find out more about our investment and wider wealth management services.

Past performance should not be taken as a guide to future performance. The value of investments, and the income from them, can go down as well as up, and you may not recover the amount of your original investment.
About Coutts Investments
With unstinting focus on client objectives and capital preservation, Coutts Investments provide high-touch investment expertise that centres on diversified solutions and a service-led approach to portfolio management. Our investment process is as disciplined as it is creative – ensuring tailored solutions with robust results.
Discover More About Coutts Investments