Chasing down immortality
Summary
How is innovation changing the healthcare industry, and what does this mean for investors?
2 min
read
Healthcare innovation is responding to unprecedented demand for better drugs and treatments across the sector, but is the real answer to rising demand a revolution in the way health care is delivered?

How much would you pay to live for ever?
They say you cannot avoid death or taxes, but as a species we spend a great deal of time, energy and money thinking about both. Financial services make up a large chunk of the developed world's economy but they are dwarfed by our biggest item of expenditure – healthcare.
At the heart of this is a vital human desire that makes healthcare an enduring industry: the desire to live longer and live better. Increasingly, healthcare is not just about curing illness, but enhancing the lives we already have. Technologies focused on alleviating the aging process we once saw as inevitable are now at the cutting edge of healthcare innovation.
According to the US Centers for Medicare & Medicaid Services (CMS), healthcare spend in the US reached $3.5 trillion in 2017. To put this in context, that's six times the $600bn spent on the US domestic defence industry and nearly 45 times the $78bn spent on technology by the US banking industry (source: US Department of Defense, fiscal budget 2017; Citibank Initiating IT coverage, 3 Jan 2018).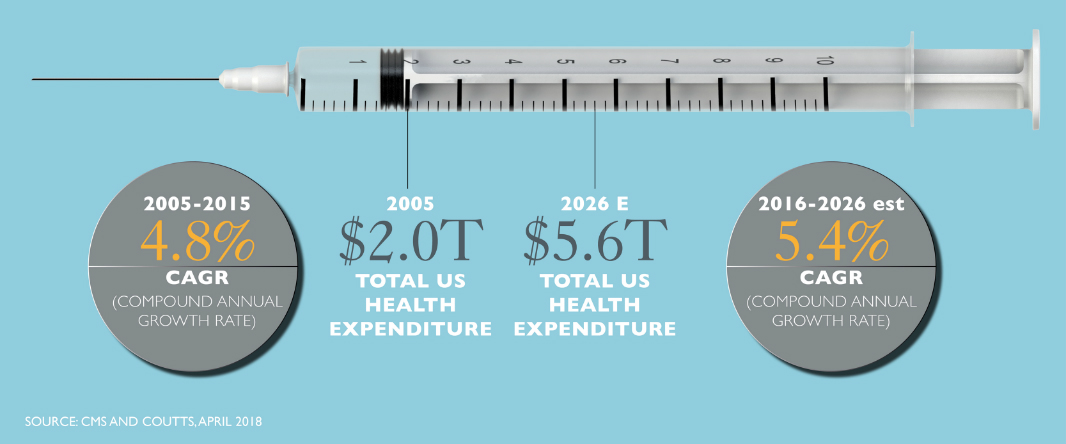 Future estimates of healthcare expenditure are equally as impressive. Having grown on average at 4.8% per annum between 2005 and 2015, growth is expected to rise to an annual rate of 5.4% between now and 2026. In many ways this is not really a surprise when you take a look at the underlying drivers:
an aging global population
expanded coverage of medication
the rising costs of production and servicing
The cost per capita was estimated at $10,348 each year in a 2016 report by CMS, with the cost for those aged over 45 rising significantly beyond this.

Who's going to pay for it all?
Absorbing the costs of innovation has seen the costs of healthcare increase above the rate of inflation for the last 30 years. This has become an increasing challenge for the economy in countries offering both private and public models of healthcare. Warren Buffet idiosyncratically framed the issue by observing recently that "the ballooning cost of healthcare acts as a hungry tapeworm on the American economy".
The rising cost of new treatments means that innovation is likely to be constrained by funding. More expensive treatments combined with an ageing population means that the healthcare sector is facing major challenges from both the demand and the supply side.
This is a moral as well as practical dilemma. How does one allocate limited resources? Should the ability to pay really be the qualifying criteria for life-changing – potentially life-saving – treatments? In the UK, as 2018 marks the 70th anniversary of its formation, the very existence of the NHS is under threat as it faces unprecedented pressure to deliver on its promises to the population cost effectively.

Is there a role for investors?
Healthcare represents a wide range of disciplines, all of which are experiencing rapid innovation. With government funding continuously under pressure, the investor's role is crucial and goes way beyond the idea of just making money. It's about feeding innovation and participating in the opportunity to transform our way of life.
Whenever new technologies impact an industry or sector, we typically expect productivity to increase over time and lead to lower levels of human involvement and a lower need for physical infrastructure. But with healthcare this doesn't appear to be the most likely outcome, at least not in the foreseeable future.
Medical innovation – opportunities or disruption

It doesn't take much time to come up with examples of innovation that have failed in the past, but for every one that has failed, plenty have succeeded or sparked further creative ideas. Disciplined research and specialist knowledge is essential, which is why we employ specialist managers to source investment opportunities for our clients – and there is no shortage to consider. Some of the key areas where we are likely to see growth are:
Robotics – robots will have a profound impact on surgery. They can improve the speed of procedures, avoid open surgery through being minimally invasive, are more cost effective when fully utilised and also decrease post-surgical issues such as infection. Robots will also have an impact on rehabilitation, the automation of pharmacy services and hospital hygiene.


Curing disease – cancer immunotherapy and gene therapy, which can be used to treat genetic diseases in babies and young children, are completely changing outcomes for patients. Research in these areas is rapidly bringing revolutionary treatments to the market.


Telehealth – accessing doctors over the internet is lowering costs per consultation and reducing the cost of infrastructure for medical practitioners. Seeing patients quickly, as opposed to them waiting for an appointment, is also driving increased participation – patients are less likely to put off an appointment.


Big data – anonymous data from patients' electronic records can be used to identify the best treatments and patient results. This is driving better clinical outcomes at a fraction of the cost of clinical trials.

Old problems, new solutions
As with many industries, innovation is not just required in the product but the way the product gets to market. Innovative distribution channels and business models have as much a part to play in the revolution of healthcare as the new medicines that can improve patient outcomes. The burgeoning field of telehealth discussed above is one example.
The factors that are driving problems in the healthcare sector – outlined below- are begging for new and innovative solutions. Companies that can offer flexible, lower-cost solutions should benefit greatly in this environment. Amazon's interest in disrupting healthcare – and the reaction that its entry into the sector caused – is a good reminder of how quickly things can change in a sector that's undergoing substantial technological change.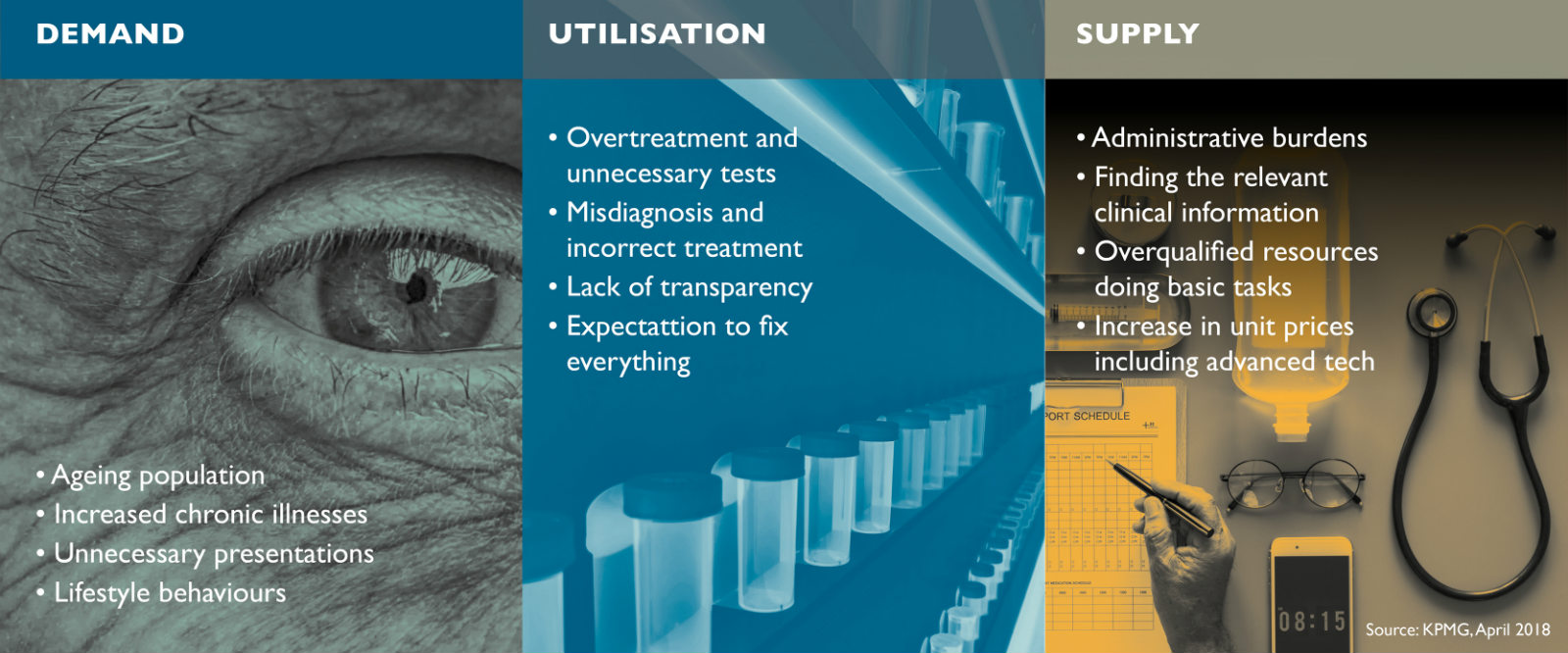 When Jeff Bezos, Amazon's CEO, explained his company's decision to enter the healthcare market, it was based on the idea that innovation, as brought by new entrants or existing competitors, was the sector's best chance to address its numerous challenges.
We will see if Amazon can do for health care what it did for the retail sector. And if not Amazon, then who will bring the 'killer app' that revolutionises the way we interact with health?

Back to A New Frontier
Key Takeaways
Innovation is significantly changing the landscape of the healthcare industry. We believe that this presents several key opportunities for growth, in areas such as robotics, immunotherapy, telehealth and big data. Healthcare remains one of our core investment themes which we access through specialist managers.
Coutts Investments
With unstinting focus on client objectives and capital preservation, Coutts Investments provide high-touch investment expertise that centres on diversified solutions and a service-led approach to portfolio management. Our investment process is as disciplined as it is creative – ensuring tailored solutions with robust results.
DISCOVER MORE ABOUT Coutts INVESTMENTS