An entrepreneur's adventure: Pip Jamieson
Summary
From David Blunkett adviser to LinkedIn disruptor, The Dots founder talks us through how and why she decided to connect a world of 'no-collar' professionals, creatives, entrepreneurs and freelancers.
3 min
read
In 2008, 37,000 feet in the air, Dizzee Rascal was headlining the 'MTV Mile-High Gig' on a flight from Auckland to Sydney – organised by then head of MTV Australia, Pip Jamieson.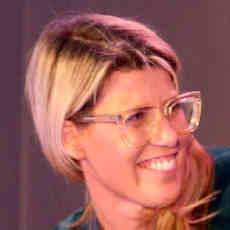 A decade on and the legacy of this event is not confined to Pip's memory but sits on her 'The Dots' profile – a professional network for those in the creative industries, which she launched in 2014.
Jobs for life? No thanks!
The decision to set up The Dots came while she was at MTV. With many of her peers moving into 'no CV' creative career paths – where their next project or job would come based on their portfolios – and struggling to book exciting new talent through LinkedIn, Pip felt there was a gap in the market for a networking site where creatives could shine.
"LinkedIn was designed around a very traditional, 'white-collar' workforce. But that's not how people are working these days," Pip explains. "People are constantly job-hopping, they're finding new careers, and it's just not the way work-life works anymore."
"The Dots are creatives, freelancers, entrepreneurs. They're people who are adopting more portfolio-based careers, creative careers, people who job-hop – and we are connecting them."
Pip herself is an example of someone who has jumped from the white-collar world into the creative. After "rebelling" against her music industry father by going on to university to study maths and economics, she went into the civil service, working for former Home Secretary David Blunkett.
It was in this white-collar role that Pip's passion for one of The Dots' unique qualities – real diversity and inclusivity – developed. She says, "I realised how a disability isn't necessarily a disability and how it was almost a superpower. We have to be more inclusive in order to bring the next David Blunketts into more workforces."
Become A Client
When you become a client of Coutts, you will be part of an exclusive network.
Read More
This is not a man's world
Four years after launching, The Dots now boasts hundreds of thousands of members, and clients including the BBC, M&C Saatchi and Google who use it to hire talent.

Pip recently secured £4 million of investment from advertising legend Sir John Hegarty. Developing a successful brand is challenging enough for any entrepreneur, but for Pip receiving investment was always set to be a greater task, with just over 2% of global venture capital going to female founders.
She says, "For the first month I was coming home to my husband every night crying on his shoulder. But my advice to any woman trying to get funding is to find a support network – whether men or women! There are some brilliant networks out there like Angel Academe who will back female founders at that earlier stage.
"There are also brilliant men in tech who are happy to give advice. In fact, due to the lack of females in senior tech positions, it's often easier to go to a man for mentoring. But it is tough for women – only 2% of women get to my stage."
Being dyslexic has further added to Pip's enthusiasm for helping businesses build diverse teams. One way Pip looks to tackle the issue of under-representation is through her team of curators who ensure that diversity is built-in to The Dots' community. Currently, over 62% are female, 31% BAME, and 16% LGBT. The Dots also supports socioeconomic diversity and neurodiversity to fuel a more balanced creative industry in the future.
The Dots does not allow hiring companies to search for candidates by university, to avoid specific searches for graduates from the likes of Oxford or Central Saint Martins. Pip wants a level playing field and for everyone to be judged on their work.
In contrast to LinkedIn, a person does not post their CV of jobs, but projects they have worked on, tagging anyone who worked on a different aspect of that project. This way, clients can hire full teams of creatives, not just individuals, and members get full credit for the work they've done.
For Pip, encouraging more people to work in the creative industries is a sensible preparation for the future of work: "It's one of those industries that's least susceptible to automation, and that's why I'm so passionate about looking after them," she explains.
"There are things machines don't do well: they don't have common sense, they don't have empathy, and they can't be creative. With The Dots I'm trying to democratise the creative industries, so anyone who is left behind when more jobs are automated can join the industry and get access to those opportunities."
First things first
Pip is someone who didn't set out in life to be an entrepreneur, but saw and exploited a gap in the market. Having done this successfully in The Dots' first four years – and with expansion on the horizon after visiting potential investors in Silicon Valley – what guidance can she provide to other entrepreneurial women ready to take on the big boys?
She says, "Firstly, get a product 'market fit', before investing in marketing. Many founders make the mistake of investing in marketing and PR too early, but the product needs to be right first.
"I think trusting your gut is often underestimated, particularly in technology. Don't rely on machines to make your decisions – humans input billions of pieces of information a day and this becomes gut feeling. We need to take advantage of that sophistication!
"Finally, hire positive people. You can't do everything, so as a founder you have to build and retain a world class team who can support you. When you have this network around you, you will always find solutions rather than new problems."
Find out how Coutts supports entrepreneurs and read our other Entrepreneur Month pieces on our insights page.
Key Takeaways
Entrepreneurs need to be ready to disrupt established spaces with big players. Pip Jamieson saw a gap in the market for a professional network for creatives who find new opportunities based on their portfolios rather than their CVs. Pip says you should look for a support network to get you through the difficult days, get your product right before you engage marketing, and trust your gut when you have a great idea.
About Coutts Entrepreneurs