ISAs: The little allowance with big potential
Summary
Are you ignoring one of the most straightforward tax allowances available to you?
3 min
read
One-third of people that earn over £150,000 a year don't take full advantage of their annual ISA allowance, according to HMRC research.

Whatever your wealth level, it makes good financial sense to use all of your tax-free allowances and Individual Savings Accounts (ISAs) are one of the most popular and straightforward.
There are several different types of ISA, but the simplest to use are the cash ISA and stocks and shares ISA. Each tax year you can set aside an amount up to the annual allowance and it will be free of UK tax on interest, dividends and capital gains.

Don't look a gift horse in the mouth
The 2017/2018 ISA allowance is £20,000. Making sure you use your allowance every year means that you could build up a substantial sum free of tax.
It's worth noting that the annual ISA allowance is likely to change in the future. It has risen since ISAs were introduced in 1999 and will stick at £20,000 in 2018/19, but future governments might decide to raise it further, reduce it or even remove it entirely.
For now though, let's assume it stays at its current level – what would your savings look like after 10 years of putting aside your full allowance?
It doesn't take a maths genius to figure out that saving £20,000 over 10 years would leave you with £200,000. But, this fails to take account of interest and investment returns, and this is where you need to think about which type of ISA you take out.
A cash ISA lets you put your money in a cash deposit account and earn tax-free interest. A typical cash ISA at Coutts currently pays 0.75% interest per year. This means that if you put aside £20,000 a year, the effects of annual interest would see your pot grow to about £208,000.
That's an additional £8,000 and you won't pay any of the UK Income Tax that you would normally have to pay on interest from savings outside an ISA. This also assumes that the underlying rate doesn't change over the period, although it is likely to fluctuate as the interest rate environment changes.
There are good reasons to keep your money in cash. Using a Coutts Cash ISA, for example, means you have instant access to your money, and it will keep its nominal value regardless of what happens in stock markets.

Make your ISA work harder
If you're looking for ways to grow the value of your wealth for the longer term, investing through a stocks and shares ISA provides the potential to do this and has the added benefit of protecting the gains you make from Income and Capital Gains Tax.
It's important to remember that investing in stocks and shares involves more risk than holding cash. The value of investments can go down as well as up, and you may not get back as much as you invest. Investment returns aren't regular or predictable and your own investment could be worth less – or more – than these calculations predict over these timelines.
Putting money in a stocks and shares ISA doesn't have to be time consuming. Many banks or investment companies provide an ISA option. Coutts Invest, for example, lets you invest via an ISA at the click of a button and gives you access to our investment expertise.
The total value of your ISA pot after 10 years depends on investment returns. A lower assumed rate of return of 3% would see you build up a reserve of £228,000. A middling return of 5% would see your ISA pot grow to £255,000. But a higher return of 7% per year could mean you accumulate £286,000. So after 10 years you could see an £86,000 gain, free of UK tax.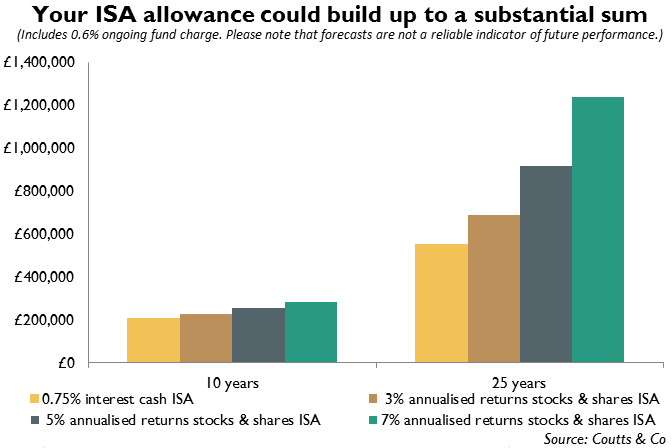 Become A Client
When you become a client of Coutts, you will be part of an exclusive network.

Read More
In the longer term, gains accumulate even more significantly.
After 25 years, A 3% return means your savings could be worth £690,000, a gain of £190,000 that you could realise free of UK tax. The middling 5% return would grow your investment to £918,000, while if you received a relatively strong annual return of 7%, you could have accumulated £1,235,000 in 25 years. That's a potential capital gain of £735,000 free of UK Capital Gains Tax and one that one-third of higher earners are ignoring.

How to spend it
ISAs can be a useful tool when planning for later life. A pension is the most efficient way to save for retirement because you can get tax relief on contributions. The options around how you can use your money from age 55 (57 from 2028) mean it should form the core of financial planning for later life.
However, there is a limit on the level of pension contributions that attract tax relief each year, and it tapers away quickly for those earning more than £150,000 a year. In addition, the lifetime allowance for pension pots now stands at £1m. Once you reach this level, pensions are much less attractive. Similarly, pension contributions don't attract tax relief after you turn 75.
While you don't get any tax relief on what you pay into an ISA, you can access the funds at any time, rather than having to wait until you reach a certain age, and there is no UK tax for taking the money out. There's also no cap on the amount you can hold in an ISA.
Whatever you choose to do, it makes sense to make the most of all your annual allowances. The end, and the beginning, of the tax year is the best time to think about what more you can do.
Coutts Invest is a straightforward way to use your annual ISA allowance. Just log in to your Coutts Online account and you can choose from a range of five multi-asset funds that offer lower to higher risk profiles reflecting the Coutts house view on asset classes and markets.

Important information
You can only subscribe to one stocks and shares ISA and one cash ISA in each tax year – and you can only put a total of £20,000 into your ISAs in the 2017/18 tax year.

Cash ISA available only for those aged 16 years or over and resident in the UK for tax purposes. Stocks and shares ISA available only for those aged 18 years or over and resident in the UK for tax purposes.

Coutts Invest only available for users of Coutts Online aged 18 years or over and resident in the UK for tax purposes.

Tax-free interest means that interest payable is exempt from UK income tax.

The above commentary is based on our understanding of current tax law, which is subject to change in the future. The availability and value of any tax reliefs will depend on your individual circumstances and you should obtain tax advice before making any decisions.
Key Takeaways
Using your tax-free allowances every year should be a standard part of your financial planning. An Individual Savings Account (ISA) lets you put aside up to £20,000 a year with any gains free from UK Income or Capital Gains tax. This can build up quickly letting you accumulate a substantial tax-free gain in the long term.

About Coutts Investments
With unstinting focus on client objectives and capital preservation, Coutts Investments provide high-touch investment expertise that centres on diversified solutions and a service-led approach to portfolio management. Our investment process is as disciplined as it is creative – ensuring tailored solutions with robust results.
Discover More About Coutts Investments