Another fine season for corporate earnings
Summary
While recent market falls are unnerving for investors, strong corporate earnings in Q4 2017, and the prospect of improved results in 2018, continue to support a positive long-term trend for equities.
3 min
read
Companies have started to report their earnings for the final quarter of 2017. Company earnings are very important for investors, and one of the variables we consider when making investment decisions. Profitable companies with high earnings are a good thing, obviously, but investors will also be looking to see how companies have performed compared to their forecasts earlier in the year.
This can provide an insight into companies that are over or undervalued. Companies that surprise investors with higher than expected profits will usually see their share price rise. Companies that disappoint investors can expect to see their share price fall. Taken together, the general direction of earnings provides investors with an insight into the direction of markets in the future.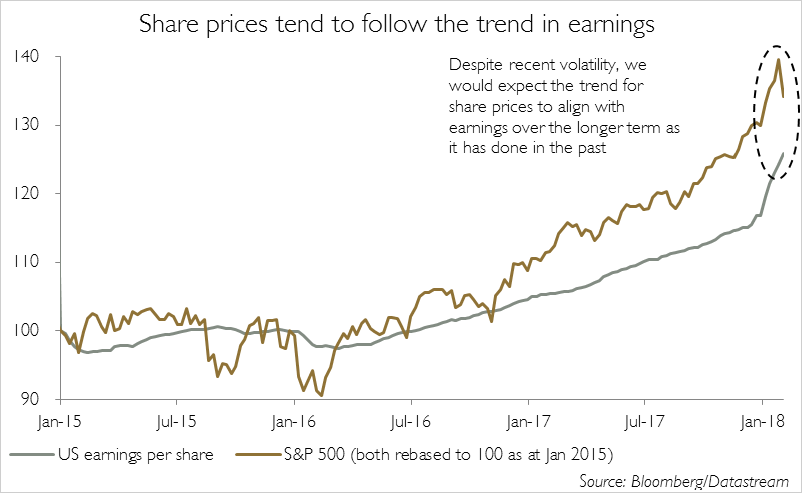 Become A Client
When you become a client of Coutts, you will be part of an exclusive network.

Read More
Tax windfall boosts US forecasts for 2018…
The US typically starts reporting ahead of the UK and Europe, and initial indications are that US company profits were strong in the last three months of 2017. By the end of January around a third of S&P 500 companies had reported average year-on-year earnings growth of 13%. A relatively high proportion of companies have beaten analyst expectations – 80% compared with a typical level of around 65%.
This earnings season is also the first opportunity for US companies to outline how President Trump's Tax Cuts and Jobs Act (the Tax Act) is likely to affect earnings in 2018. Up until now, many analysts had delayed updating profit forecasts because they did not know what companies were going to do with these tax windfalls.
Now that companies are quantifying how the tax cut will affect their bottom line, expectations for earnings in 2018 are rising strongly. To put this into perspective, these forecasts are now approaching 19% – that is, they expect earnings in 2018 to be 19% higher than in 2017.
At the beginning of the year, this figure was only around 11%. So there has been a substantial upward move in earnings growth estimates for 2018 because of the tax reforms.

… but cut both ways for Financials
The reported earnings for America's largest banks have all been affected by recent changes to the country's tax laws. Losses incurred during the financial crisis mean that they carry deferred tax assets on their balance sheets and use these to offset taxable income in the future. The cut in US corporate tax rates means that these deferred tax assets are now worth less.
This fall in value of deferred tax rights has had to be reported as an accounting charge against Q4 profits, leading to some big reported losses among US banks. However, they will benefit from the tax cuts in 2018 in the same way as other companies.
Despite this, and a weak quarter for trading revenues due to the low levels of volatility in fixed income and equity markets over 2017, results in the financial sector are generally reassuring.

Tech giants loom large
The technology sector continues to be one of the main sources of concern about stretched valuations, with most of the attention focused on the US giants – Apple, Alphabet (Google's parent), Microsoft, Amazon and Facebook. Yet all these companies posted excellent fourth quarter numbers as they race to become America's first $1tn company by market value.
Apple announced the most profitable three months in corporate history (a record it already held) thanks to the popularity of its new iPhone. The company posted quarterly revenue of $88.3bn, an increase of 13% from the same quarter last year. Meanwhile, Amazon announced that fourth-quarter sales rose by 38% year-on-year, to $60.5bn.
Technology earnings are expected to grow more than the global averages in both 2018 and 2019, and it remains one of our favoured investment themes.

Early signs from Europe slightly ahead of expectations
It is very early in terms of the European and UK reporting schedule. So far, just 15% of companies from the EuroStoxx 600 benchmark, which represents large, mid and small-cap companies across 18 countries in Europe, have reported earnings (72 out of a scheduled 527 announcements). This index includes around 150 UK listed companies.
Initial indications show a slightly better than expected trend in earnings performance but some softening of revenues. Nonetheless, consensus forecasts for both top-line growth and earnings progress in 2018 continue to nudge higher. Growth expectations are 5% for 2017 and 9.4% for 2018.
So far, more earnings surprises have been seen in the Oil & Gas, Consumer Services, Basic Materials and Technology sectors. Conversely, a higher proportion of misses (earnings below expectations) have been seen in Telecoms and Industrials. These trends could easily change, though, as no single sector has seen more than one-third of the anticipated announcements.

Positive signs for 2018
Given market volatility in the last week, there are concerns that a deep market correction is imminent. Some are drawing comparisons with the late 1990s, and this week's volatility has further spooked investors.
However, during the dotcom boom, some firms were trading on eye-watering valuations even though they had never made a profit or, in some cases, realised any material revenue whatsoever. Despite a very strong run through 2017, today's valuations are not nearly as stretched as they were back in 2000. Importantly, they reflect solid profits and optimistic sales forecasts, as illustrated by the trends in earnings.
Company earnings are a key insight into the health of individual companies and the corporate world as a whole. So far, with about 66% of announcements released in the US and about 15% in Europe, the last quarter of 2017 was very strong. Furthermore, the tax cuts announced for 2018 have led to upwards revisions for earnings in the year ahead. This all suggests ongoing strength for equities.

About Coutts investments
With unstinting focus on client objectives and capital preservation, Coutts Investments provide high-touch investment expertise that centres on diversified solutions and a service-led approach to portfolio management.
Discover more about Coutts investments