While short-term volatility looks likely, in our view the long-term investment picture remains the same
A bolt from the blue
The Conservative Prime Minister Theresa May has announced that she will table a motion in Parliament to call an early general election for June 8. While May had previously denied the possibility of an early poll, it would appear that she and the Cabinet have decided that this is a good time to seek a formal mandate for the substantial changes that Brexit will require.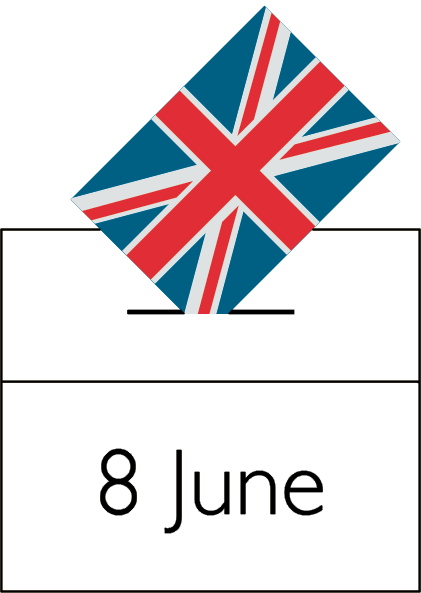 The Fixed-Term Parliament Act requires a two-thirds majority in favour of the decision to call the election. Labour party leader Jeremy Corbyn has previously indicated that he would instruct the 229 Labour MPs to support such a motion if it was put to Parliament.
It seems, therefore, that the race is on.
Sterling jumps, FTSE100 falls on the news
Rumours earlier in the day that May could be preparing to resign saw sterling wobble, reaching a low of £1.25. But in the wake of the announcement sterling made a recovery, reaching £1.26 at the time of writing. This suggests that markets are comfortable with the idea of an election, but is also perhaps an indication of relief that there won't be further instability at the top of the ruling Conservative party rather than an endorsement of the idea of an election itself.
The other immediate movement was seen in the FTSE100, which lost some ground. As we've previously noted, the FTSE100 is sensitive to changes in the value of sterling. Many of its constituents have international businesses that benefitted as the value of their non-sterling business was boosted by the falling pound after the EU Referendum last June. As sterling recovers, these gains are reducing and this is being reflected in their share price.
Longer-term implications
As we have seen from last year's referendum result and the surprise election of President Donald Trump, the effect of politics on investments can be very unpredictable. And that is without considering the difficulties involved in attempting to anticipate any particular result of an election or referendum. As long-term investors, we are focused more on the larger long-term picture than the short-term volatility that the snap election announcement is likely to produce.
We remain positive that the global economic environment will continue to support equities and other risk assets. Recent economic data suggests that the world economy continues to grow at a reasonable pace and that global sentiment is upbeat. Corporate earnings growth in Q4 2016 was fuelled largely from improvements in the top-line, meaning that growth came from higher sales rather than cost-cutting. Central banks in the developed world also remain supportive for businesses, seeking to gradually foster increased economic growth before reducing the scale of quantitative easing or raising interest rates.
As we have seen from last year's referendum result and the surprise election of President Donald Trump, the effect of politics on investments can be very unpredictable.
The next few weeks could see some market froth stirred up by the cut and thrust of electoral campaigning, but we will be standing by our investment principles. We will continue to look to the macroeconomic data to inform long-term investment decisions rather than try and time the markets based on ephemeral market sentiment. And we'll be watching for any buying opportunities that the volatility opens up, taking a contrarian view where we see value.
As we've seen in the last 12 months, the best response to short-term unpredictable events is to stick with your well researched and informed convictions. Coutts will continue to follow its disciplined and structured approach to investing as the nation prepares to go to the polls in June and we will provide regular updates to our clients along the way.
Philanthropy
Insight
Coutts Institute

28 Apr 2017

Philanthropy can be the 'risk capital' or 'creative capital' that society depends upon to fund innovative solutions to pressing social or environmental issues. In our Million Dollar Donors Report, interviewees shared their insights on their attitudes towards risk and why taking informed risks is a key to their success.

General news
News
Coutts Investments

26 Apr 2017

Coutts explores the investment opportunities offered by Europe's smaller companies sector, which offers attractive valuations.

Coutts
Proposition
News
Banking

25 Apr 2017

Professionals working long hours in the City often find they have no time to manage their own finances.