Weekly Investment Update
Summary
In this week's investment update, Sven Balzer explains why we continue to favour European equities.
3 min
read
As European equities continue to rally in 2017, Sven Balzer analyses the economic and financial backdrop and explains why it's an area which, despite increasing valuations, is preferred over other asset classes.
Become A Client
When you become a client of Coutts, you will be part of an exclusive network.
Read More
Our Key Messages This Week are:
Political noise fails to startle markets
In an altogether quiet week the news flow was dominated by political events such as the start of the Brexit negotiations, the Queen's speech and the victory of French President Macron in the parliamentary election. None moved markets significantly. Comments from members of the Bank of England's Monetary Policy Committee caused some limited fluctuations in the sterling exchange rate. Commodities fell as the oil price remained subdued and there were further price falls in the energy sector, but we have limited exposure in portfolios.
Europe remains attractive despite higher valuations
Taking a closer look at the European economic area, the flow of good news continued this quarter with a healthy mix of reasonable growth, falling unemployment and low core inflation. Numerous indicators are at multi-year highs and investor confidence soared after political risks failed to crystallise. The money-flow into European assets has picked up and since the start of the year the MSCI Europe index has gained 7%.
Europe's recovery is broad and synchronised across countries and economic sectors, under-pinned by ECB actions and supportive financial conditions. Hard data suggests that the second quarter GDP growth will be at around 2%. A key driver of the increase in activity since last summer is the general pick-up in the global manufacturing cycle.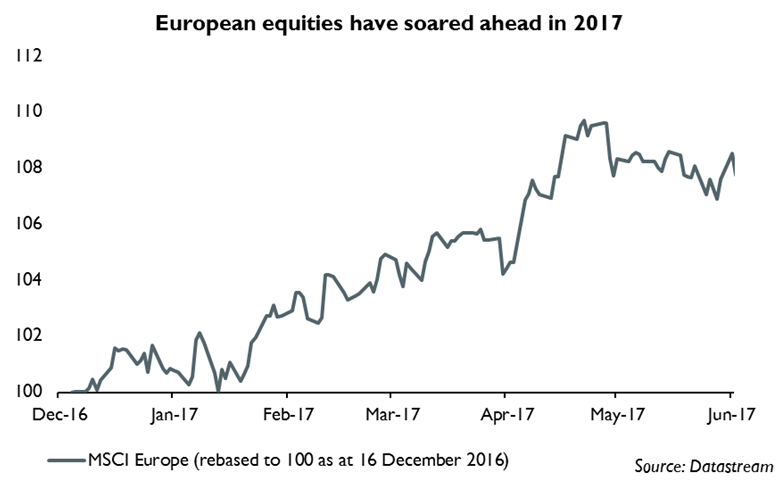 However, absolute valuations show that European equities are no longer cheap. Europe's median price-earnings ratio is close to 20x. Despite this, unless bond yields rise sharply or growth collapses equities still look like good value next to bonds.
Looking ahead, political risk remains a key threat for Europe. The German election shouldn't be a source of concern, , but the Italian election, which will have to take place by May 2018, could see upsets if populist, anti-EU factions gain momentum. A negative growth surprise in China could also cause headaches for Europe.
Economic cycle turns in Europe's favour
The economic and financial backdrop for European equities remains largely favourable despite some remaining political risk. The European economic area is at an earlier stage in the economic cycle than the US and the UK which should bring further good news for the region. As a result, we currently hold an overweight position in European equities in a typical TPS or CMAF balanced portfolio.
Coutts Investments
With unstinting focus on client objectives and capital preservation, Coutts Investments provide high-touch investment expertise that centres on diversified solutions and a service-led approach to portfolio management. Our investment process is as disciplined as it is creative – ensuring tailored solutions with robust results.
DISCOVER MORE ABOUT Coutts INVESTMENTS