Trump's pro-growth policies seem popular with investors, but other plans may see tensions rise as America's 45th President takes office on Friday.
Trump takes office: globalisation takes a hit
Donald Trump will be sworn into office as the 45th President of the United States this Friday, culminating one of last year's major political surprises. Investors seem to be pleased so far with his pro-growth policies, but other aspects of his first '100-day plan' may see tensions rising.
With the UK having voted for Brexit and the US electing Trump, all assumptions about how the global political landscape will evolve now look open to challenge. These developments seem to reflect a shift in popular opinion away from globalisation, a sentiment America's next President appears to have tapped into in his short political career so far.
Although a lot of the detail has yet to emerge on the policies he plans to implement, Trump's election campaign promised to 'make America great again' by bringing jobs back to the US and by making US businesses more profitable. This was a clear push back against decades of globalisation.
Has globalisation passed its peak?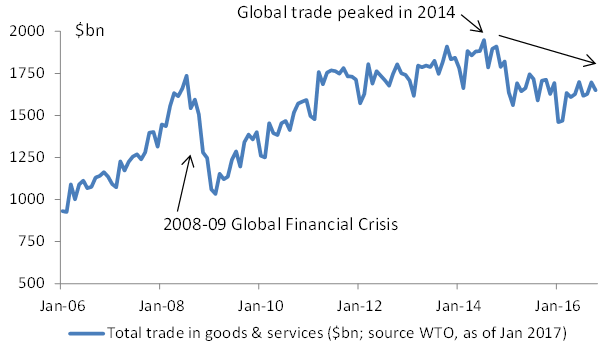 What this means for US companies is uncertain - for example, will the global influence of the likes of Apple and Facebook be eroded?
In recent speeches, the president-elect has outlined an ambitious plan for his first 100 days in office, which begins with his inauguration on Friday. Among his plans from day one in office:
Issue a note of intent to withdraw from the Trans Pacific Partnership trade deal
Label China a "currency manipulator" and begin work on a number of other measures aimed at combatting perceived "foreign trading abuses"
Begin work on lifting restrictions and regulations in the energy industry, such as those limiting 'fracking' and shale gas exploration
Begin the process of removing 'criminal illegal immigrants' from the US and suspending immigration from 'terror prone regions' where vetting cannot safely occur
What President Trump means for investors
Markets have so far reacted positively to Trump's pro-growth economic policies – especially his plans to cut taxes for individuals and businesses, and to ramp up spending on infrastructure. But some of the initiatives in the 100-day plan may have the potential to slow global trade and growth, and increase geopolitical tensions.
One risk for the US economy is that any trade wars that Trump initiates could spur other world powers, such as China, to grab trade opportunities ceded by the US and expand their influence around the world.
The new President will have a clearer mandate than expected, with the Republicans having secured a majority in both houses of Congress. However, many Republicans are likely to oppose some of Trump's policies, which may limit the scope for the new President to enact major changes.

For our clients, this means that having their wealth managed by an experienced team of investment professionals is more important than before. Knowing that Coutts has a disciplined and repeatable investment process along with robust investment principles can provide comfort in times of volatility and access to opportunities as they arise.
For more on our views on what President Trump could mean for investors, see our 23 December Insights article Deciphering Trump. We will be providing further updates in the weeks ahead as we keep an eye on the developments from Trump's first 100 days in office.
Fraud
Innovation
Technology
Banking
Banking
UK

19 Mar 2020

With scammers attempting to cash in on coronavirus by pretending to be from HMRC offering tax refunds, here's a helpful reminder of our tips for tackling fraud.

Insight
Investments
Pension
Coutts Invest
Financial Services
PPF

19 Feb 2020

Transferring your pension to a different provider could add thousands to the money you put aside for later in life.

Insight
Digital
Technology
Investments
Banking
Brexit

30 Jan 2020

How to keep your money safe from fraud