The Inflation Wolf In Sheep's Clothing
Summary
The Bank of England predicts low long-term inflation, but this doesn't reflect price pressures on all consumers
3 min
read
Coutts portfolios are positioned to reflect our view that inflation will remain low in the long term. But for consumers, low headline inflation doesn't necessarily reflect inflationary pressures that they'll face on their spending power.

Headline inflation is important for investors as an indicator of the health of the economy. The Bank of England's Quarterly Inflation Report, released last week, provides vital insight on inflationary trends and the opinions of bank governors on the forces behind them.
For consumers, the rate of inflation is a less reliable measure of changes in their spending power than might be imagined. As we found when compiling the Coutts Luxury Price Index, depending on your spending patterns you may be facing higher inflationary pressures than you realise.

Become A Client
When you become a client of Coutts, you will be part of an exclusive network.

Read More
The longer view of inflation
The Bank of England's latest predictions for inflation are typically broad. Fan charts reproduced in its inflation report show a 90% probability of it ending up in the zero to 5% range in two years' time, compared with their the target rate of 2%.
Inflation has been drifting up recently, largely due to rises in import prices and costs caused by sterling depreciation after the EU referendum last year. At Coutts, we believe inflation will peak soon and expect it to fall from late this year, as the effect of sterling depreciation begins to fall out of the numbers.
In the long term, UK inflation looks remarkably tame. Since 2002, core inflation – which excludes the effects of food and energy, and is therefore considered a better measure of long-term inflationary trends – has varied between a low of 0.7% (early in 2015, after oil prices plunged) and a high of 3.7% (early in 2011, after the 2007-09 crash in sterling). The overall average is 1.7%. Headline inflation has jumped around more than this, due to erratic food and energy prices, but has also moved broadly sideways.
We expect these trends to continue. Headline and core inflation will vary but won't move far from the Bank of England's 2% target in the long run, and we are not especially worried about either run-away inflation or risks of deflation. For the last 20 years or so the global economic environment has been broadly disinflationary, and core inflation in the G7 (the seven largest developed economies) has mostly moved in a tight range between 1.3% and 1.8%.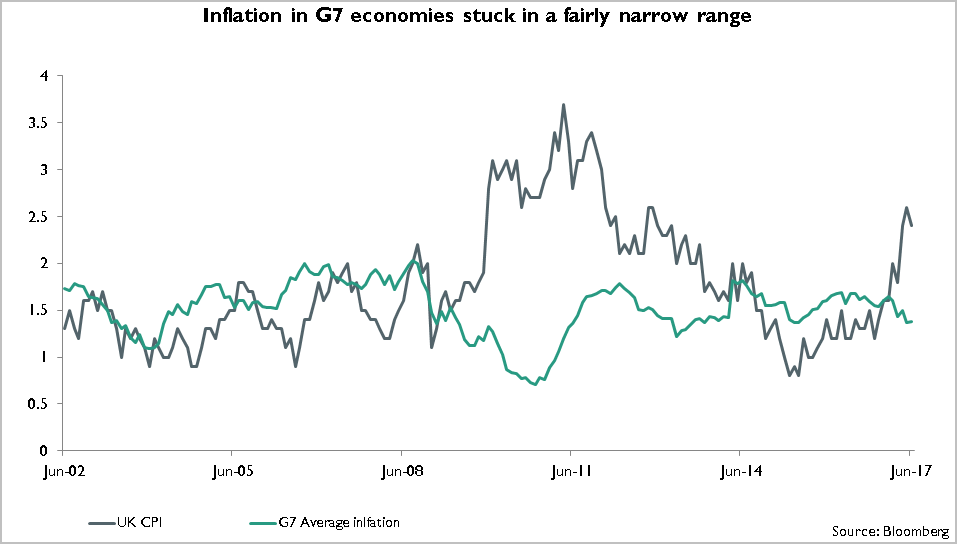 Various forces are acting to keep inflation low. Imports from emerging markets are keeping a lid on goods prices everywhere, while the online market place facilitates price competition between firms worldwide, helping consumers find the lowest prices.
Moreover, policymakers understand inflation better than they used to and are better positioned to nip it in the bud. The political will to encourage the type of economic growth that would fuel inflation is tempered by the electoral power of older voters. This demographic doesn't like inflation: they tend to be savers rather than spenders as they prepare for retirement and need to maintain the spending power of their pension pots and – later – retirement incomes, particularly while interest rates remain so low. Any party seen as responsible for higher inflation will be punished by this powerful electoral demographic, and this motivates governments to set policy accordingly.
In our view, the combination of these factors, plus sluggish domestic wage growth, makes it very unlikely that we will see a return to a 1970s-type wage-price spiral in the UK.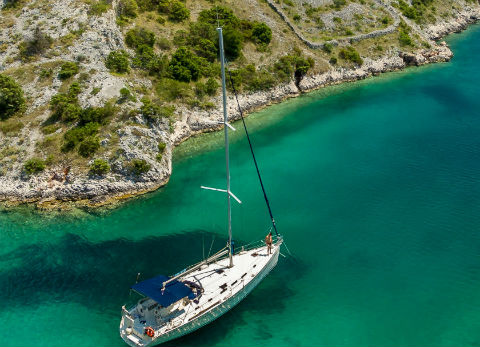 Coutts Luxury Price Index
The Coutts Luxury Price Index gives a meticulously researched, accurate measure of the effects of inflation on high-end items and experiences.
The hidden costs of living
One area where inflation is far more of a problem is luxury goods. Over the 12 months to May 2017, the Coutts Luxury Price Index (CLPI) – a unique measure of inflation of luxury goods - rose by 6.2% - more than double the CPI's 2.9% in the same period.
This is because the inputs on inflation in luxury goods are very different from the basket of goods reviewed for the CPI. Luxury items are in generally short supply by their very nature and this exacerbates problems of supply and demand.
Weak sterling, for example, has increased demand for high-end accommodation and dining in the UK. These sectors typically have a more international clientele, for whom the currency move has made prices relatively cheap. In reaction, prices have risen as companies seek to capitalise on the increased demand from overseas, and while they have become more expensive in sterling terms, they still represent good value for consumers using other currencies.
In addition, many luxury products are imported, particularly the very latest consumer electronics, and even those manufactured in the UK are dependent on materials imported from overseas.
Coutts clients are typically high consumers of luxury goods, and are more likely to feel the pressure of rises in luxury goods prices. But even general consumers who perhaps like to treat themselves now and then could be facing higher inflation than the headline figure implies.
Key Takeaways
The Bank of England's Quarterly Inflation Report indicates that headline inflation is likely to remain low for some time. While this may seem like good news for consumers, price rises of items not included in the 'basket of goods' used to measure inflation means the real level of inflationary pressure on consumers might be higher than the headline rate indicates.

About Coutts investments
With unstinting focus on client objectives and capital preservation, Coutts Investments provide high-touch investment expertise that centres on diversified solutions and a service-led approach to portfolio management.
Discover more about Coutts investments