Despite market volatility at the beginning of the year, Coutts investments have performed well in 2016. While a number of situational factors worked in our favour, the biggest contributor to investment performance last year was sticking to our investment principles.
Riding out early market turbulence
Equity markets endured a disappointing start to 2016. Tumbling oil prices and concerns over a China-led global recession led to indiscriminate selling of virtually all assets apart from major government bonds, as investors fled to perceived safety.
Coutts investment mandates were skewed in favour of equities as the year began, and performance suffered in the early months as a consequence. Between the start of the year and the middle of February, a typical balanced portfolio fell 6.2% as the sell off continued.
However, despite the bad news, we stuck to our view that the environment favoured risk assets. Indeed, as markets fell we saw this as a buying opportunity and added to our holdings in our favoured equity markets, Europe and Japan. At the same time, we reduced holdings of government bonds and added corporate debt, where we felt that investors were putting too much emphasis on the chance of global recession .
Equity markets bounced back starting in the middle of February, and our investments, which were relatively low on cash and high in equities, outperformed. By the end of March, a typical balanced portfolio had grown by 0.8% compared to an average fall of 0.1% in the peer group.
This was an excellent demonstration of how sticking to our investment principles can provide a better returns for our clients. In addition our typically contrarian approach – adding to out-of-favour assets based on good value – proved a sound tactic.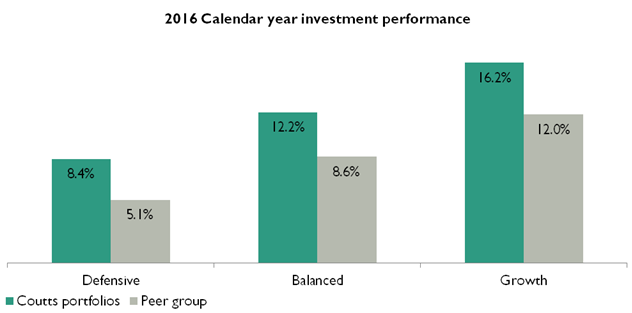 Source: Coutts/ARC PCI
Based on the composite performance of Coutts Tailored Portfolio service sterling denominated portfolios invested in three core strategies. ARC peer group data represents consolidated performance of similar investment strategies sourced from over 50 discretionary private client portfolio managers; ARC PCI data for the latest 1 month, and therefore the year, is their estimates.
Past performance should not be taken as a guide to future performance. The value of investments, and the income from them, can go down as well as up, and you may not recover the amount of your original investment.
Taking profits and reducing risk
As the rally wound down, we took profits from our equity holdings, adding to our cash reserves. By the middle of the year, as the UK electorate prepared to vote in the referendum on whether to remain or leave the European Union, a typical balanced portfolio held 7% in cash. This was a substantial increase on six months before – when our cash position was 0.5% – representing a significant de-risking.
The result of the referendum came as a surprise to many investors and the immediate aftermath saw three major dislocations in UK markets as the FTSE 100, commercial property and sterling all fell sharply.
The FTSE 100 quickly recovered lost ground, and was soon heading higher than its pre-referendum high. Commercial property saw substantial falls – the FTSE 350 Real Estate Index fell by 23% in the days after the result was announced – and many funds 'gated' to prevent a rash of redemptions in the illiquid world of real estate. Both of these asset classes bounced back within a couple of months of the referendum result – with the FTSE 100 ending the year 11% above its pre-referendum high – but sterling remained resolutely low. A roller coaster year saw it fall to $1.21 – its lowest level against the dollar since the 1980s – and €1.10 from pre-referendum levels of $1.48 and €1.30.
However, it was the low sterling rate that helped to bolster FTSE 100, as the globally focused companies that make up the index benefitted from international returns being boosted by cheap sterling. Coutts portfolios also had a significant amount of global equity exposure in denominated in US dollars, and this saw returns boosted by the sterling weakness. Over the year, for example, the S&P 500 return of 12% in US dollars became 33.6% for sterling investors thanks to effect of the weak sterling. This helped the average balanced portfolio deliver performance of 5.8% in Q3, against a peer group average of 4.9%.
Lower for longer – rates in 2016
Towards the end of 2015, most commentators expected the December rate rise by the US Federal Reserve (Fed) to be a signal for rates and inflation to begin climbing back to something closer to the levels seen before the financial crisis.
At that time, the Fed itself was predicting interest rates of 1% or above by the end of 2016, implying at least two more rises over the year. As it turned out, however, the Fed drew back from further rate rises, particularly after the sell offs seen in January and February, before finally raising rates in during its mid-December meeting.
Outside of the US, the hawks stayed firmly on their perches. The Bank of England and European Central Bank actually reduced rates in 2016 and increased their programmes of bond repurchases (also known as quantitative easing).
We continued to favour equities over bonds throughout 2016, and our underweight to government bonds in particular proved beneficial as yields rose (prices fell) in the second half of the year. While the Fed rate looks likely to rise in 2017, a question mark hangs over other developed market rates. Even in the US, as shown by 2016's lack of action, the extent of potential rises is by no means guaranteed. While the Fed itself has forecast three rises through the year, Fed chair Janet Yellen has always acknowledged that events may lead to changes in this programme.
Set for reflation in 2017
By the end of the year, a typical Coutts balanced portfolio had grown by 12.2%, compared to peer average performance of 8.6%.
As we head into 2017, Coutts investments are positioned to take advantage of what we see as an environment of rising inflation in developed markets and for rate rises to return to central banks' agendas. We favour risk assets – equities, being selective in corporate bonds (like high yield) – over safe haven assets such as government bonds, gold and cash. The latter still have an important part to play in our investment strategy, but given the meagre returns offered by government bonds, we have looked for other ways to diversify portfolios. For example, we have taken positions in absolute return and dividend income strategies in recent months.
Whatever changing markets may bring in 2017, we will once again be relying on our investment principles to guide our decisions. Ensuring we run diversified portfolios, with asset allocations based on our understanding of underlying macro-economic trends, and having the patience to give our judgement room to come to fruition served us well in 2016. We believe they will continue to do so as 2017 unfolds.

Values in percentage
12-month investment performance to the end of the last quarter
Dec11 Dec-12
Dec-12 Dec-13
Dec-13 Dec-14
Dec-14 Dec-15
Dec-15 Dec-16
Defensive strategy composite
5.2
2.7
6.4
0.8
8.4
Government bonds
2.7
-3.9
13.9
0.6
10.1
ARC Cautious Private Client Index
5.8
5.0
4.0
1.3
5.1
Balanced strategy composite
6.4
8.8
5.5
1.3
12.2
FTSE 100
10.0
18.7
0.7
-1.3
19.1
ARC Balanced Private Client Index
7.7
9.2
4.5
1.9
8.6
Growth strategy composite
7.7
12.3
4.7
1.4
16.2
FTSE 100
10.0
18.7
0.7
-1.3
19.1
ARC Steady growth Private Client Index
8.9
12.5
4.7
2.3
12.0
03 Apr 2020

In the second of our articles on what impact the coronavirus might have on the economy, investments and business, Alan Higgins, Coutts UK chief investment officer, considers how a sudden rise in the use of telemedicine, robots and AI could shift consumer behaviour.

Insight
Trust
Philanthropy
Family
Charity

03 Apr 2020

If you'd like to use your extra time at home during the coronavirus lockdown to support people and causes impacted by the pandemic, our philanthropy team has some useful suggestions.

Entertainment
Concierge
Culture
Arts
Comedy
Lifestyle
Insight

31 Mar 2020

From the 80 best novels of all time to the 70 best films of all time, read our handy guides to help you get through the coronavirus outbreak.