Oil prices rose after OPEC agreed production cuts last year, but have fallen again more recently over concerns about oversupply and high inventories.
A SLIPPERY ASSET
Oil prices have not had a smooth ride over the past few months. As a result investors can find it challenging to second-guess whether they should like it or loathe it. It all started at the end of 2016, when members of the Organization of the Petroleum Exporting Countries (OPEC) agreed to the first cut in oil production in eight years after months of haggling.
The cartel also reached a deal with Russia and other non-OPEC states to curb output. This policy was intended to reverse a two-year slump in global oil prices that has dramatically eroded their earnings. Generally, investors were happy with this upward shift in the oil price, especially equity holders of oil companies and oil-producing markets.
In response, oil prices surged with Brent crude (an important benchmark) rising above $55 a barrel for the first time in more than a year, contrasting sharply with the start of 2016 when it had fallen below $30. The price rise also helped to push up the rate of inflation across the developed world, relieving pressure on fears of deflation hanging over the global economy.
To the disappointment of investors holding oil-related investment assets, prices have dipped lower again on renewed fears of oversupply and news of an increase in the amount of oil in storage, erasing almost all the gains made since OPEC announced its cuts. Despite declaring that it is committed to stabilising the global oil market, a surprise output jump from Saudi Arabia, OPEC's biggest member, has put further pressure on prices.
PLENTY IN RESERVE
Notably, oil inventories are near record levels in the US, which is weighing on prices and frustrating attempts by OPEC to prop up the market. These stockpiles largely explain why crude prices suddenly dropped, with West Texas Intermediate (another benchmark, focused on US oil production) falling back below $50 a barrel in the first half of March.
When OPEC agreed to a production cut last year, investors were encouraged to buy oil, pushing prices higher. US shale oil and gas producers then increased production to take advantage of higher prices. Meanwhile, in the months before cutting output, OPEC had increased production, which is now being delivered into US ports and put into storage.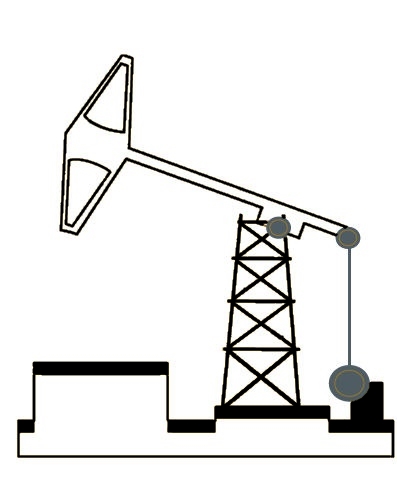 The level of inventories is linked closely to the pricing of futures contracts in oil. A futures contract is an agreement to buy an asset at some point in the future at a pre-agreed price. These agreements are an asset class in themselves, and can rise and fall in value as the price of the underlying asset changes.
OPEC had aimed to rebalance supply and demand by the middle of 2017 to lower the prices of long-term oil futures relative to the short-term. This would encourage markets to buy oil and use it rather than store it. This strategy worked for a while, but since the US released its inventory data, the opposite has happened, and long-term futures are currently worth more than the short-term. This means that it's more worthwhile for investors to buy oil and store it than use it for industry and thus reduce inventories. Oil prices are likely to continue to fall if inventory levels remain high, which may encourage OPEC to extend its output cuts.
A VOLATILE MARKET
While the build-up of US crude supplies has fed concerns that the oil glut will not ease soon, tensions among OPEC members are already running high. Saudi Arabia's energy minister Khalid al-Falih has suggested that production cuts are not guaranteed to carry on into the second half of the year, something investors and markets seemed to have taken for granted.
OPEC meets again in May, which could provide some clarity. However, further potential for volatility could come from announcements on energy policy from the Trump administration.
OPEC's deliberate efforts to push up oil prices will depend on how strictly its members stick to the agreement to cut production, which is something they haven't always done in the past.

President Trump has promised to roll back energy regulations as part of his plans to boost the US economy. Potentially this could increase US oil production and lead to a further decline in prices. However, as he is discovering with his attempts to repeal Obamacare, the reality is that the strength of the country's political institutions can have a restraining effect on policymaking. His energy policy plans could be frustrated by political forces in individual states, which largely regulate oil and gas production.
WHO GAINS AS OIL PRICES FALL?
History suggests that a sustained fall in oil prices would hurt the economies of producers more than it would benefit consumers. This would be bad news for Russia, which has been struggling with recession, and countries in Latin America, such as Venezuela, whose economies depend on oil exports.
OPEC's deliberate efforts to push up oil prices will depend on how strictly its members stick to the agreement to cut production, which is something they haven't always done in the past. Meanwhile, demand is likely to remain buoyant with all major regions around the world now expanding at the same time. Consensus forecasts are that oil prices will pick up steadily over the next few years but expect periods of volatility along the way.

Notably, oil inventories are near record levels in the US, which is weighing on prices and frustrating attempts by OPEC to prop up the market.

The Coutts view is that we favour some of the oil-producing countries and have exposure within our investment portfolios to their equity and debt markets because of strong fundamentals. We also have some exposure to Master Limited Partnerships (often known as MLPs), companies that manage the distribution network for oil. These are less sensitive to oil prices and more reliant on volumes for earnings.

So while we are 'neutral' on oil we maintain a slight overweight bias. We are aware of the volatility of the price of the underlying commodity but continue to like well-managed companies operating in the energy industry.

Markets
Insight
Investments
Brexit

10 Dec 2018

The US mid-term elections and Brexit dominated the news in November but we think changes in the macro-economic environment are more important to investors.

Tax
Europe
US
Economy
Investments
Trends
Energy
Interest Rates
Trump
Commodities
Insight
London
Politics
Dollar
UK

03 Dec 2018

Oil prices are down by one-third since the highs of October. While it may mean cheaper petrol at the pump, what does it mean for your investments?

Entertainment
Economy
Investments
Banking
Travel
Commercial
Media
Loyalty
Hotels
Dining
Property
Insight
London
Restaurant
UK

28 Nov 2018

The rising price of a private education comes under the spotlight in the latest Coutts Luxury Price Index.