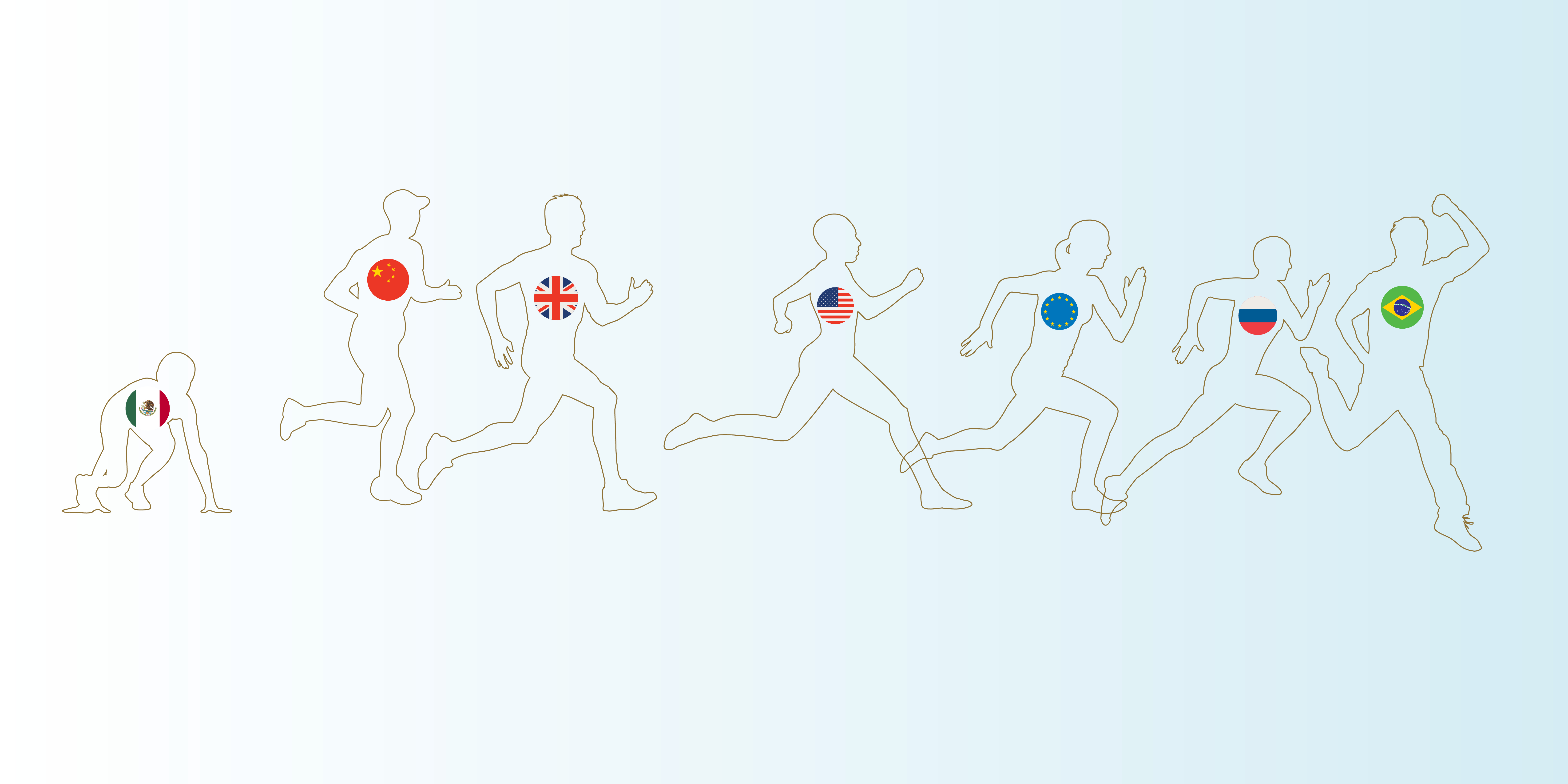 Mid-Year Outlook 2017 | Keeping Pace With Change
We anticipate a world of change and opportunity as we look ahead to the second half of the year
15 min
read
The first half of the year has delivered yet another surprise. As we saw in 2016, election results can be hard to call, and this hasn't changed in 2017.
The outcome of polls in Holland and France seemed to promise a retreat from political instability in the spring. Then in April the UK government announced a snap general election, and in June the electorate unexpectedly delivered a hung parliament, weakening sterling and knocking confidence in the UK economy. In the meantime, across the Atlantic, President Donald Trump's failure to put key policies in place threatens to send the so-called 'Trump trade' into retreat.
Staying on course despite the politics
Throughout these events we have kept to our investment principles and seen solid investment performance over the year to date. This has put our portfolios in the top 25% of their peer group over the period.
However, we prefer to be judged on our longer-term returns rather than just the positive moves we've seen this year. For that reason, it's particularly gratifying to see our investment performance doing well over three and five years as well.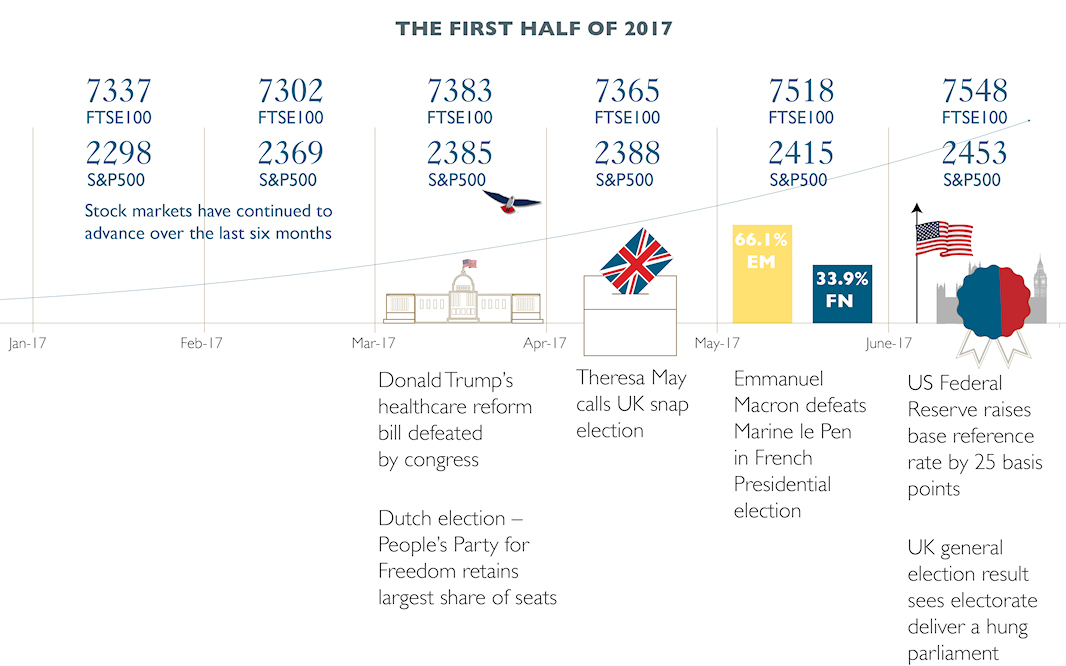 Opportunities in a riskier world
As we look ahead we see a stable global economy underpinned by growth in the US that will continue to support equities and other risk assets over bonds. The investment themes we set out at the beginning of the year have performed well, and we continue to see potential for growth in these areas. In the meantime we've added emerging market bonds to our portfolios and funds, to benefit from strengthening economies in the developing world.
As ever there are risks on the horizon, but uncertain times bring new opportunities into view. Change is inevitable, and making sure your investments are fit for the future is key to meeting the challenges ahead.
With that in mind, we will be sticking to the regimen that has served us well. Throughout the coming months we will be guided by our investment principles to find attractively priced quality investments with the aim of protecting our clients' wealth in the long term.
CHAPTER 01

House View: Global growth supports equities, government bonds poor value

We remain broadly positive towards markets generally and continue to favour equities and other risk assets. However, in some areas we have rotated into more defensive positions. Elsewhere, we have a preference for alternative asset classes such as absolute return strategies and property over traditional bonds.

We see the global economy normalising (with growth picking up and interest rates rising). With its roots in the US, this trend is often referred to as the 'reflation' and is generally seen as good news for risky assets such as equities and corporate bonds, pushing valuations higher. We believe this environment will continue for a while but at the same time we are not complacent and are watching closely for signs of a slowdown.

"Relative to equities we have very light positioning in fixed income."

Bonds: they continue to provide an important source of diversification within our portfolios and funds. However, with rates rising generally across most major economies, we are selective about how we gain exposure.
Equities: the economic environment remains supportive of equities but it is becoming increasingly important to be selective. We continue to like European and emerging market equities over markets that look expensive such as the US.
Alternatives: we continue to see alternative asset classes as playing an important role in achieving diversification within portfolios and funds. At a time when more traditional assets such as government bonds provide poor returns these strategies can help to offset some of the volatility equities experience.

CHAPTER 2

2017 Opportunities: Update on our key investment themes

We remain positive on the seven investment themes we identified at the beginning of the year. Some of them – such as technology and European equity – have already delivered good results. Others – such as alternative investment strategies and sterling – are providing diversification and part of our longer-term strategy. We have also added emerging market bonds to our favoured asset types, as emerging economies benefit from stable global growth.

"We are pleased with our positions in emerging market debt where valuations have supported our investments."

Sterling: Undervalued on a medium to long-term horizon versus the US dollar, similar to the extremes of 2008 and 1985. These valuation measures have a fair track record for forecasting sterling over the medium to long term.

Technology: Latest earnings results confirm the strong underlying growth trend as many technology companies continue to surpass the earnings forecasts.
Healthcare: The sector benefits from major global demographic trends like global ageing and increased longevity.
Emerging Market Debt: The combination of attractive yields, potential capital gains from falling inflation and interest rates as well as normalizing currencies are aligned with our macro, value and contrarian principles.

Coutts Investments

To find out more about Coutts investment services please contact your private banker.

Call Now

CHAPTER 03

Economic Update: The Race For Growth

In June 2016 we had a vivid glimpse of what populism might mean for the world in years to come. At the time of the UK referendum there was little to indicate that this might be the start of a trend that seems to be taking hold around the world, moving the political dial from globalisation to the nationalism and economic protectionism we saw in the recent US elections.

"Gilt yields remain subdued implying investors will lose money after inflation."

The world economy is in reasonable shape. After six years of deteriorating growth, emerging markets are speeding up this year.
Don't worry about US recession. Historically, many big global equity crashes have accompanied US recessions. That risk is low at least for the next year or so.
World inflation is normalising. It's drifting up, but the factors keeping it subdued (e.g. demography, price competition from the internet, weak trade unions, conservative fiscal policies in most countries) remain in place.
As the Eurozone economy recovers, earnings should follow. The Eurozone manufacturing Purchasing Manager's Index is a fair reflection of the health of its corporate sector, and leads earnings per share by about eight months. A model based on the strong recent PMI numbers suggests that Eurozone earnings per share should rise by 25% by year end. We expect numbers lower than this, but still firmly positive.
Become a Client
When you become a client of Coutts, you will be part of an exclusive network.
Discover more